Abstract
Directed differentiation of human pluripotent stem cells to kidney organoids brings the prospect of drug screening, disease modelling and the generation of tissue for renal replacement. Currently, these applications are hampered by organoid variability, nephron immaturity, low throughput and limited scale. Here, we apply extrusion-based three-dimensional cellular bioprinting to deliver rapid and high-throughput generation of kidney organoids with highly reproducible cell number and viability. We demonstrate that manual organoid generation can be replaced by 6- or 96-well organoid bioprinting and evaluate the relative toxicity of aminoglycosides as a proof of concept for drug testing. In addition, three-dimensional bioprinting enables precise manipulation of biophysical properties, including organoid size, cell number and conformation, with modification of organoid conformation substantially increasing nephron yield per starting cell number. This facilitates the manufacture of uniformly patterned kidney tissue sheets with functional proximal tubular segments. Hence, automated extrusion-based bioprinting for kidney organoid production delivers improvements in throughput, quality control, scale and structure, facilitating in vitro and in vivo applications of stem cell-derived human kidney tissue.
This is a preview of subscription content
Access options
Subscribe to Journal
Get full journal access for 1 year
$99.00
only $8.25 per issue
All prices are NET prices.
VAT will be added later in the checkout.
Tax calculation will be finalised during checkout.
Rent or Buy article
Get time limited or full article access on ReadCube.
from$8.99
All prices are NET prices.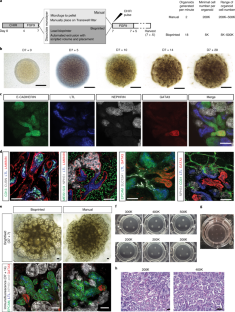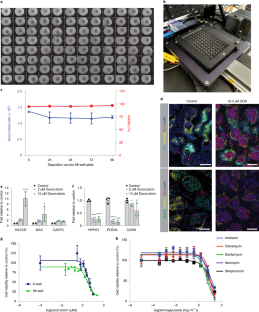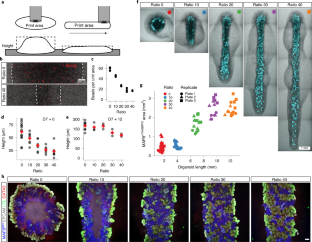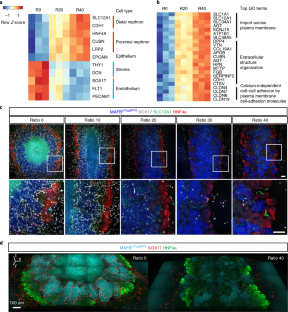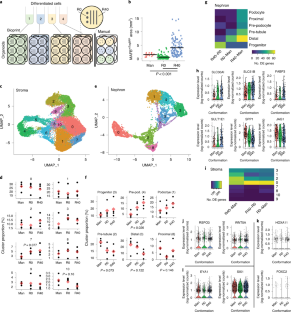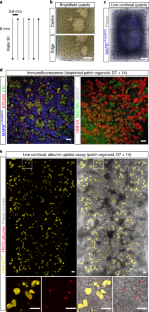 Data availability
All transcriptional profiling datasets have been submitted to GEO. These include scRNAseq from manual and two bioprinted organoid conformations (GEO GSE152014) and bulk-RNAseq data comparing bioprinted organoids of different conformations (GEO GSE138733). The image data used for quantification of morphology in different bioprinted organoid confirmations is available at https://doi.org/10.6084/m9.figshare.12957122.v1.
References
1.

Freedman, B. S. et al. Modelling kidney disease with CRISPR-mutant kidney organoids derived from human pluripotent epiblast spheroids. Nat. Commun. 6, 8715 (2015).

2.

Morizane, R. et al. Nephron organoids derived from human pluripotent stem cells model kidney development and injury. Nat. Biotechnol. 33, 1193–1200 (2015).

3.

Taguchi, A. et al. Redefining the in vivo origin of metanephric nephron progenitors enables generation of complex kidney structures from pluripotent stem cells. Cell Stem Cell 14, 53–67 (2014).

4.

Taguchi, A. & Nishinakamura, R. Higher-order kidney organogenesis from pluripotent stem cells. Cell Stem Cell 21, 730–746 (2017).

5.

Little, M. H. & Combes, A. N. Kidney organoids: accurate models or fortunate accidents. Genes Dev. 33, 1319–1345 (2019).

6.

Takasato, M., Er, P. X., Chiu, H. S. & Little, M. H. Generation of kidney organoids from human pluripotent stem cells. Nat. Protoc. 11, 1681–1692 (2016).

7.

Takasato, M. et al. Kidney organoids from human iPS cells contain multiple lineages and model human nephrogenesis. Nature 526, 564–568 (2015).

8.

Jakab, K. et al. Tissue engineering by self-assembly and bio-printing of living cells. Biofabrication 2, 022001 (2010).

9.

King, S. M. et al. 3D proximal tubule tissues recapitulate key aspects of renal physiology to enable nephrotoxicity testing. Front Physiol. 8, 123 (2017).

10.

Nguyen, D. G. et al. Bioprinted 3D primary liver tissues allow assessment of organ-level response to clinical drug induced toxicity in vitro. PLoS ONE 11, e0158674 (2016).

11.

Norona, L. M., Nguyen, D. G., Gerber, D. A., Presnell, S. C. & LeCluyse, E. L. Editor's highlight: modeling compound-induced fibrogenesis in vitro using three-dimensional bioprinted human liver tissues. Toxicol. Sci. 154, 354–367 (2016).

12.

Howden, S. E., Thomson, J. A. & Little, M. H. Simultaneous reprogramming and gene editing of human fibroblasts. Nat. Protoc. 13, 875–898 (2018).

13.

Phipson, B. et al. Evaluation of variability in human kidney organoids. Nat. Methods 16, 79–87 (2019).

14.

Hale, L. J. et al. 3D organoid-derived human glomeruli for personalised podocyte disease modelling and drug screening. Nat. Commun. 9, 5167 (2018).

15.

Vanslambrouck, J. M. et al. A toolbox to characterize human induced pluripotent stem cell-derived kidney cell types and organoids. J. Am. Soc. Nephrol. 30, 1811–1823 (2019).

16.

Soo, J. Y., Jansen, J., Masereeuw, R. & Little, M. H. Advances in predictive in vitro models of drug-induced nephrotoxicity. Nat. Rev. Nephrol. 14, 378–393 (2018).

17.

Lin, Z. & Will, Y. Evaluation of drugs with specific organ toxicities in organ-specific cell lines. Toxicol. Sci. 126, 114–127 (2012).

18.

Hallman, M. A., Zhuang, S. & Schnellmann, R. G. Regulation of dedifferentiation and redifferentiation in renal proximal tubular cells by the epidermal growth factor receptor. J. Pharmcol. Exp. Ther. 325, 520–528 (2008).

19.

Vesey, D. A., Qi, W., Chen, X., Pollock, C. A. & Johnson, D. W. Isolation and primary culture of human proximal tubule cells. Methods Mol. Biol. 466, 19–24 (2009).

20.

Wieser, M. et al. hTERT alone immortalizes epithelial cells of renal proximal tubules without changing their functional characteristics. Am. J. Physiol. Renal Physiol. 295, F1365–F1375 (2008).

21.

Lee, V. W. & Harris, D. C. Adriamycin nephropathy: a model of focal segmental glomerulosclerosis. Nephrology (Carlton) 16, 30–38 (2011).

22.

Su, Z., Ye, J., Qin, Z. & Ding, X. Protective effects of madecassoside against Doxorubicin induced nephrotoxicity in vivo and in vitro. Sci. Rep. 5, 18314 (2015).

23.

Wargo, K. A. & Edwards, J. D. Aminoglycoside-induced nephrotoxicity. J. Pharm. Pract. 27, 573–577 (2014).

24.

Ballatori, N. et al. OSTα-OSTβ: a major basolateral bile acid and steroid transporter in human intestinal, renal, and biliary epithelia. Hepatology 42, 1270–1279 (2005).

25.

Lash, L. H., Putt, D. A. & Cai, H. Drug metabolism enzyme expression and activity in primary cultures of human proximal tubular cells. Toxicology 244, 56–65 (2008).

26.

Maatman, R. G., Van Kuppevelt, T. H. & Veerkamp, J. H. Two types of fatty acid-binding protein in human kidney. Isolation, characterization and localization. Biochem J. 273, 759–766 (1991).

27.

Palmiter, R. D. & Findley, S. D. Cloning and functional characterization of a mammalian zinc transporter that confers resistance to zinc. EMBO J. 14, 639–649 (1995).

28.

Sharmin, S. et al. Human induced pluripotent stem cell-derived podocytes mature into vascularized glomeruli upon experimental transplantation. J. Am. Soc. Nephrol. 27, 1778–1791 (2016).

29.

van den Berg, C. W., Koudijs, A., Ritsma, L. & Rabelink, T. J. In vivo assessment of size-selective glomerular sieving in transplanted human induced pluripotent stem cell-derived kidney organoids. J. Am. Soc. Nephrol. 31, 921–929 (2020).

30.

van den Berg, C. W. et al. Renal subcapsular transplantation of PSC-derived kidney organoids induces neo-vasculogenesis and significant glomerular and tubular maturation in vivo. Stem Cell Rep. 10, 751–765 (2018).

31.

Combes, A. N., Zappia, L., Er, P. X., Oshlack, A. & Little, M. H. Single-cell analysis reveals congruence between kidney organoids and human fetal kidney. Genome Med. 11, 3 (2019).

32.

Wu, H. et al. Comparative analysis and refinement of human PSC-derived kidney organoid differentiation with single-cell transcriptomics. Cell Stem Cell 23, 869–881 (2018).

33.

Howden, S. E., Vanslambrouck, J. M., Wilson, S. B., Tan, K. S. & Little, M. H. Reporter-based fate mapping in human kidney organoids confirms nephron lineage relationships and reveals synchronous nephron formation. EMBO Rep. 20, e47483 (2019).

34.

Hughson, M., Farris, A. B. III, Douglas-Denton, R., Hoy, W. E. & Bertram, J. F. Glomerular number and size in autopsy kidneys: the relationship to birth weight. Kidney Int. 63, 2113–2122 (2003).

35.

Merlet-Benichou, C. et al. Nephron number: variability is the rule. Causes and consequences. Lab. Invest. 79, 515–527 (1999).

36.

Czerniecki, S. M. et al. High-throughput screening enhances kidney organoid differentiation from human pluripotent stem cells and enables automated multidimensional phenotyping. Cell Stem Cell 22, 929–940 (2018).

37.

Chen, G. et al. Chemically defined conditions for human iPSC derivation and culture. Nat. Methods 8, 424–429 (2011).

38.

Schindelin, J. et al. Fiji: an open-source platform for biological-image analysis. Nat. Methods 9, 676–682 (2012).

39.

van der Walt, S. et al. scikit-image: image processing in python. PeerJ 2, e453 (2014).

40.

Dobin, A. et al. STAR: ultrafast universal RNA-seq aligner. Bioinformatics 29, 15–21 (2013).

41.

Robinson, M. D., McCarthy, D. J. & Smyth, G. K. edgeR: a bioconductor package for differential expression analysis of digital gene expression data. Bioinformatics 26, 139–140 (2010).
Acknowledgements
We thank M. Le Moing and the Murdoch Children's Research Institute Translational Genomics Unit for 10x single cell and hash-tag oligo library preparation and sequencing and bulk-RNAseq. We thank M. Burton and the Murdoch Children's Research Institute Microscopy Core for imaging support. M.H.L. is a Senior Principal Research Fellow of the National Health and Medical Research Council, Australia (APP1136085). This work was supported by Organovo Inc., the Methuselah Foundation, California's Stem Cell Agency (EDUC2-08388), NHMRC (GNT1100970, GNT1098654), the National Institutes of Health (UH3DK107344) and a Medical Research Future Fund Kidney Disease Team grant.
Ethics declarations
Competing interests
M.H.L. is an inventor on a patent related to kidney organoid generation. Access to the bioprinter was facilitated by the Methuselah Foundation. M.H.L. received contract research funding from Organovo Inc.
Additional information
Publisher's note Springer Nature remains neutral with regard to jurisdictional claims in published maps and institutional affiliations.
Supplementary information
About this article
Cite this article
Lawlor, K.T., Vanslambrouck, J.M., Higgins, J.W. et al. Cellular extrusion bioprinting improves kidney organoid reproducibility and conformation. Nat. Mater. 20, 260–271 (2021). https://doi.org/10.1038/s41563-020-00853-9
Received:

Accepted:

Published:

Issue Date: