Abstract
Topological states of matter exhibit fascinating physics combined with an intrinsic stability. A key challenge is the fast creation of topological phases, which requires massive reorientation of charge or spin degrees of freedom. Here we report the picosecond emergence of an extended topological phase that comprises many magnetic skyrmions. The nucleation of this phase, followed in real time via single-shot soft X-ray scattering after infrared laser excitation, is mediated by a transient topological fluctuation state. This state is enabled by the presence of a time-reversal symmetry-breaking perpendicular magnetic field and exists for less than 300 ps. Atomistic simulations indicate that the fluctuation state largely reduces the topological energy barrier and thereby enables the observed rapid and homogeneous nucleation of the skyrmion phase. These observations provide fundamental insights into the nature of topological phase transitions, and suggest a path towards ultrafast topological switching in a wide variety of materials through intermediate fluctuating states.
Access options
Subscribe to Journal
Get full journal access for 1 year
$99.00
only $8.25 per issue
All prices are NET prices.
VAT will be added later in the checkout.
Tax calculation will be finalised during checkout.
Rent or Buy article
Get time limited or full article access on ReadCube.
from$8.99
All prices are NET prices.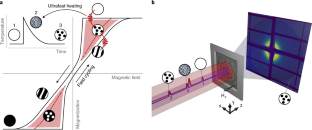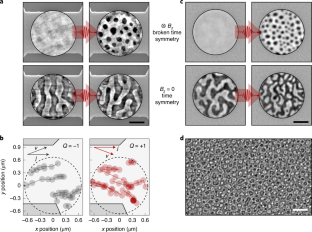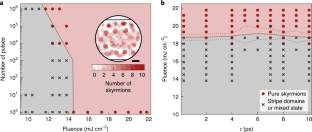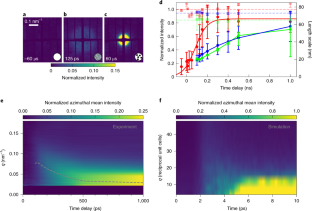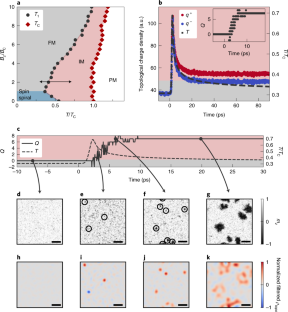 Code availability
The data analysis code used in this study is available with identifiers https://doi.org/10.5281/zenodo.4017322. The code for the atomistic simulations is available from the corresponding author upon reasonable request.
References
1.

Wall, S. et al. Ultrafast disordering of vanadium dimers in photoexcited VO2. Science 362, 572–576 (2018).

2.

Vogelgesang, S. et al. Phase ordering of charge density waves traced by ultrafast low-energy electron diffraction. Nat. Phys. 14, 184–190 (2018).

3.

Zong, A. et al. Evidence for topological defects in a photoinduced phase transition. Nat. Phys. 15, 27–31 (2019).

4.

Stojchevska, L. et al. Ultrafast switching to a stable hidden quantum state in an electronic crystal. Science 344, 177–180 (2014).

5.

Zurek, W. H. Cosmological experiments in condensed matter systems. Phys. Rep. 276, 177–221 (1996).

6.

Kosterlitz, J. M. & Thouless, D. J. Ordering, metastability and phase transitions in two-dimensional systems. J. Phys. C 6, 1181–1203 (1973).

7.

Bernevig, B. A., Hughes, T. L. & Zhang, S.-C. Quantum spin Hall effect and topological phase transition in HgTe quantum wells. Science 314, 1757–1761 (2006).

8.

Sie, E. J. et al. An ultrafast symmetry switch in a Weyl semimetal. Nature 565, 61–66 (2019).

9.

Yamasaki, Y. et al. Dynamical process of skyrmion–helical magnetic transformation of the chiral-lattice magnet FeGe probed by small-angle resonant soft X-ray scattering. Phys. Rev. B 92, 220421 (2015).

10.

Zhao, X. et al. Direct imaging of magnetic field-driven transitions of skyrmion cluster states in FeGe nanodisks. Proc. Natl Acad. Sci. USA 113, 4918–4923 (2016).

11.

Wild, J. et al. Entropy-limited topological protection of skyrmions. Sci. Adv. 3, e1701704 (2017).

12.

Berruto, G. et al. Laser-induced skyrmion writing and erasing in an ultrafast cryo-Lorentz transmission electron microscope. Phys. Rev. Lett. 120, 117201 (2018).

13.

Je, S.-G. et al. Creation of magnetic skyrmion bubble lattices by ultrafast laser in ultrathin films. Nano Lett. 18, 7362–7371 (2018).

14.

Barman, A. et al. Ultrafast magnetization dynamics in high perpendicular anisotropy [Co/Pt]n multilayers. J. Appl. Phys. 101, 09D102 (2007).

15.

Pfau, B. et al. Ultrafast optical demagnetization manipulates nanoscale spin structure in domain walls. Nat. Commun. 3, 1100 (2012).

16.

Lambert, C.-H. et al. All-optical control of ferromagnetic thin films and nanostructures. Science 345, 1337–1340 (2014).

17.

Cape, J. A. & Lehman, G. W. Magnetic domain structures in thin uniaxial plates with perpendicular easy axis. J. Appl. Phys. 42, 5732–5756 (1971).

18.

Grundy, P. J. Magnetic bubbles and their observation in the electron microscope. Contemp. Phys. 18, 47–72 (1977).

19.

Büttner, F. et al. Dynamics and inertia of skyrmionic spin structures. Nat. Phys. 11, 225–228 (2015).

20.

Woo, S. et al. Observation of room-temperature magnetic skyrmions and their current-driven dynamics in ultrathin metallic ferromagnets. Nat. Mater. 15, 501–506 (2016).

21.

Montoya, S. A. et al. Tailoring magnetic energies to form dipole skyrmions and skyrmion lattices. Phys. Rev. B 95, 024415 (2017).

22.

Pollard, S. D. et al. Observation of stable Néel skyrmions in cobalt/palladium multilayers with Lorentz transmission electron microscopy. Nat. Commun. 8, 14761 (2017).

23.

Romming, N. et al. Writing and deleting single magnetic skyrmions. Science 341, 636–639 (2013).

24.

Büttner, F. et al. Field-free deterministic ultrafast creation of magnetic skyrmions by spin–orbit torques. Nat. Nanotechnol. 12, 1040–1044 (2017).

25.

Büttner, F., Lemesh, I. & Beach, G. S. D. Theory of isolated magnetic skyrmions: from fundamentals to room temperature applications. Sci. Rep. 8, 4464 (2018).

26.

Bergeard, N. et al. Irreversible transformation of ferromagnetic ordered stripe domains in single-shot infrared-pump/resonant-X-ray-scattering-probe experiments. Phys. Rev. B 91, 054416 (2015).

27.

Iacocca, E. et al. Spin–current-mediated rapid magnon localisation and coalescence after ultrafast optical pumping of ferrimagnetic alloys. Nat. Commun. 10, 1756 (2019).

28.

Litzius, K. et al. Skyrmion Hall effect revealed by direct time-resolved X-ray microscopy. Nat. Phys. 13, 170–175 (2017).

29.

Jiang, W. et al. Direct observation of the skyrmion Hall effect. Nat. Phys. 13, 162–169 (2016).

30.

Everschor-Sitte, K., Sitte, M., Valet, T., Abanov, A. & Sinova, J. Skyrmion production on demand by homogeneous DC currents. New J. Phys. 19, 092001 (2017).

31.

Eggebrecht, T. et al. Light-induced metastable magnetic texture uncovered by in situ Lorentz microscopy. Phys. Rev. Lett. 118, 097203 (2017).

32.

Lemesh, I. et al. Current-induced skyrmion generation through morphological thermal transitions in chiral ferromagnetic heterostructures. Adv. Mater. 30, 1805461 (2018).

33.

Janoschek, M. et al. Fluctuation-induced first-order phase transition in Dzyaloshinskii–Moriya helimagnets. Phys. Rev. B 87, 134407 (2013).

34.

Rózsa, L., Simon, E., Palotás, K., Udvardi, L. & Szunyogh, L. Complex magnetic phase diagram and skyrmion lifetime in an ultrathin film from atomistic simulations. Phys. Rev. B 93, 024417 (2016).

35.

Böttcher, M., Heinze, S., Egorov, S., Sinova, J. & Dupé, B. B–T phase diagram of Pd/Fe/Ir(111) computed with parallel tempering Monte Carlo. New J. Phys. 20, 103014 (2018).

36.

Koshibae, W. & Nagaosa, N. Creation of skyrmions and antiskyrmions by local heating. Nat. Commun. 5, 5148 (2014).

37.

Kim, D.-H. et al. Bulk Dzyaloshinskii–Moriya interaction in amorphous ferrimagnetic alloys. Nat. Mater. 18, 685–690 (2019).

38.

Graves, C. E. et al. Nanoscale spin reversal by non-local angular momentum transfer following ultrafast laser excitation in ferrimagnetic GdFeCo. Nat. Mater. 12, 293–298 (2013).

39.

Kazantseva, N., Nowak, U., Chantrell, R. W., Hohlfeld, J. & Rebei, A. Slow recovery of the magnetisation after a sub-picosecond heat pulse. Europhys. Lett. 81, 27004 (2007).

40.

Litzius, K. et al. The role of temperature and drive current in skyrmion dynamics. Nat. Electron. 3, 30–36 (2020).

41.

Eisebitt, S. et al. Lensless imaging of magnetic nanostructures by X-ray spectro-holography. Nature 432, 885–888 (2004).

42.

Büttner, F. in Holographic Materials and Optical Systems (eds Naydenova, I., Babeva, T. & Nazarova, D.) (InTech, 2017).

43.

Geilhufe, J. et al. Achieving diffraction-limited resolution in soft-X-ray Fourier-transform holography. Ultramicroscopy 214, 113005 (2020).

44.

Feist, A. et al. Ultrafast transmission electron microscopy using a laser-driven field emitter: femtosecond resolution with a high coherence electron beam. Ultramicroscopy 176, 63–73 (2017).

45.

Schneider, M., Hoffmann, H. & Zweck, J. Lorentz microscopy of circular ferromagnetic permalloy nanodisks. Appl. Phys. Lett. 77, 2909–2911 (2000).

46.

Koopmans, B. et al. Explaining the paradoxical diversity of ultrafast laser-induced demagnetization. Nat. Mater. 9, 259–265 (2010).

47.

Krupin, O. et al. Temporal cross-correlation of X-ray free electron and optical lasers using soft X-ray pulse induced transient reflectivity. Opt. Express 20, 11396–11406 (2012).

48.

Porro, M. et al. Development of the DEPFET sensor with signal compression: a large format X-ray imager with mega-frame readout capability for the European XFEL. IEEE Trans. Nucl. Sci. 59, 3339–3351 (2012).

49.

Hansen, K. et al. Qualification and integration aspects of the DSSC mega-pixel X-ray imager. IEEE Trans. Nucl. Sci. 66, 1966–1975 (2019).

50.

Erdinger, F. et al. The DSSC pixel readout ASIC with amplitude digitization and local storage for DEPFET sensor matrices at the European XFEL. In 2012 IEEE Nuclear Science Symposium and Medical Imaging Conference Record (NSS/MIC) 591–596 (2012).

51.

Fangohr, H. et al. Data analysis support in Karabo at European XFEL. In TUCPA01, International Conference on Accelerator and Large Experimental Control Systems 245–252 (JACOW, 2018).

52.

Feigin, L. A. & Svergun, D. I. Structure Analysis by Small-Angle X-Ray and Neutron Scattering (ed. Taylor, G. W.) (Plenum, 1987).
Acknowledgements
M.B. and B.D. gratefully acknowledge computing time at the Mogon supercomputers. We acknowledge the European XFEL in Schenefeld for provision of XFEL beamtime at the SCS instrument and thank the instrument group and facility staff for their assistance. In particular, we thank M. Teichmann, J. T. Delitz, A. Reich, C. Broers, M. Bergemann, E. Kamil, T. Kluyver, H. Fanghor, J. Moore, J. Engelke, M. Kuster, S. Hauf, K. Hansen, P. Fischer, C. Fiorini, D. Boukhelef, J. Szuba and K. Wrona for providing the instrumentation and infrastructure that enabled our experiment at the European XFEL. We thank M. Wieland and M. Drescher, Universität Hamburg, for providing us with their mobile laser hutch for the experiments at DESY. Work at MIT was supported by the DARPA TEE programme. Devices were fabricated using equipment in the MIT Microsystems Technology Laboratory and the MIT Nanostructures Laboratory. The samples were further manufactured at the TU Berlin Nano-Werkbank, which was supported by EFRE under contract no. 20072013 2/22. B.P., L.-M.K., K.G. and S.E. acknowledge financial support from the Leibniz Association via grant no. K162/2018 (OptiSPIN). L.C. acknowledges financial support from the NSF Graduate Research Fellowship Program and from the GEM Consortium. M.B. and B.D. acknowledge financial support from the Alexander von Humboldt Foundation, the Graduate School Materials Science in Mainz and the Transregional Collaborative Research Center (SFB/TRR) 173 SPIN+X. T.R.H. acknowledges the support of a postdoctoral fellowship from the Alexander von Humboldt Foundation. J.H.M. acknowledges funding from the Nederlandse Organisatie voor Wetenschappelijk Onderzoek (NWO) by a VENI grant and the Shell-NWO/FOM initiative 'Computational sciences for energy research' of Shell and Chemical Sciences, Earth and Life Sciences, Physical Sciences, FOM and STW.
Ethics declarations
Competing interests
The authors declare no competing interests.
Additional information
Publisher's note Springer Nature remains neutral with regard to jurisdictional claims in published maps and institutional affiliations.
Supplementary information
Supplementary discussion and Figs. 1–11.
The video shows four panels. On top is a plot of the total topological charge and the bath temperature as a function of time. A black vertical line indicates the current time of the simulation. Below are three panels, showing the normalized out-of-plane magnetization, the local topological charge density and a low-pass filtered version of the local topological charge density, where the filter size of the low-pass filter in reciprocal unit cells is indicated in the filtered image.
About this article
Cite this article
Büttner, F., Pfau, B., Böttcher, M. et al. Observation of fluctuation-mediated picosecond nucleation of a topological phase. Nat. Mater. 20, 30–37 (2021). https://doi.org/10.1038/s41563-020-00807-1
Received:

Accepted:

Published:

Issue Date: