Abstract
Haematopoietic cells and platelets employ G-protein-coupled receptors (GPCRs) to sense extracellular information and respond by initiating integrin-mediated adhesion. So far, such processes have not been demonstrated in non-haematopoietic cells. Here, we report that the activation of protease-activated receptors PAR1 and PAR2 induce multiple signalling pathways to establish α5β1-integrin-mediated adhesion. First, PARs signal via Gβγ and PI3K to α5β1-integrins to adopt a talin- and kindlin-dependent high-affinity conformation, which triggers fibronectin binding and initiates cell adhesion. Then, within 60 s, PARs signal via Gα13, Gαi, ROCK and Src to strengthen the α5β1-integrin-mediated adhesion. Furthermore, PAR signalling changes the abundance of numerous proteins in the adhesome assembled by α5β1-integrins, including Gα13, vacuolar protein-sorting-associated protein 36, and band 4.1-like protein 4B or 5, and accelerates cell adhesion maturation, spreading and migration. The mechanistic insights describe how agonist binding to PAR employs GPCR and integrin-signalling pathways to initiate and regulate adhesion and to guide physiological responses of non-haematopoietic cells.
Access options
Subscribe to Journal
Get full journal access for 1 year
$199.00
only $16.58 per issue
All prices are NET prices.
VAT will be added later in the checkout.
Rent or Buy article
Get time limited or full article access on ReadCube.
from$8.99
All prices are NET prices.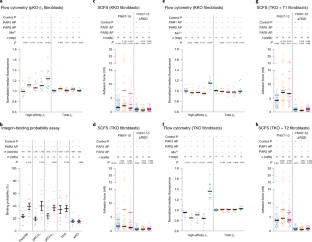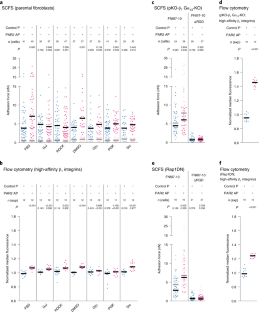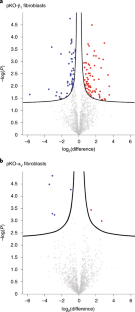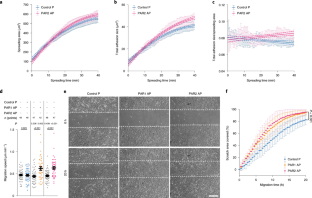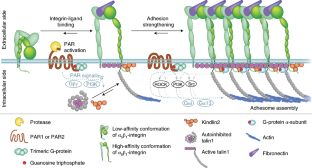 Data availability
The data that support the findings of this study are available from the corresponding author upon reasonable request.
References
1.

Winograd-Katz, S. E., Fässler, R., Geiger, B. & Legate, K. R. The integrin adhesome: from genes and proteins to human disease. Nat. Rev. Mol. Cell Biol. 15, 273–288 (2014).

2.

Cox, D., Brennan, M. & Moran, N. Integrins as therapeutic targets: lessons and opportunities. Nat. Rev. Drug Discov. 9, 804–820 (2010).

3.

Humphries, J. D., Byron, A. & Humphries, M. J. Integrin ligands at a glance. J. Cell Sci. 119, 3901–3903 (2006).

4.

Morgan, M. R., Byron, A., Humphries, M. J. & Bass, M. D. Giving off mixed signals—distinct functions of α5β1 and αvβ3 integrins in regulating cell behaviour. IUBMB Life 61, 731–738 (2009).

5.

Schiller, H. B. et al. β1- and αv-class integrins cooperate to regulate myosin II during rigidity sensing of fibronectin-based microenvironments. Nat. Cell Biol. 15, 625–636 (2013).

6.

Campbell, I. D. & Humphries, M. J. Integrin structure, activation and interactions. Cold Spring Harb. Perspect. Biol. 3, a004994 (2011).

7.

Lenselink, E. A. Role of fibronectin in normal wound healing. Int. Wound J. 12, 313–316 (2015).

8.

Sun, Z., Costell, M. & Fässler, R. Integrin activation by talin, kindlin and mechanical forces. Nat. Cell Biol. 21, 25–31 (2019).

9.

Robertson, J. et al. Defining the phospho-adhesome through the phosphoproteomic analysis of integrin signalling. Nat. Commun. 6, 6265 (2015).

10.

Schiller, H. B., Friedel, C. C., Boulegue, C. & Fässler, R. Quantitative proteomics of the integrin adhesome show a myosin II-dependent recruitment of LIM domain proteins. EMBO Rep. 12, 259–266 (2011).

11.

Horton, E. R. et al. Definition of a consensus integrin adhesome and its dynamics during adhesion complex assembly and disassembly. Nat. Cell Biol. 17, 1577–1587 (2015).

12.

Coughlin, S. R. Thrombin signalling and protease-activated receptors. Nature 407, 258–264 (2000).

13.

Coughlin, S. R. & Camerer, E. PARticipation in inflammation. J. Clin. Invest. 111, 25–27 (2003).

14.

Leger, A. J., Covic, L. & Kuliopulos, A. Protease-activated receptors in cardiovascular diseases. Circulation 114, 1070–1077 (2006).

15.

Ramachandran, R., Noorbakhsh, F., DeFea, K. & Hollenberg, M. D. Targeting proteinase-activated receptors: therapeutic potential and challenges. Nat. Rev. Drug Discov. 11, 69–86 (2012).

16.

Chambers, R. C. & Scotton, C. J. Coagulation cascade proteinases in lung injury and fibrosis. Proc. Am. Thorac. Soc. 9, 96–101 (2012).

17.

Wojtukiewicz, M. Z., Hempel, D., Sierko, E., Tucker, S. C. & Honn, K. V. Protease-activated receptors (PARs)—biology and role in cancer invasion and metastasis. Cancer Metast. Rev. 34, 775–796 (2015).

18.

Han, N., Jin, K., He, K., Cao, J. & Teng, L. Protease-activated receptors in cancer: a systematic review. Oncol. Lett. 2, 599–608 (2011).

19.

Miyata, S., Koshikawa, N., Yasumitsu, H. & Miyazaki, K. Trypsin stimulates integrin α5β1-dependent adhesion to fibronectin and proliferation of human gastric carcinoma cells through activation of proteinase-activated receptor-2. J. Biol. Chem. 275, 4592–4598 (2000).

20.

Li, Z., Delaney, M. K., O'Brien, K. A. & Du, X. Signaling during platelet adhesion and activation. Arterioscler. Thromb. Vasc. Biol. 30, 2341–2349 (2010).

21.

Blackhart, B. D. et al. Ligand cross-reactivity within the protease-activated receptor family. J. Biol. Chem. 271, 16466–16471 (1996).

22.

Benito-Jardón, M. et al. The fibronectin synergy site re-enforces cell adhesion and mediates a crosstalk between integrin classes. eLife 6, e22264 (2017).

23.

Strohmeyer, N., Bharadwaj, M., Costell, M., Fässler, R. & Müller, D. J. Fibronectin-bound α5β1 integrins sense load and signal to reinforce adhesion in less than a second. Nat. Mater. 16, 1262–1270 (2017).

24.

Schubert, R. et al. Assay for characterizing the recovery of vertebrate cells for adhesion measurements by single-cell force spectroscopy. FEBS Lett. 588, 3639–3648 (2014).

25.

Bharadwaj, M. et al. αV-class integrins exert dual roles on α5β1 integrins to strengthen adhesion to fibronectin. Nat. Commun. 8, 14348 (2017).

26.

Noto, K., Kato, K., Okumura, K. & Yagita, H. Identification and functional characterization of mouse CD29 with a mAb. Int. Immunol. 7, 835–842 (1995).

27.

Wu, X., Miyake, K., Medina, K. L., Kincade, P. W. & Gimble, J. M. Recognition of murine integrin β1 by a rat anti-stromal cell monoclonal antibody. Hybridoma 13, 409–416 (1994).

28.

Bazzoni, G., Shih, D. T., Buck, C. A. & Hemler, M. E. Monoclonal antibody 9EG7 defines a novel β1 integrin epitope induced by soluble ligand and manganese, but inhibited by calcium. J. Biol. Chem. 270, 25570–25577 (1995).

29.

Mould, A. P. et al. Integrin activation involves a conformational change in the α1 helix of the beta subunit A-domain. J. Biol. Chem. 277, 19800–19805 (2002).

30.

Theodosiou, M. et al. Kindlin-2 cooperates with talin to activate integrins and induces cell spreading by directly binding paxillin. eLife 5, e10130 (2016).

31.

Klapholz, B. & Brown, N. H. Talin—the master of integrin adhesions. J. Cell Sci. 130, 2435–2446 (2017).

32.

Austen, K. et al. Extracellular rigidity sensing by talin isoform-specific mechanical linkages. Nat. Cell Biol. 17, 1597–1606 (2015).

33.

Shattil, S. J., Kim, C. & Ginsberg, M. H. The final steps of integrin activation: the end game. Nat. Rev. Mol. Cell Biol. 11, 288–300 (2010).

34.

Conti, F. J., Monkley, S. J., Wood, M. R., Critchley, D. R. & Müller, U. Talin 1 and 2 are required for myoblast fusion, sarcomere assembly and the maintenance of myotendinous junctions. Development 136, 3597–3606 (2009).

35.

Manso, A. M. et al. Talin1 has unique expression versus talin 2 in the heart and modifies the hypertrophic response to pressure overload. J. Biol. Chem. 288, 4252–4264 (2013).

36.

Ran, F. A. et al. Genome engineering using the CRISPR-Cas9 system. Nat. Protoc. 8, 2281–2308 (2013).

37.

Reedquist, K. A. et al. The small GTPase, Rap1, mediates CD31-induced integrin adhesion. J. Cell Biol. 148, 1151–1158 (2000).

38.

Qu, H. et al. Kindlin-2 regulates podocyte adhesion and fibronectin matrix deposition through interactions with phosphoinositides and integrins. J. Cell Sci. 124, 879–891 (2011).

39.

Liu, J. et al. Structural basis of phosphoinositide binding to kindlin-2 protein pleckstrin homology domain in regulating integrin activation. J. Biol. Chem. 286, 43334–43342 (2011).

40.

Böttcher, R. T. et al. Kindlin-2 recruits paxillin and Arp2/3 to promote membrane protrusions during initial cell spreading. J. Cell Biol. 216, 3785–3798 (2017).

41.

Steinhoff, M. et al. Proteinase-activated receptor-2 mediates itch: a novel pathway for pruritus in human skin. J. Neurosci. 23, 6176–6180 (2003).

42.

Harburger, D. S. & Calderwood, D. A. Integrin signalling at a glance. J. Cell Sci. 122, 159–163 (2009).

43.

Maul, R. S. et al. EPLIN regulates actin dynamics by cross-linking and stabilizing filaments. J. Cell Biol. 160, 399–407 (2003).

44.

Karaköse, E. et al. The focal adhesion protein PINCH-1 associates with EPLIN at integrin adhesion sites. J. Cell Sci. 128, 1023–1033 (2015).

45.

Li, J. et al. Conformational equilibria and intrinsic affinities define integrin activation. EMBO J. 36, 629–645 (2017).

46.

Erami, Z., Heitz, S., Bresnick, A. R. & Backer, J. M. PI3Kβ links integrin activation and PI(3,4)P2 production during invadopodial maturation. Mol. Biol. Cell 30, 2367–2376 (2019).

47.

Arora, P., Ricks, T. K. & Trejo, J. Protease-activated receptor signalling, endocytic sorting and dysregulation in cancer. J. Cell Sci. 120, 921–928 (2007).

48.

Hamidi, H. & Ivaska, J. Every step of the way: integrins in cancer progression and metastasis. Nat. Rev. Cancer 18, 533–548 (2018).

49.

Hieken, T. J., Ronan, S. G., Farolan, M., Shilkaitis, A. L. & Gupta Das, T. K. Beta 1 integrin expression: a marker of lymphatic metastases in cutaneous malignant melanoma. Anticancer Res. 16, 2321–2324 (1996).

50.

Roman, J., Ritzenthaler, J. D., Roser-Page, S., Sun, X. & Han, S. α5β1-Integrin expression is essential for tumor progression in experimental lung cancer. Am. J. Respir. Cell Mol. Biol. 43, 684–691 (2010).

51.

Mierke, C. T., Frey, B., Fellner, M., Herrmann, M. & Fabry, B. Integrin α5β1 facilitates cancer cell invasion through enhanced contractile forces. J. Cell Sci. 124, 369–383 (2011).

52.

Samuels, Y. & Ericson, K. Oncogenic PI3K and its role in cancer. Curr. Opin. Oncol. 18, 77–82 (2006).

53.

Dorsam, R. T. & Gutkind, J. S. G-protein-coupled receptors and cancer. Nat. Rev. Cancer 7, 79–94 (2007).

54.

Hsu, P. D., Lander, E. S. & Zhang, F. Development and applications of CRISPR-Cas9 for genome engineering. Cell 157, 1262–1278 (2014).

55.

Barde, I., Salmon, P. & Trono, D. Production and titration of lentiviral vectors. Curr. Protoc. Neurosci. 4, 4.21–4.23 (2010).

56.

Friedrichs, J., Helenius, J. & Müller, D. J. Quantifying cellular adhesion to extracellular matrix components by single-cell force spectroscopy. Nat. Protoc. 5, 1353–1361 (2010).

57.

Takahashi, S. et al. The RGD motif in fibronectin is essential for development but dispensable for fibril assembly. J. Cell Biol. 178, 167–178 (2007).

58.

Yu, M., Strohmeyer, N., Wang, J., Müller, D. J. & Helenius, J. Increasing throughput of AFM-based single cell adhesion measurements through multisubstrate surfaces. Beilstein J. Nanotechnol. 6, 157–166 (2015).

59.

Butt, H. J. & Jaschke, M. Calculation of thermal noise in atomic force microscopy. Nanotechnology 6, 1–7 (1995).

60.

Sun, Z. et al. Kank2 activates talin, reduces force transduction across integrins and induces central adhesion formation. Nat. Cell Biol. 18, 941–953 (2016).

61.

Cox, J. & Mann, M. MaxQuant enables high peptide identification rates, individualized p.p.b.-range mass accuracies and proteome-wide protein quantification. Nat. Biotechnol. 26, 1367–1372 (2008).

62.

Berg, S. et al. ilastik: interactive machine learning for (bio)image analysis. Nat. Methods 15, 1–7 (2019).

63.

Tyanova, S. et al. The Perseus computational platform for comprehensive analysis of (prote)omics data. Nat. Methods 13, 731–740 (2016).
Acknowledgements
We thank C. Grashoff for providing talin-reconstituted fibroblasts, as well as N. Beerenwinkel, M. Bharadwaj-Arora and J. Helenius for fruitful discussions. We thank M. Huber for assistance in creating Gα13-depleted fibroblasts and R. Newton for virally transfecting fibroblasts. We thank R. Böttcher for the vector pRetroQ-eGFP-hRap1aDN(S17N), B.M. Gaub for his support with the Ca2+ imaging protocol, M. Yu for teaching SCFS, and the single cell facility for advice regarding cell imaging and flow cytometry. This work was supported by ETH Zurich (grants nos. ETH-03 14-1 and ETH-20 17-2) and the Swiss National Science Foundation (SNF; grant no. 31003A_182587/1).
Ethics declarations
Competing interests
The authors declare no competing interests.
Additional information
Publisher's note Springer Nature remains neutral with regard to jurisdictional claims in published maps and institutional affiliations.
Supplementary information
Supplementary Tables 1, 2 and 3.
About this article
Cite this article
Spoerri, P.M., Strohmeyer, N., Sun, Z. et al. Protease-activated receptor signalling initiates α5β1-integrin-mediated adhesion in non-haematopoietic cells. Nat. Mater. 19, 218–226 (2020). https://doi.org/10.1038/s41563-019-0580-4
Received:

Accepted:

Published:

Issue Date: