Abstract
Membranes with fast and selective ion transport are widely used for water purification and devices for energy conversion and storage including fuel cells, redox flow batteries and electrochemical reactors. However, it remains challenging to design cost-effective, easily processed ion-conductive membranes with well-defined pore architectures. Here, we report a new approach to designing membranes with narrow molecular-sized channels and hydrophilic functionality that enable fast transport of salt ions and high size-exclusion selectivity towards small organic molecules. These membranes, based on polymers of intrinsic microporosity containing Tröger's base or amidoxime groups, demonstrate that exquisite control over subnanometre pore structure, the introduction of hydrophilic functional groups and thickness control all play important roles in achieving fast ion transport combined with high molecular selectivity. These membranes enable aqueous organic flow batteries with high energy efficiency and high capacity retention, suggesting their utility for a variety of energy-related devices and water purification processes.
Access options
Subscribe to Journal
Get full journal access for 1 year
$59.00
only $4.92 per issue
All prices are NET prices.
VAT will be added later in the checkout.
Tax calculation will be finalised during checkout.
Rent or Buy article
Get time limited or full article access on ReadCube.
from$8.99
All prices are NET prices.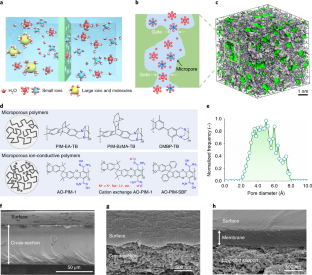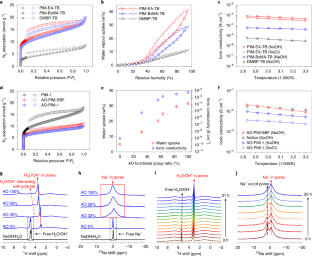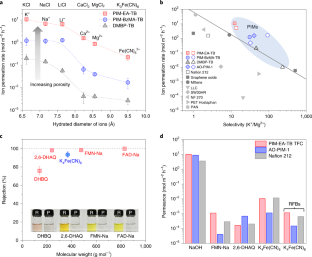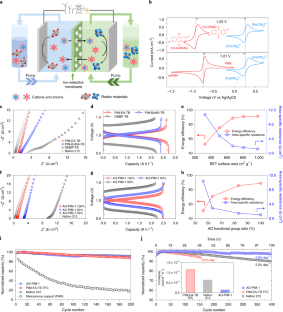 Data availability
The data shown in the plots and that support the findings of this study are available from the corresponding authors on reasonable request.
References
1.

Werber, J. R., Osuji, C. O. & Elimelech, M. Materials for next-generation desalination and water purification membranes. Nat. Rev. Mater. 1, 16018 (2016).

2.

Joshi, R. K. et al. Precise and ultrafast molecular sieving through graphene oxide membranes. Science 343, 752–754 (2014).

3.

Park, M., Ryu, J., Wang, W. & Cho, J. Material design and engineering of next-generation flow-battery technologies. Nat. Rev. Mater. 2, 16080 (2016).

4.

Turner, J. A. Sustainable hydrogen production. Science 305, 972–974 (2004).

5.

Park, C. H. et al. Nanocrack-regulated self-humidifying membranes. Nature 532, 480–483 (2016).

6.

Li, C. W., Ciston, J. & Kanan, M. W. Electroreduction of carbon monoxide to liquid fuel on oxide-derived nanocrystalline copper. Nature 508, 504–507 (2014).

7.

Soloveichik, G. L. Flow batteries: current status and trends. Chem. Rev. 115, 11533–11558 (2015).

8.

Huskinson, B. et al. A metal-free organic–inorganic aqueous flow battery. Nature 505, 195–198 (2014).

9.

Janoschka, T. et al. An aqueous, polymer-based redox-flow battery using non-corrosive, safe, and low-cost materials. Nature 527, 78–81 (2015).

10.

Lin, K. et al. Alkaline quinone flow battery. Science 349, 1529–1532 (2015).

11.

Hollas, A. et al. A biomimetic high-capacity phenazine-based anolyte for aqueous organic redox flow batteries. Nat. Energy 3, 508–514 (2018).

12.

Lin, K. et al. A redox-flow battery with an alloxazine-based organic electrolyte. Nat. Energy 1, 16102 (2016).

13.

Orita, A., Verde, M. G., Sakai, M. & Meng, Y. S. A biomimetic redox flow battery based on flavin mononucleotide. Nat. Commun. 7, 13230 (2016).

14.

Kwabi, D. G. et al. Alkaline quinone flow battery with long lifetime at pH 12. Joule 2, 1894–1906 (2018).

15.

Shin, D. W., Guiver, M. D. & Lee, Y. M. Hydrocarbon-based polymer electrolyte membranes: importance of morphology on ion transport and membrane stability. Chem. Rev. 117, 4759–4805 (2017).

16.

Li, B. & Liu, J. Progress and directions in low-cost redox-flow batteries for large-scale energy storage. Natl Sci. Rev. 4, 91–105 (2017).

17.

Darling, R. M., Gallagher, K. G., Kowalski, J. A., Ha, S. & Brushett, F. R. Pathways to low-cost electrochemical energy storage: a comparison of aqueous and nonaqueous flow batteries. Energ. Environ. Sci. 7, 3459–3477 (2014).

18.

Grey, C. P. & Tarascon, J. M. Sustainability and in situ monitoring in battery development. Nat. Mater. 16, 45–56 (2016).

19.

Park, C. H., Lee, C. H., Guiver, M. D. & Lee, Y. M. Sulfonated hydrocarbon membranes for medium-temperature and low-humidity proton exchange membrane fuel cells (PEMFCs). Prog. Polym. Sci. 36, 1443–1498 (2011).

20.

Trigg, E. B. et al. Self-assembled highly ordered acid layers in precisely sulfonated polyethylene produce efficient proton transport. Nat. Mater. 17, 725–731 (2018).

21.

Yuan, Z. et al. Advanced porous membranes with ultra-high selectivity and stability for vanadium flow batteries. Energ. Environ. Sci. 9, 441–447 (2016).

22.

Pezeshki, A. M. et al. Full cell study of Diels Alder poly(phenylene) anion and cation exchange membranes in vanadium redox flow batteries. J. Electrochem. Soc. 163, A5154–A5162 (2016).

23.

Sun, C.-N., Tang, Z., Belcher, C., Zawodzinski, T. A. & Fujimoto, C. Evaluation of Diels–Alder poly(phenylene) anion exchange membranes in all-vanadium redox flow batteries. Electrochem. Commun. 43, 63–66 (2014).

24.

Sorte, E. G. et al. Impact of hydration and sulfonation on the morphology and ionic conductivity of sulfonated poly(phenylene) proton exchange membranes. Macromolecules 52, 857–876 (2019).

25.

Maurya, S. et al. Rational design of polyaromatic ionomers for alkaline membrane fuel cells with >1 W cm−2 power density. Energ. Environ. Sci. 11, 3283–3291 (2018).

26.

Lee, K.-S., Spendelow, J. S., Choe, Y.-K., Fujimoto, C. & Kim, Y. S. An operationally flexible fuel cell based on quaternary ammonium-biphosphate ion pairs. Nat. Energy 1, 16120 (2016).

27.

Huang, N., Wang, P. & Jiang, D. Covalent organic frameworks: a materials platform for structural and functional designs. Nat. Rev. Mater. 1, 16068 (2016).

28.

Chen, L. et al. Ion sieving in graphene oxide membranes via cationic control of interlayer spacing. Nature 550, 380–383 (2017).

29.

Abraham, J. et al. Tunable sieving of ions using graphene oxide membranes. Nat. Nanotechnol. 12, 546–550 (2017).

30.

Xu, H., Tao, S. & Jiang, D. Proton conduction in crystalline and porous covalent organic frameworks. Nat. Mater. 15, 722–726 (2016).

31.

Bai, S., Liu, X., Zhu, K., Wu, S. & Zhou, H. Metal-organic framework-based separator for lithium-sulfur batteries. Nat. Energy 1, 16094 (2016).

32.

Zhang, H. et al. Ultrafast selective transport of alkali metal ions in metal organic frameworks with subnanometer pores. Sci. Adv. 4, eaaq0066 (2018).

33.

Furukawa, H., Cordova, K. E., O'Keeffe, M. & Yaghi, O. M. The chemistry and applications of metal-organic frameworks. Science 341, 1230444 (2013).

34.

Li, C. et al. Polysulfide-blocking microporous polymer membrane tailored for hybrid Li-sulfur flow batteries. Nano Lett. 15, 5724–5729 (2015).

35.

Chae, I. S. et al. Ultra-high proton/vanadium selectivity for hydrophobic polymer membranes with intrinsic nanopores for redox flow battery. Adv. Energy Mater. 6, 1600517 (2016).

36.

Budd, P. M. et al. Solution-processed, organophilic membrane derived from a polymer of intrinsic microporosity. Adv. Mater. 16, 456–459 (2004).

37.

McKeown, N. B. & Budd, P. M. Polymers of intrinsic microporosity (PIMs): organic materials for membrane separations, heterogeneous catalysis and hydrogen storage. Chem. Soc. Rev. 35, 675–683 (2006).

38.

Carta, M. et al. An efficient polymer molecular sieve for membrane gas separations. Science 339, 303–307 (2013).

39.

Patel, H. A. & Yavuz, C. T. Noninvasive functionalization of polymers of intrinsic microporosity for enhanced CO2 capture. Chem. Commun. 48, 9989–9991 (2012).

40.

Bezzu, C. G. et al. The synthesis, chain-packing simulation and long-term gas permeability of highly selective spirobifluorene-based polymers of intrinsic microporosity. J. Mater. Chem. A 6, 10507–10514 (2018).

41.

Bezzu, C. G. et al. A spirobifluorene-based polymer of intrinsic microporosity with improved performance for gas separation. Adv. Mater. 24, 5930–5933 (2012).

42.

Swaidan, R., Ghanem, B. S., Litwiller, E. & Pinnau, I. Pure- and mixed-gas CO2/CH4 separation properties of PIM-1 and an amidoxime-functionalized PIM-1. J. Membrane Sci. 457, 95–102 (2014).

43.

Geise, G. M., Paul, D. R. & Freeman, B. D. Fundamental water and salt transport properties of polymeric materials. Prog. Polym. Sci. 39, 1–42 (2014).

44.

Schmidt-Rohr, K. & Chen, Q. Parallel cylindrical water nanochannels in Nafion fuel-cell membranes. Nat. Mater. 7, 75–83 (2008).

45.

Mehio, N. et al. Acidity of the amidoxime functional group in aqueous solution: a combined experimental and computational study. J. Phys. Chem. B 119, 3567–3576 (2015).

46.

Hatakeyama, E. S. et al. Water filtration performance of a lyotropic liquid crystal polymer membrane with uniform, sub-1-nm pores. J. Membrane Sci. 366, 62–72 (2011).

47.

Wen, Q. et al. Highly selective ionic transport through subnanometer pores in polymer films. Adv. Funct. Mater. 26, 5796–5803 (2016).

48.

Ren, C. E. et al. Charge- and size-selective ion sieving through Ti3C2Tx MXene membranes. J. Phys. Chem. Lett. 6, 4026–4031 (2015).

49.

Yang, Z. et al. Alkaline benzoquinone aqueous flow battery for large-scale storage of electrical energy. Adv. Energy Mater. 8, 1702056 (2018).

50.

Rose, I. et al. Polymer ultrapermeability from the inefficient packing of 2D chains. Nat. Mater. 16, 932–937 (2017).

51.

Song, J. et al. Linear high molecular weight ladder polymers by optimized polycondensation of tetrahydroxytetramethylspirobisindane and 1,4-dicyanotetrafluorobenzene. Macromolecules 41, 7411–7417 (2008).

52.

Yang, Z. et al. Highly conductive anion-exchange membranes from microporous Tröger's base polymers. Angew. Chem. Int. Edit. 55, 11499–11502 (2016).

53.

Song, Q. et al. Porous organic cage thin films and molecular‐sieving membranes. Adv. Mater. 28, 2629–2637 (2016).

54.

Cook, M., Gaffney, P. R. J., Peeva, L. G. & Livingston, A. G. Roll-to-roll dip coating of three different PIMs for organic solvent nanofiltration. J. Membrane Sci. 558, 52–63 (2018).

55.

Song, Q. et al. Zeolitic imidazolate framework (ZIF-8) based polymer nanocomposite membranes for gas separation. Energ. Environ. Sci 5, 8359–8369 (2012).

56.

Tocci, E. et al. Molecular modeling and gas permeation properties of a polymer of intrinsic microporosity composed of ethanoanthracene and Tröger's base units. Macromolecules 47, 7900–7916 (2014).
Acknowledgements
This work was funded by the Engineering and Physical Sciences Research Council (EPSRC, UK, EP/M01486X/1), EPSRC Centre for Advanced Materials for Integrated Energy Systems (CAM-IES, EP/P007767/1), the Horizon 2020/FP7 Framework Program under grant agreement no. 608490, project M4CO2 and the European Research Council through grant agreement number 758370 (ERC-StG-PE5- CoMMaD). Q.S. acknowledges financial support by the Imperial College Department of Chemical Engineering Start-up Fund, a seed-funding grant from the Institute of Molecular Science and Engineering (IMSE, Imperial College) and seed-funding from EPSRC centres CAM-IES and Energy SuperStore (UK Energy Storage Research Hub). R.T. and C.Y. acknowledge full PhD scholarships funded by the China Scholarship Council. A.W. acknowledges a full PhD scholarship funded by the Department of Chemical Engineering at Imperial College. B.P.D. acknowledges the Statoil scholarship. K.E.J. acknowledges the Royal Society University Research Fellowship. A.I.C. and L.C. acknowledge the Leverhulme Trust for supporting the Leverhulme Research Centre for Functional Materials Design. T. Li is thankful for the support from the Joint Center for Energy Storage Research (JCESR), an Energy Innovation Hub of the US Department of Energy. The work at the APS was supported by the US Department of Energy Scientific User Facilities under Contract DEAC02-06CH11357 with UChicago Argonne, LLC, and the operator of Argonne National Laboratory. The authors acknowledge E. Hunter-Sellars and D. Williams for facility support for the DVS measurements and A. G. Livingston for facility support for manufacturing polyacrylonitrile membranes. The authors acknowledge R. Woodward and R. Rinaldi for help with GPC measurements. The authors thank V. Yufit for helpful discussions. The authors acknowledge Q. Zhang, Y. Liu, S. Zhang and T. Juergensen for assistance with membrane preparation and battery tests.
Ethics declarations
Competing interests
The authors declare no competing interests.
Additional information
Publisher's note Springer Nature remains neutral with regard to jurisdictional claims in published maps and institutional affiliations.
Supplementary information
About this article
Cite this article
Tan, R., Wang, A., Malpass-Evans, R. et al. Hydrophilic microporous membranes for selective ion separation and flow-battery energy storage. Nat. Mater. 19, 195–202 (2020). https://doi.org/10.1038/s41563-019-0536-8
Received:

Accepted:

Published:

Issue Date: