Abstract
Platinum (Pt)-based materials are important components of microelectronic sensors, anticancer drugs, automotive catalytic converters and electrochemical energy conversion devices1. Pt is currently the most common catalyst used for the oxygen reduction reaction (ORR) in devices such as fuel cells and metal–air batteries2,3, although a scalable use is restricted by the scarcity, cost and vulnerability to poisoning of Pt (refs 4,5,6). Here we show that nanoparticulate zirconium nitride (ZrN) can replace and even surpass Pt as a catalyst for ORR in alkaline environments. As-synthesized ZrN nanoparticles (NPs) exhibit a high oxygen reduction performance with the same activity as that of a widely used Pt-on-carbon (Pt/C) commercial catalyst. Both materials show the same half-wave potential (E1/2 = 0.80 V) and ZrN has a higher stability (ΔE1/2 = −3 mV) than the Pt/C catalyst (ΔE1/2 = −39 mV) after 1,000 ORR cycles in 0.1 M KOH. ZrN is also shown to deliver a greater power density and cyclability than Pt/C in a zinc–air battery. Replacement of Pt by ZrN is likely to reduce costs and promote the usage of electrochemical energy devices, and ZrN may also be useful in other catalytic systems.
Access options
Subscribe to Journal
Get full journal access for 1 year
$99.00
only $8.25 per issue
All prices are NET prices.
VAT will be added later in the checkout.
Tax calculation will be finalised during checkout.
Rent or Buy article
Get time limited or full article access on ReadCube.
from$8.99
All prices are NET prices.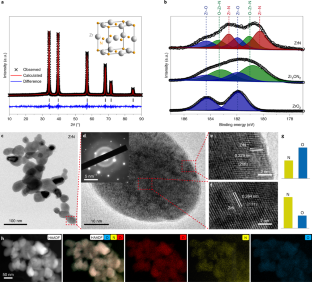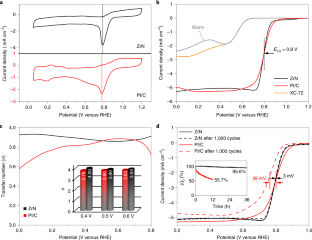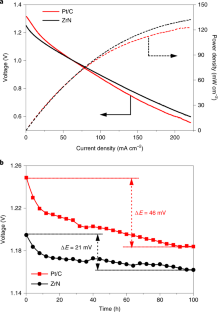 Data availability
The data supporting the findings of this study are available from the corresponding authors upon request.
References
1.

Chen, A. & Holt-Hindle, P. Platinum-based nanostructured materials: synthesis, properties, and applications. Chem. Rev. 110, 3767–3804 (2010).

2.

Shao, M., Chang, Q., Dodelet, J. P. & Chenitz, R. Recent advances in electrocatalysts for oxygen reduction reaction. Chem. Rev. 116, 3594–3657 (2016).

3.

Li, M. et al. Ultrafine jagged platinum nanowires enable ultrahigh mass activity for the oxygen reduction reaction. Science 354, 1414–1419 (2016).

4.

Cao, B. et al. Cobalt molybdenum oxynitrides: synthesis, structural characterization, and catalytic activity for the oxygen reduction reaction. Angew. Chem. Int. Ed. 52, 10753–10757 (2013).

5.

Chung, H. T. et al. Direct atomic-level insight into the active sites of a high-performance PGM-free ORR catalyst. Science 357, 479–484 (2017).

6.

Wei, W. et al. Nitrogen-doped carbon nanosheets with size-defined mesopores as highly efficient metal-free catalyst for the oxygen reduction reaction. Angew. Chem. Int. Ed. 53, 1570–1574 (2014).

7.

Chu, S., Cui, Y. & Liu, N. The path towards sustainable energy. Nat. Mater. 16, 16–22 (2016).

8.

Liang, Y. et al. Co3O4 nanocrystals on graphene as a synergistic catalyst for oxygen reduction reaction. Nat. Mater. 10, 780–786 (2011).

9.

Bashyam, R. & Zelenay, P. A class of non-precious metal composite catalysts for fuel cells. Nature 443, 63–66 (2006).

10.

Kumar, A., Ciucci, F., Morozovska, A. N., Kalinin, S. V. & Jesse, S. Measuring oxygen reduction/evolution reactions on the nanoscale. Nat. Chem. 3, 707–713 (2011).

11.

Shen, H. et al. Oxygen reduction reactions of Fe–N–C catalysts: current status and the way forward. Electrochem. Energy Rev. 2, 252–276 (2019).

12.

Zhou, T. et al. A review of radiation-grafted polymer electrolyte membranes for alkaline polymer electrolyte membrane fuel cells. J. Power Sources 293, 946–975 (2015).

13.

Nørskov, J. K. et al. Origin of the overpotential for oxygen reduction at a fuel-cell cathode. J. Phys. Chem. B 108, 17886–17892 (2004).

14.

London Metal Exchange (London Metal Exchange); https://www.lme.com/Metals/Precious-metals/Platinum/Averages

15.

Snyder, J., Fujita, T., Chen, M. W. & Erlebacher, J. Oxygen reduction in nanoporous metal–ionic liquid composite electrocatalysts. Nat. Mater. 9, 904–907 (2010).

16.

Hiroyuki, Y., Mikio, K. & Hisao, A. Toyota fuel cell system (TFCS). World Electric Vehicle J. 7, 85–92 (2015).

17.

Zhao, Y. et al. Few-layer graphdiyne doped with sp-hybridized nitrogen atoms at acetylenic sites for oxygen reduction electrocatalysis. Nat. Chem. 10, 934–931 (2018).

18.

D, G. et al. Active sites of nitrogen-doped carbon materials for oxygen reduction reaction clarified using model catalysts. Science 16, 361–365 (2016).

19.

Giner, J. & Swette, L. Oxygen reduction on titanium nitride in alkaline electrolyte. Nature 211, 1291–1292 (1966).

20.

Pan, Z. et al. Hollow and porous titanium nitride nanotubes as high-performance catalyst supports for oxygen reduction reaction. J. Mater. Chem. A 2, 13966–13975 (2014).

21.

Cao, M., Di, Z., Cui, Z., Wang, S. & Qin, J. VN hollow spheres assembled from porous nanosheets for high-performance lithium storage and oxygen reduction reaction. J. Mater. Chem. A 4, 7914–7923 (2016).

22.

Youn, D. H. et al. A highly efficient transition metal nitride-based electrocatalyst for oxygen reduction reaction: TiN on a CNT–graphene hybrid support. J. Mater. Chem. A 1, 8007–8015 (2013).

23.

Dong, Y. & Li, J. Tungsten nitride nanocrystals on nitrogen-doped carbon black as efficient electrocatalysts for oxygen reduction reactions. Chem. Commun. 51, 572–575 (2014).

24.

Shanghai Metals Market (Shanghai Metals Market); www.smm.cn/metal/minor-metals

25.

Bo, F. & Lian, G. Synthesis of nanocrystalline zirconium nitride powders by reduction–nitridation of zirconium oxide. J. Am. Ceram. Soc. 87, 696–698 (2010).

26.

Miloiev, I., Strehblow, H. H., GaberLEek, M. & Naviniek, B. Electrochemical oxidation of ZrN hard (PVD) coatings studied by XPS. Surf. Interface. Anal. 24, 448–458 (1996).

27.

Huang, X. et al. High-performance transition metal-doped Pt3Ni octahedra for oxygen reduction reaction. Science 348, 1230–1234 (2015).

28.

Doi, S., Ishihara, A., Mitsushima, S., Kamiya, N. & Ota, K. Zirconium-based compounds for cathode of polymer electrolyte fuel cell. J. Electrochem. Soc. 154, B362–B369 (2007).

29.

Stamenkovic, V. et al. Changing the activity of electrocatalysts for oxygen reduction by tuning the surface electronic structure. Angew. Chem. Int. Ed. 45, 2897–2901 (2006).

30.

Vojvodic, A. & Norskov, J. K. New design paradigm for heterogeneous catalysts. Natl Sci. Rev. 2, 140–149 (2015).

31.

Qiu, Y. & Gao, L. Metal–urea complex—a precursor to metal nitrides. J. Am. Ceram. Soc. 87, 352–357 (2010).

32.

Giordano, C., Erpen, C., Yao, W. & Antonietti, M. Synthesis of Mo and W carbide and nitride nanoparticles via a simple 'urea glass' route. Nano Lett. 8, 4659–4663 (2008).

33.

Giordano, C., Erpen, C., Yao, W., Milke, B. & Antonietti, M. Metal nitride and metal carbide nanoparticles by a soft urea pathway. Chem. Mater. 21, 5136–5144 (2009).

34.

Penland, R. B., Mizushima, S., Curran, C. & Quagliano, J. V. Infrared absorption spectra of inorganic coordination complexes. X. Studies of some metal–urea complexes. J. Am. Chem. Soc. 79, 1575–1578 (1957).

35.

Molinari, V., Giordano, C., Antonietti, M. & Esposito, D. Titanium nitride–nickel nanocomposite as heterogeneous catalyst for the hydrogenolysis of aryl ethers. J. Am. Chem. Soc. 136, 1758–1761 (2014).

36.

Chen, X. J. et al. Pressure-induced phonon frequency shifts in transition-metal nitrides. Phys. Rev. B 70, 2199–2208 (2004).

37.

Spengler, W. & Kaiser, R. First and second order Raman scattering in transition metal compounds. Solid State Commun. 18, 881–884 (1976).

38.

Wentzcovitch, P. G. et al. QUANTUM ESPRESSO: a modular and open-source software project for quantum simulations of materials. J. Phys. Condens. Matter 21, 395502 (2009).
Acknowledgements
This work is supported by Natural Science Foundation of China (Grant no. 21471147), National Key Research and Development Plan (Grant no. 2016YFB0101205) and Key Program of the Chinese Academy of Sciences (Grant no. KFZD-SW-320). J.W. thanks the Equipment Research Program (6140721050215) for financial support. M.Y. thanks the National Thousand Youth Talents program of China and Ningbo 3315 program for support. J.P.A. thanks the EPSRC for support.
Ethics declarations
Competing interests
The authors declare no competing interests.
Additional information
Publisher's note Springer Nature remains neutral with regard to jurisdictional claims in published maps and institutional affiliations.
Supplementary information
About this article
Cite this article
Yuan, Y., Wang, J., Adimi, S. et al. Zirconium nitride catalysts surpass platinum for oxygen reduction. Nat. Mater. 19, 282–286 (2020). https://doi.org/10.1038/s41563-019-0535-9
Received:

Accepted:

Published:

Issue Date: