Reducing the thickness of an amorphous conductive indium tin oxide layer down to a few nanometres has enabled the realization of 40-nm-long channel transistors with remarkable operating characteristics.
Access options
Subscribe to Journal
Get full journal access for 1 year
$209.00
only $17.42 per issue
All prices are NET prices.
VAT will be added later in the checkout.
Rent or Buy article
Get time limited or full article access on ReadCube.
from$8.99
All prices are NET prices.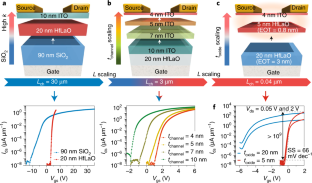 References
1.

Gupta, S., Navaraj, W. T., Lorenzelli, L. & Dahiya, R. npj Flex. Electron. 2, 8 (2018).

2.

Franklin, A. D. Science 349, aab2750 (2015).

3.

Wu, W. Nanoscale 9, 7342–7372 (2017).

4.

Khan, S., Lorenzelli, L. & Dahiya, R. S. IEEE Sens. J. 15, 3164–3185 (2015).

5.

Petti, L. et al. Appl. Phys. Rev. 3, 021303 (2016).

6.

Li, S. et al. Nat. Mater. https://doi.org/10.1038/s41563-019-0455-8 (2019).

7.

Faber, H. et al. Sci. Adv. 3, e1602640 (2017).

8.

Shih, C. W., Chin, A., Lu, C. F. & Su, W. F. Sci. Rep. 6, 19023 (2016).
About this article
Cite this article
Anthopoulos, T.D. Ultrathin channels make transistors go faster. Nat. Mater. 18, 1033–1034 (2019). https://doi.org/10.1038/s41563-019-0489-y