Quantitative atomic-scale images of electric potentials at surfaces have now been obtained with a non-contact atomic force microscope by functionalizing the tip as a quantum dot sensor.
Access options
Subscribe to Journal
Get full journal access for 1 year
$59.00
only $4.92 per issue
All prices are NET prices.
VAT will be added later in the checkout.
Tax calculation will be finalised during checkout.
Rent or Buy article
Get time limited or full article access on ReadCube.
from$8.99
All prices are NET prices.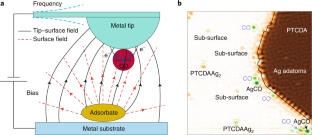 References
1.

Binnig, G., Rohrer, H., Gerber, Ch & Weibel, E. Phys. Rev. Lett. 49, 57–61 (1982).

2.

Giessibl, F. J. Science 267, 68–71 (1995).

3.

Nonnenmacher, M., Boyle, M. P. O. & Wickramasinghe, H. K. Appl. Phys. Lett. 58, 2921–2923 (1991).

4.

Sadewasser, S. & Glatzel, T. (eds) Kelvin Probe Force Microscopy (Springer, 2018).

5.

Mohn, F., Gross, L., Moll, N. & Meyer, G. Nat. Nanotechnol. 7, 227–231 (2012).

6.

Wagner, C. et al. Nat. Mater. https://doi.org/10.1038/s41563-019-0382-8 (2019).
About this article
Cite this article
Persson, M. Electric potentials at the atomic scale. Nat. Mater. 18, 773–774 (2019). https://doi.org/10.1038/s41563-019-0383-7