A vaccine platform developed from a synthetic polymeric glyco-adjuvant and reversibly conjugated to an antigen was shown to target dendritic cells leading to cellular and humoral immune response against malaria.
This is a preview of subscription content
Access options
Subscribe to Journal
Get full journal access for 1 year
$99.00
only $8.25 per issue
All prices are NET prices.
VAT will be added later in the checkout.
Tax calculation will be finalised during checkout.
Rent or Buy article
Get time limited or full article access on ReadCube.
from$8.99
All prices are NET prices.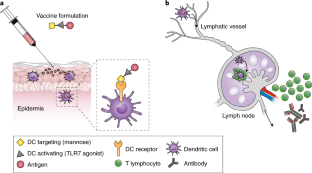 References
1.

Seder, R. et al. Vaccine 33, B40–B43 (2015).

2.

Wilson, D. S. et al. Nat. Mater. https://doi.org/10.1038/s41563-018-0256-5 (2018).

3.

Steinman, R. M. & Banchereau, J. Nature 449, 419–426 (2007).

4.

Lambrecht, B. N., Kool, M., Willart, M. A. M. & Hammad, H. Curr. Opin. Immunol. 21, 23–29 (2011).

5.

Idoyaga, J. et al. Proc. Natl Acad. Sci. USA 108, 2384–2389 (2011).

6.

Burgdorf, S., Kautz, A., Böhnert, V., Knolle, P. A. & Kurts, C. Science 316, 612–616 (2007).

7.

Kashem, S. W., Haniffa, M. & Kaplan, D. H. Annu. Rev. Immunol. 35, 469–499 (2017).
About this article
Cite this article
van Kooyk, Y. Next-generation malarial vaccines. Nature Mater 18, 94–96 (2019). https://doi.org/10.1038/s41563-018-0267-2