Although precipitates' compositions are theoretically determined by thermodynamics, their formation kinetics can also lead to composition variations that allow further structural evolution, making the precipitation path more complex.
This is a preview of subscription content
Access options
Subscribe to Journal
Get full journal access for 1 year
$99.00
only $8.25 per issue
All prices are NET prices.
VAT will be added later in the checkout.
Tax calculation will be finalised during checkout.
Rent or Buy article
Get time limited or full article access on ReadCube.
from$8.99
All prices are NET prices.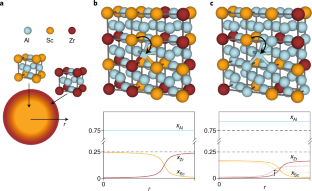 References
1.

Orthacker, A. et al. Nat. Mater. https://doi.org/10.1038/s41563-018-0209-z (2018).

2.

Forbord, B., Lefebvre, W., Danoix, F., Hallem, H. & Marthinsen, K. Scripta Mater. 51, 333–337 (2004).

3.

Tolley, A., Radmilovic, V. & Dahmen, U. Scripta Mater. 52, 621–625 (2005).

4.

Fuller, C. B., Murray, J. L. & Seidman, D. N. Acta Mater. 53, 5401–5413 (2005).

5.

Clouet, E. et al. Nat. Mater. 5, 482–488 (2006).

6.

Cahn, J. W. & Hilliard, J. E. J. Chem. Phys. 31, 688–699 (1959).
About this article
Cite this article
Clouet, E. Excess solvent in precipitates. Nature Mater 17, 1060–1061 (2018). https://doi.org/10.1038/s41563-018-0224-0