Abstract
Monolayers (MLs) of transition-metal dichalcogenides (TMDs) exhibit unusual electrical behaviour under magnetic fields due to their intrinsic spin–orbit coupling and lack of inversion symmetry1,2,3,4,5,6,7,8,9,10,11,12,13,14,15. Although recent experiments have also identified the critical role of carrier interactions within these materials11,15, a complete mapping of the ambipolar Landau level (LL) sequence has remained elusive. Here we use single-electron transistors (SETs)16,17 to perform LL spectroscopy in ML WSe2, and provide a comprehensive picture of the electronic structure of a ML TMD for both electrons and holes. We find that the LLs differ notably between the two bands, and follow a unique sequence in the valence band (VB) that is dominated by strong Zeeman effects. The Zeeman splitting in the VB is several times higher than the cyclotron energy, far exceeding the predictions of a single-particle model and, moreover, tunes significantly with doping15. This implies exceptionally strong many-body interactions, and suggests that ML WSe2 can serve as a host for new correlated-electron phenomena.
Your institute does not have access to this article
Relevant articles
Open Access articles citing this article.
Fengyuan Xuan

&

Su Ying Quek

npj Computational Materials Open Access 09 December 2021

Nature Communications Open Access 28 January 2021

T. P. Lyons

,

S. Dufferwiel

…

A. I. Tartakovskii

Nature Communications Open Access 27 May 2019
Access options
Subscribe to Nature+
Get immediate online access to the entire Nature family of 50+ journals
Subscribe to Journal
Get full journal access for 1 year
$99.00
only $8.25 per issue
All prices are NET prices.
VAT will be added later in the checkout.
Tax calculation will be finalised during checkout.
Buy article
Get time limited or full article access on ReadCube.
$32.00
All prices are NET prices.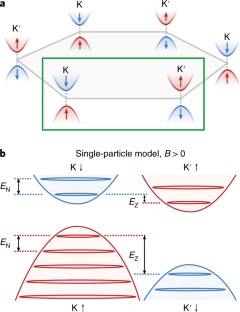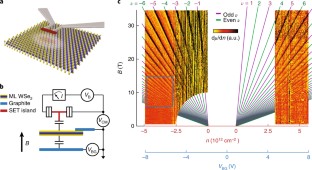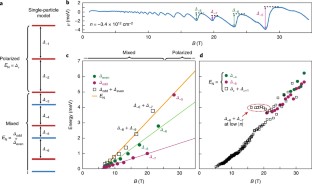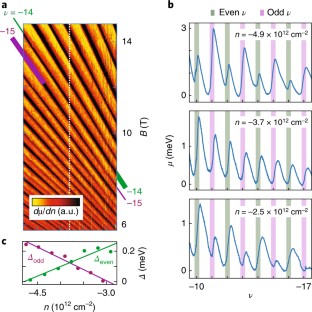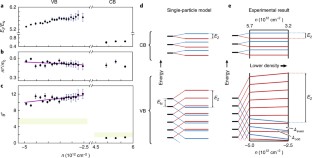 References
Mak, K. F., Lee, C., Hone, J., Shan, J. & Heinz, T. F. Atomically thin MoS2: A new direct-gap semiconductor. Phys. Rev. Lett. 105, 136805 (2010).

Xiao, D., Liu, G.-B., Feng, W., Xu, X. & Yao, W. Coupled spin and valley physics in monolayers of MoS2 and other group-VI dichalcogenides. Phys. Rev. Lett. 108, 196802 (2012).

Li, X., Zhang, F. & Niu, Q. Unconventional quantum Hall effect and tunable spin Hall effect in Dirac materials: application to an isolated MoS2 trilayer. Phys. Rev. Lett. 110, 066803 (2013).

Rose, F., Goerbig, M. O. & Piéchon, F. Spin- and valley-dependent magneto-optical properties of MoS2. Phys. Rev. B 88, 125438 (2013).

Xu, X., Yao, W., Xiao, D. & Heinz, T. F. Spin and pseudospins in layered transition metal dichalcogenides. Nat. Phys. 10, 343–350 (2014).

Li, Y. et al. Valley splitting and polarization by the Zeeman effect in monolayer MoSe2. Phys. Rev. Lett. 113, 266804 (2014).

MacNeill, D. et al. Breaking of valley degeneracy by magnetic field in monolayer MoSe2. Phys. Rev. Lett. 114, 037401 (2015).

Srivastava, A. et al. Valley Zeeman effect in elementary optical excitations of monolayer WSe2. Nat. Phys. 11, 141–147 (2015).

Aivazian, G. et al. Magnetic control of valley pseudospin in monolayer WSe2. Nat. Phys. 11, 148–152 (2015).

Stier, A. V., McCreary, K. M., Jonker, B. T., Kono, J. & Crooker, S. A. Exciton diamagnetic shifts and valley Zeeman effects in monolayer WS2 and MoS2 to 65 Tesla. Nat. Commun. 7, 10643 (2016).

Wang, Z., Shan, J. & Mak, K. F. Valley- and spin-polarized Landau levels in monolayer WSe2. Nat. Nanotech. 12, 144–149 (2017).

Wang, Z., Mak, K. F. & Shan, J. Strongly interaction-enhanced valley magnetic response in monolayer WSe2. Phys. Rev. Lett. 120, 066402 (2018).

Cui, X. et al. Multi-terminal transport measurements of MoS2 using a van der Waals heterostructure device platform. Nat. Nanotech. 10, 534–540 (2015).

Fallahazad, B. et al. Shubnikov–de Haas oscillations of high-mobility holes in monolayer and bilayer WSe2: Landau level degeneracy, effective mass, and negative compressibility. Phys. Rev. Lett. 116, 086601 (2016).

Movva, H. C. et al. Density-dependent quantum Hall states and Zeeman splitting in monolayer and bilayer WSe2. Phys. Rev. Lett. 118, 247701 (2017).

Wei, Y. Y., Weis, J., von Klitzing, K. & Eberl, K. Single-electron transistor as an electrometer measuring chemical potential variations. Appl. Phys. Lett. 71, 2514–2516 (1997).

Martin, J. et al. Observation of electron–hole puddles in graphene using a scanning single-electron transistor. Nat. Phys. 4, 144–148 (2008).

Allain, A., Kang, J., Banerjee, K. & Kis, A. Electrical contacts to two-dimensional semiconductors. Nat. Mater. 14, 1195–1205 (2015).

Wang, L. et al. One-dimensional electrical contact to a two-dimensional material. Science 342, 614–617 (2013).

Eisenstein, J. P., Pfeiffer, L. N. & West, K. W. Negative compressibility of interacting two-dimensional electron and quasiparticle gases. Phys. Rev. Lett. 68, 674–677 (1992).

Kośmider, K., González, J. W. & Fernández-Rossier, J. Large spin splitting in the conduction band of transition metal dichalcogenide monolayers. Phys. Rev. B 88, 245436 (2013).

Feldman, B. E., Krauss, B., Smet, J. H. J. J. H. & Yacoby, A. Unconventional sequence of fractional quantum Hall states in suspended graphene. Science 337, 1196–1199 (2012).

Shi, H., Pan, H., Zhang, Y.-W. & Yakobson, B. I. Quasiparticle band structures and optical properties of strained monolayer MoS2 and WS2. Phys. Rev. B 87, 155304 (2013).

Chang, J., Register, L. & Banerjee, S. K. Ballistic performance comparison of monolayer transition metal dichalcogenide MX2 (M = Mo, W; X = S, Se, Te) metaloxide-semiconductor field effect transistors. J. Appl. Phys. 115, 084506 (2014).

Zibouche, N., Philipsen, P., Heine, T. & Kuc, A. Electron transport in MoWSeS monolayers in the presence of an external electric field. Phys. Chem. Chem. Phys. 16, 11251 (2014).

Kormányos, A. et al. k·p theory for two-dimensional transition metal dichalcogenide semiconductors. 2D Mater 2, 022001 (2015).

Fang, S. et al. Ab initio tight-binding hamiltonian for transition metal dichalcogenides. Phys Rev. B 92, 205108 (2015).

Goerbig, M. O. Electronic properties of graphene in a strong magnetic field. Rev. Mod. Phys. 83, 1193–1243 (2011).

Kravchenko, S. V., Shashkin, A. A., Bloore, D. A. & Klapwijk, T. M. Shubnikov–de Haas oscillations near the metal–insulator transition in a two-dimensional electron system in silicon. Solid State Commun. 116, 495–499 (2000).

Vakiki, K., Sholnikov, Y. P., Tutuc, E., de Poortere, E. P. & Shageyan, M. Spin susceptibility of two-dimensional electrons in narrow AlAs quantum wells. Phys. Rev. Lett. 92, 226401 (2004).

Tan, Y. -W. et al. Spin susceptibility of a two-dimensional electron system in GaAs towards the weak interaction region. Phys Rev. B 73, 045334 (2006).

Ando, T. & Uemura, Y. Theory of oscillatory g factor in an MOS inversion layer under strong magnetic fields. J. Phys. Soc. Jpn. 37, 1044–1052 (1974).

Cong, C. et al. Discovery of intrinsic ferromagnetism in two-dimensional van der Waals crystals. Nature 546, 265–269 (2017).

Huang, B. et al. Layer-dependent ferromagnetism in a van der Waals crystal down to the monolayer limit. Nature 546, 270–273 (2017).
Acknowledgements
We thank K. F. Mak, A. Young, B. Feldman and M. Goerbig for valuable technical and theoretical discussions. C.R.D. and J.H. acknowledge support from the US Department of Energy, DE-SC0016703. C.R.D. acknowledges partial support from the David and Lucille Packard foundation. Sample fabrication and materials synthesis was supported by the NSF MRSEC program through Columbia in the Center for Precision Assembly of Superstratic and Superatomic Solids (DMR-1420634). K.W. and T.T. acknowledge support from the Elemental Strategy Initiative conducted by the MEXT, Japan, and JSPS KAKENHI grant no. JP15K21722. A portion of this work was performed at the National High Magnetic Field Laboratory, which is supported by National Science Foundation Cooperative Agreement no. DMR-0654118, the State of Florida and the US Department of Energy.
Ethics declarations
Competing interests
The authors declare no competing interests.
Additional information
Publisher's note: Springer Nature remains neutral with regard to jurisdictional claims in published maps and institutional affiliations.
Supplementary information
About this article
Cite this article
Gustafsson, M.V., Yankowitz, M., Forsythe, C. et al. Ambipolar Landau levels and strong band-selective carrier interactions in monolayer WSe2. Nature Mater 17, 411–415 (2018). https://doi.org/10.1038/s41563-018-0036-2
Received:

Accepted:

Published:

Issue Date:

DOI: https://doi.org/10.1038/s41563-018-0036-2