Abstract
Governments in low- and middle-income countries routinely deploy their armed forces for domestic policing operations. Advocates of these policies claim they reduce crime, while detractors argue they undermine human rights. Here we experimentally evaluate a military policing intervention in Cali, Colombia. The intervention involved recurring, intensive military patrols targeting crime hot spots, randomly assigned at the city block level. Using administrative crime and human rights data, surveys of more than 10,000 residents, and firsthand observations from civilian monitors, we find little to no credible evidence that military policing reduced crime or improved perceptions of safety during the intervention. If anything, we find that military policing probably exacerbated crime after the intervention was complete. We also find evidence of increased human rights abuses in our survey data (though not in the administrative data or in the firsthand observations of civilian monitors), largely committed by police officers rather than soldiers. We argue the benefits of military policing are probably small and not worth the costs.
Access options
Access Nature and 54 other Nature Portfolio journals
Get Nature+, our best-value online-access subscription
$29.99 / 30 days
cancel any time
Subscribe to this journal
Receive 12 digital issues and online access to articles
$119.00 per year
only $9.92 per issue
Rent or buy this article
Get just this article for as long as you need it
$39.95
Prices may be subject to local taxes which are calculated during checkout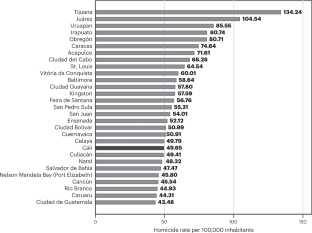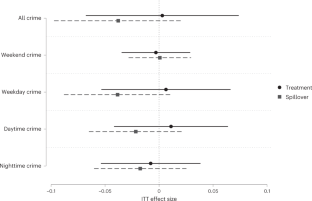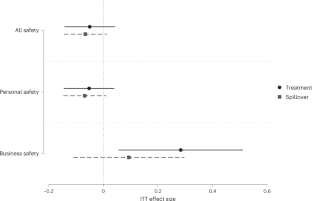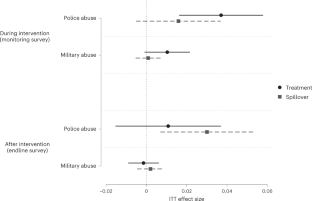 References
Collazos, D., García, E., Mejía, D., Ortega, D. & Tobón, S. Hot spots policing in a high crime environment: an experimental evaluation in Medellín. J. Exp. Criminol. 17, 473–506 (2021).

Flores-Macías, G. & Zarkin, J. The consequences of militarized policing for human rights: evidence from Mexico. Comp. Polit. Stud. https://doi.org/10.1177/00104140231168362 (2023).

Meliala, A. Police as military: Indonesia's experience. Policing 24, 420–432 (2001).

Varona, G. Politics and policing in the philippines: challenges to police reform. Flinders J. Hist. Polit. 26, 102–125 (2010).

Montesh, M. & Basdeo, V. The role of the South African National Defence Force in policing. Sci. Militaria 40, 71–94 (2012).

Dunlap, C. J. Jr. The police-ization of the military. J. Polit. Mil. Sociol. 27, 397–418 (1999).

Braga, A. A. & Weisburd, D. L. Policing Problem Places: Crime Hot Spots and Effective Prevention (Oxford Univ. Press, 2010).

Braga, A. A., Andresen, M. A. & Lawton, B. The law of crime concentration at places: editors' introduction. J. Quant. Criminol. 33, 421–426 (2017).

Sherman, L. W., Gartin, P. R. & Buerger, M. E. Hot spots of predatory crime: routine activities and the criminology of place. Criminology 27, 27–56 (1989).

Sherman, L. W. & Weisburd, D. General deterrent effects of police patrol in crime 'hot spots': a randomized, controlled trial. Justice Q. 12, 625–648 (1995).

Weisburd, D. The law of crime concentration and the criminology of place. Criminology 53, 133–157 (2015).

Nagin, D. in Contemporary Issues in Criminological Theory and Research: The Role of Social Institutions (Papers from the American Society of Criminology 2010 Conference) (eds Rosenfeld, R. et al.) 309–316 (Wadsworth, 2010).

Nagin, D. S., Solow, R. M. & Lum, C. Deterrence, criminal opportunities, and police. Criminology 53, 74–100 (2015).

Flores-Macías, G. A. & Zarkin, J. The militarization of law enforcement: evidence from Latin America. Perspect. Polit. 19, 519–538 (2021).

Pion-Berlin, D. A tale of two missions: Mexican military police patrols versus high-value targeted operations. Armed Forces Soc. 43, 53–71 (2017).

Zechmeister, E. J. The Political Culture of Democracy in the Americas, 2014: Democratic Governance across 10 Years of the Americas Barometer (USAID, 2014).

Apel, R. & Nagin, D. S. in Crime and Public Policy (eds Wilson, J. Q. & Petersilia, J.) 411–436 (Oxford Univ. Press, 2011).

Gibbs, J. P. Crime, Punishment, and Deterrence (Elsevier, 1975).

Kleiman, M. A. R. When Brute Force Fails: How to Have Less Crime and Less Punishment (Princeton Univ. Press, 2010).

Nagin, D. S. in Crime and Justice: A Review of Research Vol. 47 (ed Tonry, M.) 199–263 (Univ. Chicago Press, 2013).

Paternoster, R. The deterrent effect of the perceived certainty and severity of punishment: a review of the evidence and issues. Justice Q. 4, 173–217 (1987).

Wood, N. A. The Ferguson Consensus is wrong: what counterinsurgency in Iraq and Afghanistan teaches us about police militarization and community policing. Lawfare Res. Pap. Ser. 3, 1–22 (2015).

Pion-Berlin, D. & Carreras, M. Armed forces, police and crime-fighting in Latin America. J. Polit. Lat. Am. 9, 3–26 (2017).

Flores-Macías, G. A. The consequences of militarizing anti-drug efforts for state capacity in Latin America: evidence from Mexico. Comp. Polit. 51, 1–20 (2018).

Bayley, D. H. What Works in Policing (Oxford Univ. Press, 1998).

Lessing, B. Logics of violence in criminal war. J. Confl. Resolut. 59, 1486–1516 (2015).

Espinosa, V. & Rubin, D. B. Did the military interventions in the Mexican drug war increase violence? Am. Stat. 69, 17–27 (2015).

Campbell, D. J. & Campbell, K. M. Soldiers as police officers/police officers as soldiers: role evolution and revolution in the United States. Armed Forces Soc. 36, 327–350 (2010).

Braga, A., Papachristos, A. & Hureau, D. Hot spots policing effects on crime. Campbell Syst. Rev. 8, 1–96 (2012).

Braga, A. A., Turchan, B. S., Papachristos, A. V. & Hureau, D. M. Hot spots policing and crime reduction: an update of an ongoing systematic review and meta-analysis. J. Exp. Criminol. 15, 289–311 (2019).

Bove, V. & Gavrilova, E. Police officer on the frontline or a soldier? The effect of police militarization on crime. Am. Econ. J. 9, 1–18 (2017).

Delehanty, C., Mewhirter, J., Welch, R. & Wilks, J. Militarization and police violence: the case of the 1033 program. Res. Polit. 4, 1–7 (2017).

Gunderson, A. et al. Counterevidence of crime-reduction effects from federal grants of military equipment to local police. Nat. Hum. Behav. 5, 194–204 (2021).

Harris, M. C., Park, J., Bruce, D. J. & Murray, M. N. Peacekeeping force: effects of providing tactical equipment to local law enforcement. Am. Econ. J. 9, 291–313 (2017).

Lowande, K. Police demilitarization and violent crime. Nat. Hum. Behav. 5, 205–211 (2021).

Mummolo, J. Militarization fails to enhance police safety or reduce crime but may harm police reputation. Proc. Natl Acad. Sci. USA 115, 9181–9186 (2018).

González, Y. M. Authoritarian Police in Democracy: Contested Security in Latin America (Cambridge Univ. Press, 2020).

Magaloni, B. & Rodriguez, L. Institutionalized police brutality: torture, the militarization of security, and the reform of inquisitorial criminal justice in Mexico. Am. Polit. Sci. Rev. 114, 1013–1034 (2020).

Magaloni, B., Franco-Vivanco, E. & Melo, V. Killing in the slums: social order, criminal governance, and police violence in Rio de Janeiro. Am. Polit. Sci. Rev. 114, 552–572 (2020).

Blattman, C., Green, D. P., Ortega, D. & Tobón, S. Place-based interventions at scale: the direct and spillover effects of policing and city services on crime. J. Eur. Econ. Assoc. 19, 2022–2051 (2021).

Jeffreys, H. Theory of Probability (Oxford Univ. Press, 1961).

Lee, M. D. & Wagenmakers, E.-J. Bayesian Cognitive Modeling: A Practical Course (Cambridge Univ. Press, 2014).

Quintana, D. S. & Williams, D. R. Bayesian alternatives for common null-hypothesis significance tests in psychiatry: a non-technical guide using JASP. BMC Psychiatry 18, 178 (2018).

Kochel, T. R. Constructing hot spots policing: unexamined consequences for disadvantaged populations and for police legitimacy. Crim. Justice Policy Rev. 22, 350–374 (2011).

Rosenbaum, D. P. in Police Innovation: Contrasting Perspectives (eds Weisburd, D. & Braga, A. A.) 245–266 (Cambridge Univ. Press, 2006).

Weisburd, D., Hinkle, J. C., Famega, C. & Ready, J. The possible 'backfire' effects of hot spots policing: an experimental assessment of impacts on legitimacy, fear and collective efficacy. J. Exp. Criminol. 7, 297–320 (2011).

Ratcliffe, J. H., Groff, E. R., Sorg, E. T. & Haberman, C. P. Citizens' reactions to hot spots policing: impacts on perceptions of crime, disorder, safety and police. J. Exp. Criminol. 11, 393–417 (2015).

Carr, J. B. & Packham, A. SNAP benefits and crime: evidence from changing disbursement schedules. Rev. Econ. Stat. 101, 310–325 (2019).

Doleac, J. L. Encouraging desistance from crime. SSRN https://papers.ssrn.com/abstract=3825106 (2020).

Braga, A. A. & Bond, B. J. Policing crime and disorder hot spots: a randomized controlled trial. Criminology 46, 577–607 (2008).

Corsaro, N., Brunson, R. K. & McGarrell, E. F. Evaluating a policing strategy intended to disrupt an illicit street-level drug market. Eval. Rev. 34, 513–548 (2010).

Ratcliffe, J. H., Taniguchi, T., Groff, E. R. & Wood, J. D. The philadelphia foot patrol experiment: a randomized controlled trial of police patrol effectiveness in violent crime hotspots. Criminology 49, 795–831 (2011).

Weisburd, D. & Green, L. Policing drug hot spots: the Jersey City drug market analysis experiment. Justice Q. 12, 711–735 (1995).

Lum, C., Stoltz, M., Koper, C. S. & Scherer, J. A. Research on body-worn cameras: what we know, what we need to know. Criminol. Public Policy 18, 93–118 (2019).

MacKay, D. The ethics of public policy RCTs: the principle of policy equipoise. Bioethics 32, 59–67 (2018).

Asiedu, E., Karlan, D., Lambon-Quayefio, M. P. & Udry, C. R. A call for structured ethics appendices in social science papers. NBER https://www.nber.org/papers/w28393 (2021).

MacKay, D. & Chakrabarti, A. Government policy experiments and informed consent. Public Health Ethics 12, 188–201 (2019).

Aronow, P. M. & Samii, C. Estimating average causal effects under general interference, with application to a social network experiment. Ann. Appl. Stat. 11, 1912–1947 (2017).

Bowers, K. J., Johnson, S. D., Guerette, R. T., Summers, L. & Poynton, S. Spatial displacement and diffusion of benefits among geographically focused policing initiatives: a meta-analytical review. J. Exp. Criminol. 7, 347–374 (2011).

Weisburd, D. et al. Does crime just move around the corner? A controlled study of spatial displacement and diffusion of crime control benefits. Criminology 44, 549–592 (2006).

Abadie, A., Athey, S., Imbens, G. W. & Wooldridge, J. M. When should you adjust standard errors for clustering?. Q. J. Econ. 138, 1–35 (2023).

Gelman, A. A Bayesian formulation of exploratory data analysis and goodness-of-fit testing. Int. Stat. Rev. 71, 369–382 (2003).

Keele, L. The statistics of causal inference: a view from political methodology. Polit. Anal. 23, 313–335 (2015).

Wang, Y., Samii, C. D., Chang, H. & Aronow, P. M. Design-based inference for spatial experiments under unknown interference. Preprint at arXiv https://arxiv.org/abs/2010.13599 (2023).
Acknowledgements
Funding for this project was provided in part by the UK Foreign, Commonwealth & Development Office, awarded through Innovation for Poverty Action's Peace & Recovery Program (grant #MIT0019-S3). Funding for this project was also provided in part by the Open Society Foundations, awarded through Innovation for Poverty Action's Peace & Recovery Program (grant #OSF-19-10002-S1). The funders had no role in study design, data collection and analysis, decision to publish or preparation of the manuscript. We thank staff at Innovations for Poverty Action Colombia (K. Holloway and S. Jaramillo) for coordination of the project; the Secretaría de Seguridad de Cali (M. A. Arboleda, P. Gracia, A. Sánchez, J. D. Tabares, P. Uribe and A. Villamizar) for logistical oversight; the Third Battalion of the Armed Forces of Colombia (especially O. Arciniegas) for its commitment to the evaluation; and C. Bohm, M. F. Cortés, A. Farfán, S. Flórez, C. Gúzman, S. Hernández and L. M. Mora for terrific research assistance. For helpful feedback we thank P. Aronow, G. Blair, C. Blattman, A. Coppock, E. De Bruin, L. Fergusson, D. Green, A. Moya, M. Offer-Westort, M. Ross, S. Parkinson, S. Tobón, J. Vargas, J. Zarkin and participants at workshops and conferences convened by the American Political Science Association, the American Economic Association, Brown University, Cornell University, Duke University, the Folke Bernadotte Academy, Harvard University's Belfer Center, the Households in Conflict Network, the International Studies Association, Oxford University, Peace Research Institute Oslo, Universidad de los Andes, Universidad del Valle, University of California–Berkeley, University of Pennsylvania, Uppsala University and the Virtual Crime Economics Online Seminar.
Ethics declarations
Competing interests
The authors declare no competing interests.
Peer review
Peer review information
Nature Human Behaviour thanks Diego Esparza and the other, anonymous, reviewer(s) for their contribution to the peer review of this work.
Additional information
Publisher's note Springer Nature remains neutral with regard to jurisdictional claims in published maps and institutional affiliations.
Supplementary information
Supplementary Figs. 1–28, discussion and Tables 1–22.
Rights and permissions
Springer Nature or its licensor (e.g. a society or other partner) holds exclusive rights to this article under a publishing agreement with the author(s) or other rightsholder(s); author self-archiving of the accepted manuscript version of this article is solely governed by the terms of such publishing agreement and applicable law.
About this article
Cite this article
Blair, R.A., Weintraub, M. Little evidence that military policing reduces crime or improves human security. Nat Hum Behav (2023). https://doi.org/10.1038/s41562-023-01600-1
Received:

Accepted:

Published:

DOI: https://doi.org/10.1038/s41562-023-01600-1
This article is cited by
Nature Human Behaviour (2023)