Access options
Subscribe to Journal
Get full journal access for 1 year
$119.00
only $9.92 per issue
All prices are NET prices.
VAT will be added later in the checkout.
Tax calculation will be finalised during checkout.
Rent or Buy article
Get time limited or full article access on ReadCube.
from$8.99
All prices are NET prices.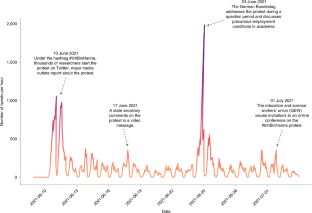 References
1.

Gesetz über befristete Arbeitsverträge in der Wissenschaft (Wissenschaftszeitvertragsgesetz - WissZeitVG). Bundesamt für Justiz https://go.nature.com/3rcE8Ua (2020).

2.

93. Bundesgesetz, mit dem das Universitätsgesetz 2002, das Hochschul-Qualitätssicherungsgesetz, das Hochschulgesetz 2005, das Fachhochschulgesetz und das Privathochschulgesetz geändert werden. Bundeskanzleramt der Republik Österreich https://go.nature.com/3iiIWUb (2021).

3.

Hobler, D. & Reuyss, S. DGB Hochschulreport: Arbeits- und Beschäftigungsbedingungen an Hochschulen in Deutschland (Deutscher Gewerkschaftsbund, 2020).

4.

Confederation of German Trade Unions, Bolenius, S. & Hannack, E. DGB Report on Higher Education Institutions: Selected Findings. Temporary Contracts and Overtime Are the Norm in Academia (DGB, 2020).

5.

Analysis of Tweets for the #IchBinHannah Campaign (GitHub repository, 2021); https://doi.org/10.5281/zenodo.5068748
Ethics declarations
Competing interests
The authors declare no competing interests.
About this article
Cite this article
Bahr, A., Blume, C., Eichhorn, K. et al. With #IchBinHanna, German academia protests against a law that forces researchers out. Nat Hum Behav (2021). https://doi.org/10.1038/s41562-021-01178-6