Abstract
Civilian casualties occur during military attacks. Such 'collateral damage' is prohibited by international laws but increases with substantial consequences when intergroup conflict escalates. Here, we investigate cognitive and neural bases of decision-making processes resulting in civilian harm, using a task that simulates punishment decision-making during intergroup conflict. We test two groups of Chinese participants in a laboratory setting, and members of two ethnic groups (Jewish and Palestinian) in Israel. The results dissociate two psychological constructs, harm preference and harm avoidance, which respectively characterize punishment decision-making related to outgroup combatants and outgroup noncombatants during intergroup conflict. In particular, individuals show decreased avoidance of harming outgroup noncombatants when conflict escalates. Brain imaging (functional magnetic resonance imaging) reveals that decreased harm avoidance is predicted by inhibition of the left middle frontal activity during selection of punishment decisions. Our findings provide insight into the cognitive and neural bases of decision-making involving civilian harm during intergroup conflict.
Access options
Subscribe to Journal
Get full journal access for 1 year
$99.00
only $8.25 per issue
All prices are NET prices.
VAT will be added later in the checkout.
Tax calculation will be finalised during checkout.
Rent or Buy article
Get time limited or full article access on ReadCube.
from$8.99
All prices are NET prices.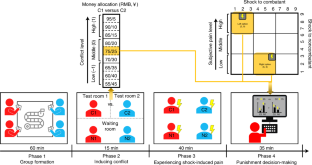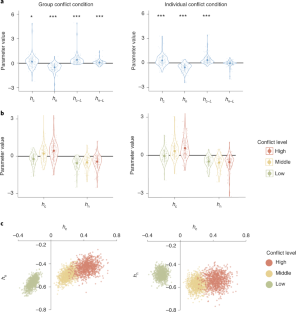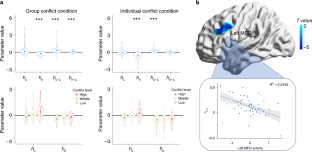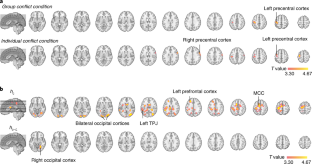 Data availability
The data that support the findings of this study are available from the corresponding author upon reasonable request.
Code availability
The codes used to analyse the data that support the findings of this study are available from the corresponding author upon reasonable request.
References
1.

Reynolds, J. D. Collateral damage on the 21st century battlefield: enemy exploitation of the law of armed conflict, and the struggle for a moral high ground. Air Force Law Rev. 56, 1,101 (2005).

2.

The 1977 Additional Protocol I of the Fourth Geneva Convention of 1949.

3.

Eckhardt, W. Civilian deaths in wartime. Bull. Peace Proposals 20, 89–98 (1989).

4.

Roberts, A. Lives and statistics: are 90% of war victims civilians? Survival 52, 115–136 (2010).

5.

Voon, T. Pointing the finger: civilian casualties of NATO bombing in the Kosovo conflict. Am. U. Intl L. Rev. 16, 1083–1113 (2001).

6.

Fragmented Lives: Humanitarian Overview 2014 (UNOCHA OPT, 2015).

7.

Seymour, B., Singer, T. & Dolan, R. The neurobiology of punishment. Nat. Rev. Neurosci. 8, 300–311 (2007).

8.

Krueger, F. & Hoffman, M. The emerging neuroscience of third-party punishment. Trends Neurosci. 39, 499–501 (2016).

9.

Patil, I., Calò, M., Fornasier, F., Cushman, F. & Silani, G. The behavioral and neural basis of empathic blame. Sci. Rep. 7, 1–14 (2017).

10.

Ginther, M. R. et al. Parsing the behavioral and brain mechanisms of third-party punishment. J. Neurosci. 36, 9420–9434 (2016).

11.

Buckholtz, J. W. et al. The neural correlates of third-party punishment. Neuron 60, 930–940 (2008).

12.

Halevy, N., Bornstein, G. & Sagiv, L. "In-group love" and "out-group hate" as motives for individual participation in intergroup conflict: a new game paradigm. Psychol. Sci. 19, 405–411 (2008).

13.

De Dreu, C. K. et al. The neuropeptide oxytocin regulates parochial altruism in intergroup conflict among humans. Science 328, 1408–1411 (2010).

14.

De Dreu, C. K. et al. In-group defense, out-group aggression, and coordination failures in intergroup conflict. Proc. Natl Acad. Sci. U. S. A. 113, 10524–10529 (2016).

15.

Sääksvuori, L., Mappes, T. & Puurtinen, M. Costly punishment prevails in intergroup conflict. Proc. Biol. Sci. B 278, 3428–3436 (2011).

16.

Zhang, H., Gross, J., De Dreu, C. & Ma, Y. Oxytocin promotes coordinated out-group attack during intergroup conflict in humans. eLife 8, e40698 (2019).

17.

Wolfe, R. J. & Darley, J. M. Protracted asymmetrical conflict erodes standards for avoiding civilian casualties. Peace Confl. J. Peace Psychol. 11, 55–61 (2005).

18.

Fehr, E. & Gächter, S. Fairness and retaliation: the economics of reciprocity. J. Econ. Perspect. 14, 159–181 (2000).

19.

Aron, A., Aron, E. N. & Smollan, D. Inclusion of other in the self scale and the structure of interpersonal closeness. J. Pers. Soc. Psychol. 63, 596–612 (1992).

20.

Peng, C. Y. J., Lee, K. L. & Ingersoll, G. M. An introduction to logistic regression analysis and reporting. J. Educ. Res 96, 3–14 (2002).

21.

Firth, D. Bias reduction of maximum likelihood estimates. Biometrika 80, 27–38 (1993).

22.

Kubota, J. T., Li, J., Bar-David, E., Banaji, M. R. & Phelps, E. A. The price of racial bias: intergroup negotiations in the ultimatum game. Psychol. Sci. 24, 2498–2504 (2013).

23.

Jarosz, A. F. & Wiley, J. What are the odds? A practical guide to computing and reporting Bayes factors. J. Prob. Solving 7, 2–9 (2014).

24.

Rouhana, N. N. & Bar-Tal, D. Psychological dynamics of intractable ethnonational conflicts: the Israeli–Palestinian case. Am. Psychol. 53, 761–770 (1998).

25.

Bekerman, Z. & Horenczyk, G. Arab–Jewish bilingual coeducation in Israel: a long‐term approach to intergroup conflict resolution. J. Soc. Issues 60, 389–404 (2004).

26.

Shamay-Tsoory, S. G. et al. Giving peace a chance: oxytocin increases empathy to pain in the context of the Israeli–Palestinian conflict. Psychoneuroendocrinology 38, 3139–3144 (2013).

27.

Feshbach, S. & Sakano, N. The structure and correlates of attitudes toward one's nation in samples of United States and Japanese college students: a comparative study. in Patriotism in the Lives of Individuals and Nations (eds Bar-Tal, D. & Staub, E.) 91–107 (Nelson-Hall, 1997).

28.

Fan, L. et al. The Human Brainnetome atlas: a new brain atlas based on connectional architecture. Cereb. Cortex 26, 3508–3526 (2016).

29.

Fullinwider, R. K. War and innocence. Phil. Pub. Affairs 5, 90 (1975).

30.

Coates, A. J. The Ethics of War (Manchester Univ. Press, 1997).

31.

Schiller, B., Baumgartner, T. & Knoch, D. Intergroup bias in third-party punishment stems from both ingroup favoritism and outgroup discrimination. Evol. Hum. Behav. 35, 169–175 (2014).

32.

Bernhard, H., Fischbacher, U. & Fehr, E. Parochial altruism in humans. Nature 442, 912–915 (2006).

33.

Delton, A. W. & Krasnow, M. M. The psychology of deterrence explains why group membership matters for third-party punishment. Evol. Hum. Behav. 38, 734–743 (2017).

34.

Fehr, E. & Fischbacher, U. Third-party punishment and social norms. Evol. Hum. Behav. 25, 63–87 (2004).

35.

Volle, E. et al. The functional architecture of the left posterior and lateral prefrontal cortex in humans. Cereb. Cortex 18, 2460–2469 (2008).

36.

Dixon, M. L. & Christoff, K. The lateral prefrontal cortex and complex value-based learning and decision making. Neurosci. Biobehav. Rev. 45, 9–18 (2014).

37.

Skunde, M. et al. Neural signature of behavioural inhibition in women with bulimia nervosa. J. Psychia. Neurosci. 41, E69 (2016).

38.

Elshout, M., Nelissen, R. M. & Van Beest, I. A prototype analysis of vengeance. Pers. Relat. 22, 502–523 (2015).

39.

Jackson, J. C., Choi, V. K. & Gelfand, M. J. Revenge: a multilevel review and synthesis. Ann. Rev. Psychol. 70, 319–345 (2019).

40.

Han, X. et al. A neurobiological association of revenge propensity during intergroup conflict. eLife 9, e52014 (2020).

41.

Sherif, M. Group Conflict and Cooperation (Routledge, 1966).

42.

Stephan, W. G., & Stephan, C. W. Intergroup threat theory. in The International Encyclopedia of Intercultural Communication (Wiley, 2017).

43.

Kteily, N., Hodson, G. & Bruneau, E. They see us as less than human: metadehumanization predicts intergroup conflict via reciprocal dehumanization. J. Pers. Soc. Psychol. 110, 343–370 (2016).

44.

Amodio, D. M. & Mendoza, S. A. in Handbook of Implicit Social Cognition: Measurement, Theory, and Applications (eds Gawronski, B. & Payne, B. K.) 353–374 (Guilford Press, 2010).

45.

Xu, X., Zuo, X., Wang, X. & Han, S. Do you feel my pain? Racial group membership modulates empathic neural responses. J. Neurosci. 29, 8525–8529 (2009).

46.

Hein, G., Silani, G., Preuschoff, K., Batson, C. D. & Singer, T. Neural responses to ingroup and outgroup members' suffering predict individual differences in costly helping. Neuron 68, 149–160 (2010).

47.

Molenberghs, P. The neuroscience of in-group bias. Neurosci. Biobehav. Rev. 37, 1530–1536 (2013).

48.

Cikara, M. & Van Bavel, J. J. The neuroscience of intergroup relations: an integrative review. Perspec. Psychol. Sci. 9, 245–274 (2014).

49.

Levy, J. et al. Adolescents growing up amidst intractable conflict attenuate brain response to pain of outgroup. Proc. Natl Acad. Sci. U. S. A. 113, 13696–13701 (2016).

50.

Han, S. Neurocognitive basis of racial ingroup bias in empathy. Trends Cogn. Sci. 22, 400–421 (2018).

51.

Rusch, H. The evolutionary interplay of intergroup conflict and altruism in humans: a review of parochial altruism theory and prospects for its extension. Proc. Biol. Sci. B 281, 20141539 (2014).

52.

Abbink, K., Brandts, J., Herrmann, B. & Orzen, H. Intergroup conflict and intra-group punishment in an experimental contest game. Am. Econ. Rev. 100, 420–447 (2010).

53.

Battigalli, P. & Dufwenberg, M. Dynamic psychological games. J. Econ. Theory 144, 1–35 (2009).

54.

Nisbett, R. E. & Masuda, T. Culture and point of view. Proc. Natl Acad. Sci. U. S. A. 100, 11163–11170 (2003).

55.

Han, S. & Northoff, G. Culture-sensitive neural substrates of human cognition: a transcultural neuroimaging approach. Nat. Rev. Neurosci. 9, 646–654 (2008).

56.

Han, S. The Sociocultural Brain: A Cultural Neuroscience Approach to Human Nature (Oxford Univ. Press, 2017).

57.

Han, S. & Ma, Y. A culture–behavior–brain loop model of human development. Trends Cogn. Sci. 19, 666–676 (2015).

58.

Ma, Y. et al. Does self-construal predict activity in the social brain network? A genetic moderation effect. Soc. Cogn. Affect. Neurosci. 9, 1360–1367 (2014).

59.

Luo, S. et al. Interaction between oxytocin receptor polymorphism and interdependent culture values on human empathy. Soc. Cogn. Affect. Neurosci. 10, 1273–1281 (2015).

60.

Buckholtz, J. W. et al. From blame to punishment: disrupting prefrontal cortex activity reveals norm enforcement mechanisms. Neuron 87, 1369–1380 (2015).

61.

Faul, F., Erdfelder, E., Buchner, A. & Lang, A. G. Statistical power analyses using G*Power 3.1: Tests for correlation and regression analyses. Behav. Res. Methods 41, 1149–1160 (2009).

62.

Raftery, A. E. Bayesian model selection in social research. Sociol. Meth 25, 111–164 (1995).
Acknowledgements
This research was supported by the National Natural Science Foundation of China (projects 31421003, 31871134 and 31661143039), the Ministry of Science and Technology of China (2019YFA0707103) and the Israel Science Foundation (2510/16). We thank the National Center for Protein Sciences at Peking University for assistance with this study. The authors thank L. Zhu, J. Li, and Y. Ma for insightful discussion about experimental design and data analyses, R. Hampton for proof reading, and S. Wang for modification of Fig. 1. The funder had no role in the conceptualization, design, data collection, analysis, decision to publish or preparation of the manuscript.
Ethics declarations
Competing interests
The authors declare no competing interests.
Additional information
Peer review information Nature Human Behaviour thanks Pablo Brañas-Garza, Grit Hein, and the other, anonymous, reviewer(s) for their contribution to the peer review of this work. Primary Handling Editor: Jamie Horder.
Publisher's note Springer Nature remains neutral with regard to jurisdictional claims in published maps and institutional affiliations.
Supplementary information
Supplementary Results, Supplementary Tables 1–4 and Supplementary Figs. 1–6.
About this article
Cite this article
Han, X., Zhou, S., Fahoum, N. et al. Cognitive and neural bases of decision-making causing civilian casualties during intergroup conflict. Nat Hum Behav (2021). https://doi.org/10.1038/s41562-021-01064-1
Received:

Accepted:

Published: