Abstract
Cultural stereotypes such as the idea that men are more suited for paid work and women are more suited for taking care of the home and family, may contribute to gender imbalances in science, technology, engineering and mathematics (STEM) fields, among other undesirable gender disparities. Might these stereotypes be learned from language? Here we examine whether gender stereotypes are reflected in the large-scale distributional structure of natural language semantics. We measure gender associations embedded in the statistics of 25 languages and relate these to data on an international dataset of psychological gender associations (N = 656,636). People's implicit gender associations are strongly predicted by gender associations encoded in the statistics of the language they speak. These associations are further related to the extent that languages mark gender in occupation terms (for example, 'waiter'/'waitress'). Our pattern of findings is consistent with the possibility that linguistic associations shape people's implicit judgements.
Relevant articles
Open Access articles citing this article.
Ludovica Marinucci

,

Claudia Mazzuca

&

Aldo Gangemi

AI & SOCIETY Open Access 26 May 2022
Access options
Subscribe to Nature+
Get immediate online access to Nature and 55 other Nature journal
Subscribe to Journal
Get full journal access for 1 year
$119.00
only $9.92 per issue
All prices are NET prices.
VAT will be added later in the checkout.
Tax calculation will be finalised during checkout.
Buy article
Get time limited or full article access on ReadCube.
$32.00
All prices are NET prices.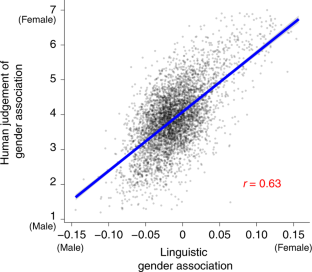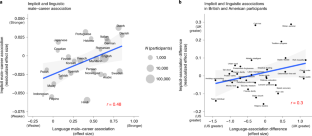 References
Gelman, S. A., Taylor, M. G., Nguyen, S. P., Leaper, C. & Bigler, R. S. Mother–child conversations about gender: understanding the acquisition of essentialist beliefs. Monogr. Soc. Res. Child Dev. 69, 1–142 (2004).

Bian, L., Leslie, S. J. & Cimpian, A. Gender stereotypes about intellectual ability emerge early and influence children's interests. Science 355, 389–391 (2017).

Ceci, S. J. & Williams, W. M. Understanding current causes of women's underrepresentation in science. Proc. Natl Acad. Sci. USA 108, 3157–3162 (2011).

Leslie, S. J., Cimpian, A., Meyer, M. & Freeland, E. Expectations of brilliance underlie gender distributions across academic disciplines. Science 347, 262–265 (2015).

Miller, D. I., Eagly, A. H. & Linn, M. C. Women's representation in science predicts national gender–science stereotypes: Evidence from 66 nations. J. Educ. Psychol. 107, 631 (2015).

Stoet, G. & Geary, D. C. The gender-equality paradox in science, technology, engineering, and mathematics education. Psychol. Sci. 29, 581–593 (2018).

Dryer, M. S. & Haspelmath M. eds. WALS Online (Max Planck Institute for Evolutionary Anthropology, 2013); https://wals.info/

Rhodes, M. & Brickman, D. Preschoolers' responses to social comparisons involving relative failure. Psychol. Sci. 19, 968–972 (2008).

Cimpian, A., Mu, Y. & Erickson, L. C. Who is good at this game? Linking an activity to a social category undermines children's achievement. Psychol. Sci. 23, 533–541 (2012).

Cimpian, A. & Markman, E. M. The generic/nongeneric distinction influences how children interpret new information about social others. Child Dev. 82, 471–492 (2011).

Rhodes, M., Leslie, S. J., Yee, K. M. & Saunders, K. Subtle linguistic cues increase girls' engagement in science. Psychol. Sci. 30, 455–466 (2019).

Greenwald, A. G., McGhee, D. E. & Schwartz, J. L. Measuring individual differences in implicit cognition: the implicit association test. J. Pers. Soc. Psychol. 74, 1464–1480 (1998).

Nosek, B. A., Banaji, M. R. & Greenwald, A. G. Harvesting implicit group attitudes and beliefs from a demonstration web site. Group Dyn. Theory Res. Pract. 6, 101–115 (2002).

Payne, B. K., Vuletich, H. A. & Brown-Iannuzzi, J. L. Historical roots of implicit bias in slavery. Proc. Natl Acad. Sci. USA 116, 11693–11698 (2019).

Hehman, E., Calanchini, J., Flake, J. K. & Leitner, J. B. Establishing construct validity evidence for regional measures of explicit and implicit racial bias. J. Exp. Psychol. Gen. 148, 1022–1040 (2019).

Charlesworth, T. E. & Banaji, M. R. Patterns of implicit and explicit attitudes: I. Long-term change and stability from 2007 to 2016. Psychol. Sci. 30, 174–192 (2019).

Firth, J. R. Studies in Linguistic Analysis (Philological Society, 1957).

Landauer, T. K. & Dumais, S. T. A solution to Plato's problem: The latent semantic analysis theory of acquisition, induction, and representation of knowledge. Psychol. Rev. 104, 211–240 (1997).

Lund, K. & Burgess, C. Producing high-dimensional semantic spaces from lexical co-occurrence. Behav. Res. Methods Instrum. Comput. 28, 203–208 (1996).

Lenci, A. Distributional semantics in linguistic and cognitive research. Ital. J. Linguist. 20, 1–31 (2008).

Caliskan, A., Bryson, J. J. & Narayanan, A. Semantics derived automatically from language corpora contain human-like biases. Science 356, 183–186 (2017).

Bhatia, S. The semantic representation of prejudice and stereotypes. Cognition 164, 46–60 (2017).

von der Malsburg, T., Poppels, T. & Levy, R. Implicit gender bias in linguistic descriptions for expected events: The cases of the 2016 US and 2017 UK election. Psychol. Sci. 31, 115–128 (2020).

Garg, N., Schiebinger, L., Jurafsky, D. & Zou, J. Word embeddings quantify 100 years of gender and ethnic stereotypes. Proc. Natl Acad. Sci. USA 115, E3635–E3644 (2018).

Greenwald, A. G. An AI stereotype catcher. Science 356, 133–134 (2017).

Lupyan, G. & Lewis, M. From words-as-mappings to words-as-cues: the role of language in semantic knowledge. Lang. Cogn. Neurosci. 34, 1319–1337 (2017).

Greenwald, A. G., Nosek, B. A. & Banaji, M. R. Understanding and using the implicit association test: I. an improved scoring algorithm. J. Pers. Soc. Psychol. 85, 197 (2003).

Forscher, P. S. et al. A meta-analysis of procedures to change implicit measures. J. Pers. Soc. Psychol. 117, 522–559 (2019).

CIA. The CIA World Factbook 2017 (2016); https://www.cia.gov/library/publications/the-world-factbook/index.html

Mikolov, T., Chen, K., Corrado, G. & Dean, J. Efficient estimation of word representations in vector space. Preprint at arXiv https://arxiv.org/abs/1301.3781 (2013).

van Paridon, J. & Thompson, B. subs2vec: word embeddings from subtitles in 55 languages. Preprint at OSF https://doi.org/10.31234/osf.io/fcrmy (2019).

Lison, P. & Tiedemann, J. OpenSubtitles2016: extracting large parallel corpora from movie and TV subtitles. In Proc. 10th International Conference on Language Resources and Evaluation (ELRA, 2016).

Bojanowski, P., Grave, E., Joulin, A. & Mikolov, T. Enriching word vectors with subword information. Trans. Assoc. Comput. Ling. 5, 135–146 (2017).

Hussey, I., et al. The Attitudes, Identities, and Individual differences (AIID) Study and Dataset https://osf.io/pcjwf/ (2019).

Falk, A. & Hermle, J. Relationship of gender differences in preferences to economic development and gender equality. Science 362, eaas9899 (2018).

Lane, K. A., Banaji, M. R., Nosek, B. A. & Greenwald, A. G. in Implicit Measures of Attitudes (eds. Wittenbrink, B. & Schwarz, N.) 59–102 (2007).

Fazio, R. H. & Olson, M. A. Implicit measures in social cognition research: their meaning and use. Annu. Rev. Psychol. 54, 297–327 (2003).

Payne, B. K., Vuletich, H. A. & Lundberg, K. B. The bias of crowds: how implicit bias bridges personal and systemic prejudice. Psychol. Inq. 28, 233–248 (2017).

Marian, V. & Kaushanskaya, M. Language context guides memory content. Psychon. Bull. Rev. 14, 925–933 (2007).

Athanasopoulos, P. Cognitive representation of colour in bilinguals: the case of Greek blues. Biling. Lang. Cogn. 12, 83–95 (2009).

Scott, G. G., Keitel, A., Becirspahic, M., Yao, B. & Sereno, S. C. The Glasgow norms: ratings of 5,500 words on nine scales. Behav. Res. Methods 51, 1258–1270 (2019).

Joulin, A., Grave, E., Bojanowski, P. & Mikolov, T. Bag of tricks for efficient text classification. Preprint at arXiv https://arxiv.org/abs/1607.01759 (2016).

Simons, G. F. & Charles, D. F. (eds) Ethnologue: Languages of the World (SIL International, 2018).

Burnard, L. Users Reference Guide for the British National Corpus (Oxford Univ. Computing Services, 1995).

Davies M. The Corpus of Contemporary American English (2008); https://corpus.byu.edu/coca/

Bates, D., Mächler, M., Bolker, B. & Walker, S. Fitting linear mixed-effects models using lme4. J. Stat. Softw. 67, 1–48 (2015).

Misersky, J. et al. Norms on the gender perception of role nouns in Czech, English, French, German, Italian, Norwegian, and Slovak. Behav. Res. Methods 46, 841–871 (2014).

Haspelmath, M., Dryer, M. S., Gil, D. & Comrie, B. (eds) The World Atlas of Language Structures Online (Max Planck Institute for Evolutionary Anthropology, 2008); http://wals.info

The World Bank. World Development Indicators (2017); http://data.worldbank.org/indicator/NY.GDP.PCAP.CD
Acknowledgements
The authors acknowledge National Science Foundation Perception, Action and Cognition 1734260 for funding support for this work. The funders had no role in study design, data collection and analysis, decision to publish or preparation of the manuscript.
Ethics declarations
Competing interests
The authors declare no competing interests.
Additional information
Peer review information Primary handling editor: Aisha Bradshaw
Publisher's note Springer Nature remains neutral with regard to jurisdictional claims in published maps and institutional affiliations.
Supplementary information
Supplementary Methods, Supplementary Fig. 1 and Supplementary Tables 1–3.
Most frequent language spoken in each country in our sample.
About this article
Cite this article
Lewis, M., Lupyan, G. Gender stereotypes are reflected in the distributional structure of 25 languages. Nat Hum Behav 4, 1021–1028 (2020). https://doi.org/10.1038/s41562-020-0918-6
Received:

Accepted:

Published:

Issue Date:

DOI: https://doi.org/10.1038/s41562-020-0918-6
This article is cited by
Gabriel Grand
Idan Asher Blank
Evelina Fedorenko

Nature Human Behaviour (2022)

Ludovica Marinucci
Claudia Mazzuca
Aldo Gangemi

AI & SOCIETY (2022)

Tianlin Wang
Matt Cooper Borkenhagen
Mark S. Seidenberg

Reading and Writing (2022)