Human culture is unique. Or is it? A new study reveals unexpected cultural diversity in the fine-grained details of chimpanzee termite fishing behaviour. These novel findings shed light on the richness of chimpanzee cultural diversity and reveal a narrower gap between the cultures of humans and other apes.
Access options
Subscribe to Journal
Get full journal access for 1 year
$104.00
only $8.67 per issue
All prices are NET prices.
VAT will be added later in the checkout.
Rent or Buy article
Get time limited or full article access on ReadCube.
from$8.99
All prices are NET prices.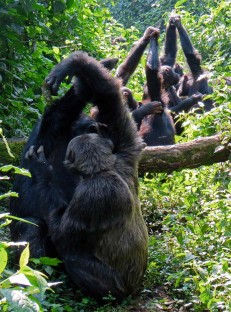 References
1.

Goodall, J. Nature 201, 1264–1266 (1964).

2.

Whiten, A. et al. Nature 399, 682–685 (1999).

3.

Tennie, C., Call, J. & Tomasello, M. Philos. Trans. R. Soc. Lond. B 364, 2405–2415 (2009).

4.

Boesch, C. et al. Nat. Hum. Behav. https://doi.org/10.1038/s41562-020-0890-1 (2020).

5.

Musgrave, S. et al. Proc. Natl Acad. Sci. USA 117, 969–976 (2020).

6.

Schuppli, C. & van Schaik, C.P. Evol. Hum. Sci. https://doi.org/10.1017/ehs.2019.1 (2019).

7.

Wrangham, R. W. et al. Curr. Biol. 26, 3033–3037 (2016).

8.

Schöning, C., Humle, T., Möbius, Y. & McGrew, W. C. J. Hum. Evol. 55, 48–59 (2008).

9.

Koops, K., Visalberghi, E. & van Schaik, C. P. Biol. Lett. 10, 20140508 (2014).

10.

Kühl, H. S. et al. Science 363, 1453–1455 (2019).
Ethics declarations
Competing interests
The author declares no competing interests.
About this article
Cite this article
Koops, K. Chimpanzee termite fishing etiquette. Nat Hum Behav (2020). https://doi.org/10.1038/s41562-020-0895-9