This is a preview of subscription content
Access options
Subscribe to Journal
Get full journal access for 1 year
$119.00
only $9.92 per issue
All prices are NET prices.
VAT will be added later in the checkout.
Tax calculation will be finalised during checkout.
Rent or Buy article
Get time limited or full article access on ReadCube.
from$8.99
All prices are NET prices.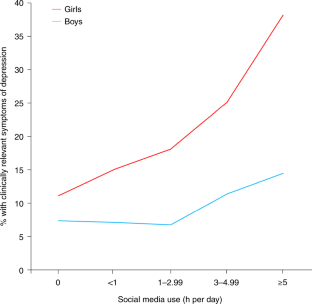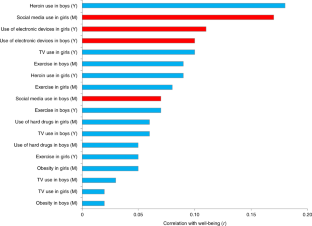 References
1.

Orben, A. & Przybylski, A. K. The association between adolescent well-being and digital technology use. Nat. Hum. Behav. 3, 173–182 (2019).

2.

Kelly, Y., Zilanawala, A., Booker, C. & Sacker, A. Social media use and adolescent mental health: findings from the UK Millennium Cohort Study. EClinicalMedicine 6, 59–68 (2018).

3.

Twenge, J. M. More time on technology, less happiness? Associations between digital media use and psychological well-being. Curr. Dir. Psychol. Sci. 28, 372–379 (2019).

4.

Przybylski, A. K. & Weinstein, N. A large-scale test of the Goldilocks hypothesis: quantifying the relations between digital-screen use and the mental well-being of adolescents. Psychol. Sci. 28, 204–215 (2017).

5.

McManus, S., Gunnell, D., Cooper, C., Bebbington, P. E., Howard, L. M. & Brugha, T. Prevalence of non-suicidal self-harm and service contact in England, 2000–14: repeated cross-sectional surveys of the general population. Lancet Psychiat. 6, 573–581 (2019).

6.

Twenge, J. M., Martin, G. N. & Spitzberg, B. H. Trends in U.S. adolescents' media use, 1976–2016: the rise of digital media, the decline of TV, and the (near) demise of print. Psychol. Pop. Media Cult. 8, 329–345 (2019).

7.

Cronbach, L. J. & Meehl, P. E. Construct validity in psychological tests. Psychol. Bull. 52, 281–302 (1955).

8.

Johnston, L. D., O'Malley, P. M., Bachman, J. G., Schulenberg, J. E., & Miech, R. A. Monitoring the Future: National Survey Results on Drug Use, 1975–2016. (University of Michigan, National Institute on Drug Abuse at the National Institute of Health, 2018).

9.

Twenge, J. M., Martin, G. N. & Campbell, W. K. Decreases in psychological well-being among American adolescents after 2012 and links to screen time during the rise of smartphone technology. Emotion 18, 765–780 (2018).

10.

Schisterman, E. F., Cole, S. R. & Platt, R. W. Overadjustment bias and unnecessary adjustment in epidemiologic studies. Epidemiology 20, 488–495 (2009).

11.

Rohrer, J. M. Thinking clearly about correlations and causation: graphical causal models for observational data. Adv. Methods Pract. Psychol. Sci. 1, 27–42 (2018).

12.

Ferguson, C. J. An effect size primer: a guide for clinicians and researchers. Prof. Psychol. Res. Pract. 40, 532–538 (2009).

13.

Funder, D. C. & Ozer, D. J. Evaluating effect size in psychological research: sense and nonsense. Adv. Methods Pract. Psychol. Sci. 2, 156–168 (2019).

14.

Rosnow, R. L. & Rosenthal, R. Effect sizes for experimenting psychologists. Can. J. Exp. Psychol. 57, 221–237 (2003).

15.

Abelson, R. P. A variance explanation paradox: when a little is a lot. Psychol. Bull. 97, 129–133 (1985).

16.

Twenge, J. M. Why increases in adolescent depression may be linked to the technological environment. Curr. Opin. Psychol. 32, 89–94 (2020).
Ethics declarations
Competing interests
J.M.T., J.H., W.K.C. and T.E.J. have received speaking honoraria and consulting fees from non-profit and for-profit entities for presenting research.
Additional information
Publisher's note Springer Nature remains neutral with regard to jurisdictional claims in published maps and institutional affiliations.
Extended data
Associations between internet use and well-being indicators, boys, Millennium Cohort Study (includes demographic controls).
About this article
Cite this article
Twenge, J.M., Haidt, J., Joiner, T.E. et al. Underestimating digital media harm. Nat Hum Behav 4, 346–348 (2020). https://doi.org/10.1038/s41562-020-0839-4
Received:

Accepted:

Published:

Issue Date: