Abstract
Understanding ethnic differences in pain is important for addressing disparities in pain care. A common belief is that African Americans are hyposensitive to pain compared to Whites, but African Americans show increased pain sensitivity in clinical and laboratory settings. The neurobiological mechanisms underlying these differences are unknown. We studied an ethnicity- and gender-balanced sample of African Americans, Hispanics and non-Hispanic Whites using functional magnetic resonance imaging during thermal pain. Higher pain report in African Americans was mediated by discrimination and increased frontostriatal circuit activations associated with pain rating, discrimination, experimenter trust and extranociceptive aspects of pain elsewhere. In contrast, the neurologic pain signature, a neuromarker sensitive and specific to nociceptive pain, mediated painful heat effects on pain report largely similarly in African American and other groups. Findings identify a brain basis for higher pain in African Americans related to interpersonal context and extranociceptive central pain mechanisms and suggest that nociceptive pain processing may be similar across ethnicities.
This is a preview of subscription content
Access options
Subscribe to Journal
Get full journal access for 1 year
$119.00
only $9.92 per issue
All prices are NET prices.
VAT will be added later in the checkout.
Tax calculation will be finalised during checkout.
Rent or Buy article
Get time limited or full article access on ReadCube.
from$8.99
All prices are NET prices.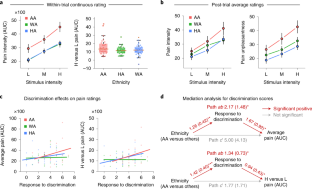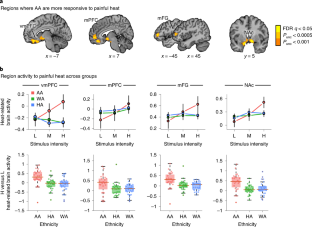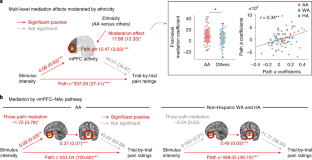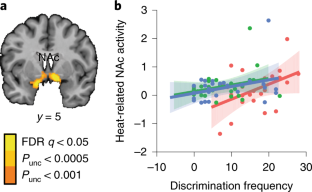 Data availability
The data that support the findings of this study are available from the corresponding author on request.
References
1.

Trawalter, S. & Hoffman, K. M. Got pain? Racial bias in perceptions of pain. Soc. Person. Psychol. Compass 9, 146–157 (2015).

2.

Hoffman, K. M., Trawalter, S., Axt, J. R. & Oliver, M. N. Racial bias in pain assessment and treatment recommendations, and false beliefs about biological differences between blacks and whites. Proc. Natl Acad. Sci. USA 113, 4296–4301 (2016).

3.

National Center for Health Statistics (US). Health, United States, 2015: With Special Feature on Racial and Ethnic Health Disparities (National Center for Health Statistics (US), 2016).

4.

Anderson, K. O., Green, C. R. & Payne, R. Racial and ethnic disparities in pain: causes and consequences of unequal care. J. Pain 10, 1187–1204 (2009).

5.

Rahim‐Williams, B., Riley, J. L., Williams, A. K. & Fillingim, R. B. A quantitative review of ethnic group differences in experimental pain response: do biology, psychology, and culture matter? Pain Med. 13, 522–540 (2012).

6.

Kim, H. J. et al. Racial and ethnic differences in experimental pain sensitivity: systematic review and meta-analysis. PAIN 158, 194–211 (2017).

7.

Anderson, S. R. & Losin, E. A. R. A sociocultural neuroscience approach to pain. Culture Brain 5, 14–35 (2016).

8.

Craig, K. D. Social communication model of pain. PAIN 156, 1198–1199 (2015).

9.

Bates, M. S. Ethnicity and pain: a biocultural model. Soc. Sci. Med. 24, 47–50 (1987).

10.

Campbell, C. M. et al. Ethnic differences in diffuse noxious inhibitory controls. J. Pain 9, 759–766 (2008).

11.

Campbell, C. M. et al. Ethnic differences in the nociceptive flexion reflex (NFR). PAIN 134, 91–96 (2008).

12.

Gelernter, J., Kranzler, H. & Cubells, J. Genetics of two mu opioid receptor gene (OPRM1) exon I polymorphisms: population studies, and allele frequencies in alcohol-and drug-dependent subjects. Mol. Psychiatry 4, 476–483 (1999).

13.

Williams, D. R. & Mohammed, S. A. Discrimination and racial disparities in health: evidence and needed research. J. Behav. Med. 32, 20–47 (2009).

14.

Williams, D. R. Race, socioeconomic status, and health. The added effects of racism and discrimination. Ann. N.Y. Acad. Sci. 896, 173–188 (1999).

15.

Hatch, S. L. & Dohrenwend, B. P. Distribution of traumatic and other stressful life events by race/ethnicity, gender, SES and age: a review of the research. Am. J. Commun. Psychol. 40, 313–332 (2007).

16.

Campbell, C. M., Edwards, R. R. & Fillingim, R. B. Ethnic differences in responses to multiple experimental pain stimuli. PAIN 113, 20–26 (2005).

17.

Cano, A., Mayo, A. & Ventimiglia, M. Coping, pain severity, interference, and disability: the potential mediating and moderating roles of race and education. J. Pain 7, 459–468 (2006).

18.

Burgess, D. J. et al. The effect of perceived racial discrimination on bodily pain among older African American men. Pain Med. 10, 1341–1352 (2009).

19.

Edwards, R. R. The association of perceived discrimination with low back pain. J. Behav. Med. 31, 379–389 (2008).

20.

Goodin, B. R. et al. Perceived racial discrimination, but not mistrust of medical researchers, predicts the heat pain tolerance of African Americans with symptomatic knee osteoarthritis. Health Psychol. 32, 1117–1126 (2013).

21.

Mathur, V. et al. Discrimination in health care settings is associated with greater clinical and laboratory pain in sickle cell disease. J. Pain 15, S37 (2014).

22.

Apkarian, A. V., Bushnell, M. C., Treede, R. D. & Zubieta, J. K. Human brain mechanisms of pain perception and regulation in health and disease. Eur. J. Pain 9, 463–463 (2005).

23.

Wager, T. D. et al. An fMRI-based neurologic signature of physical pain. N. Engl. J. Med. 368, 1388–1397 (2013).

24.

Sokol-Hessner, P., Camerer, C. F. & Phelps, E. A. Emotion regulation reduces loss aversion and decreases amygdala responses to losses. Soc. Cognit. Affect. Neurosci. 8, 341–350 (2013).

25.

Hutcherson, C. A., Plassmann, H., Gross, J. J. & Rangel, A. Cognitive regulation during decision making shifts behavioral control between ventromedial and dorsolateral prefrontal value systems. J. Neurosci. 32, 13543–13554 (2012).

26.

Borsook, D., Upadhyay, J., Chudler, E. H. & Becerra, L. A key role of the basal ganglia in pain and analgesia – insights gained through human functional imaging. Mol. Pain 6, 1–17 (2010).

27.

Baliki, M. N., Geha, P. Y., Fields, H. L. & Apkarian, A. V. Predicting value of pain and analgesia: nucleus accumbens response to noxious stimuli changes in the presence of chronic pain. Neuron 66, 149–160 (2010).

28.

Baliki, M. N. et al. Corticostriatal functional connectivity predicts transition to chronic back pain. Nat. Neurosci. 15, 1117–1119 (2012).

29.

Dias-Ferreira, E. et al. Chronic stress causes frontostriatal reorganization and affects decision-making. Science 325, 621–625 (2009).

30.

May, A. Neuroimaging: visualising the brain in pain. Neurol. Sci. 28 (Suppl. 2), S101–S107 (2007).

31.

Woo, C. W. et al. Quantifying cerebral contributions to pain beyond nociception. Nat. Commun. 8, 1–14 (2017).

32.

Chang, L. J., Gianaros, P. J., Manuck, S. B., Krishnan, A. & Wager, T. D. A sensitive and specific neural signature for picture-induced negative affect. PLoS Biol. 13, e1002180 (2015).

33.

Krishnan, A. et al. Somatic and vicarious pain are represented by dissociable multivariate brain patterns. eLife 5, 1–42 (2016).

34.

Kross, E., Berman, M. G., Mischel, W., Smith, E. E. & Wager, T. D. Social rejection shares somatosensory representations with physical pain. Proc. Natl Acad. Sci. USA 108, 6270–6275 (2011).

35.

Craig, A. D., Krout, K. & Andrew, D. Quantitative response characteristics of thermoreceptive and nociceptive lamina I spinothalamic neurons in the cat. J. Neurophysiol. 86, 1459–1480 (2001).

36.

Taylor, A. B., MacKinnon, D. P. & Tein, J.-Y. Tests of the three-path mediated effect. Organ. Res. Methods 11, 241–269 (2008).

37.

Woo, C.-W., Roy, M., Buhle, J. T. & Wager, T. D. Distinct brain systems mediate the effects of nociceptive input and self-regulation on pain. PLoS Biol. 13, e1002036 (2015).

38.

Leknes, S. et al. The importance of context: when relative relief renders pain pleasant. PAIN 154, 402–410 (2013).

39.

Goyal, M. K., Kuppermann, N., Cleary, S. D., Teach, S. J. & Chamberlain, J. M. Racial disparities in pain management of children with appendicitis in emergency departments. JAMA Pediatrics 169, 996–1002 (2015).

40.

Staton, L. J. et al. When race matters: disagreement in pain perception between patients and their physicians in primary care. J. Nat. Med. Assoc. 99, 532–538 (2007).

41.

Todd, K. H., Deaton, C., D'Adamo, A. P. & Goe, L. Ethnicity and analgesic practice. Ann. Emergency Med. 35, 11–16 (2000).

42.

Baliki, M. N. et al. Chronic pain and the emotional brain: specific brain activity associated with spontaneous fluctuations of intensity of chronic back pain. J. Neurosci. 26, 12165–12173 (2006).

43.

Apkarian, A. V., Hashmi, J. A. & Baliki, M. N. Pain and the brain: specificity and plasticity of the brain in clinical chronic pain. PAIN 152, S49–S64 (2011).

44.

López-Solà, M. et al. Towards a neurophysiological signature for fibromyalgia. PAIN 158, 34–47 (2017).

45.

Kutch, J. J. et al. Brain signature and functional impact of centralized pain: a multidisciplinary approach to the study of chronic pelvic pain (MAPP) network study. PAIN 158, 1979–1991 (2017).

46.

Kornelsen, J. et al. Default mode network functional connectivity altered in failed back surgery syndrome. J. Pain 14, 483–491 (2013).

47.

Mays, V. M., Cochran, S. D. & Barnes, N. W. Race, race-based discrimination, and health outcomes among African Americans. Annu. Rev. Psychol. 58, 201–225 (2007).

48.

Bennett, G. G. et al. Stress, coping, and health outcomes among African-Americans: a review of the John Henryism hypothesis. Psychol. Health 19, 369–383 (2004).

49.

Clark, R., Anderson, N. B., Clark, V. R. & Williams, D. R. Racism as a stressor for African Americans: a biopsychosocial model. Am. Psychol. 54, 808–816 (1999).

50.

Williams, D. R. Race, socioeconomic status, and health the added effects of racism and discrimination. Ann. N.Y. Acad. Sci. 896, 173–188 (1999).

51.

McEwen, B. S. Stress adaptation, and disease: allostasis and allostatic load. Ann. N.Y. Acad. Sci. 840, 33–44 (1998).

52.

Zeiders, K. H., Doane, L. D. & Roosa, M. W. Perceived discrimination and diurnal cortisol: examining relations among Mexican American adolescents. Hormones Behav. 61, 541–548 (2012).

53.

McCallum, T., Sorocco, K. H. & Fritsch, T. Mental health and diurnal salivary cortisol patterns among African American and European American female dementia family caregivers. Am. J. Geriatr. Psychiatry 14, 684–693 (2006).

54.

Kapuku, G. K., Treiber, F. A. & Davis, H. C. Relationships among socioeconomic status, stress-induced changes in cortisol, and blood pressure in African American males. Ann. Behav. Med. 24, 320–325 (2002).

55.

Lee, D. B. et al. Psychological pathways from racial discrimination to cortisol in African American males and females. J. Behav. Med. 41, 208–220 (2018).

56.

Lampe, A. et al. Chronic pain syndromes and their relation to childhood abuse and stressful life events. J. Psychosom. Res. 54, 361–367 (2003).

57.

Brascher, A. K., Becker, S., Hoeppli, M. E. & Schweinhardt, P. Different brain circuitries mediating controllable and uncontrollable pain. J. Neurosci. 36, 5013–5025 (2016).

58.

Lee, J. et al. Encoding of self-referential pain catastrophizing in the posterior cingulate cortex in fibromyalgia. Arthritis Rheumatol. 70, 1308–1318 (2018).

59.

Wager, T. D., Atlas, L. Y., Leotti, L. A. & Rilling, J. K. Predicting individual differences in placebo analgesia: contributions of brain activity during anticipation and pain experience. J. Neurosci. 31, 439–452 (2011).

60.

Williams, D. R. & Rucker, T. D. Understanding and addressing racial disparities in health care. Health Care Finan. Rev. 21, 75–90 (2000).

61.

Woodrow, K. M., Friedman, G. D., Siegelaub, A. B. & Collen, M. F. Pain tolerance: differences according to age, sex and race. Psychosom. Med. 34, 548–556 (1972).

62.

Edwards, C. L., Fillingim, R. B. & Keefe, F. Race, ethnicity and pain. PAIN 94, 133–137 (2001).

63.

U.S. Census Bureau. Population Profile of the United States: Dynamic Version. 1–9 (US Census Bureau, 2005).

64.

Zunhammer, M., Bingel, U. & Wager, T. D. Placebo effects on the neurologic pain signature: a meta-analysis of individual participant functional magnetic resonance imaging data. JAMA Neurol. 75, 1321–1330 (2018).

65.

Ma, Y. et al. Serotonin transporter polymorphism alters citalopram effects on human pain responses to physical pain. Neuroimage 135, 186–196 (2016).

66.

Han, S. Understanding cultural differences in human behavior: a cultural neuroscience approach. Curr. Opin. Behav. Sci. 3, 68–72 (2015).

67.

Han, S. in Brain Mapping: An Encyclopedic Reference Vol. 3 (ed. Toga, A. W.) 217–220 (Elsevier, 2015).

68.

Losin, E. A. R. Culture, brain, and health: introduction to the special issue. Cult. Brain 5, 1–3 (2017).

69.

Rahim-Williams, F. B. et al. Ethnic identity predicts experimental pain sensitivity in African Americans and Hispanics. PAIN 129, 177–184 (2007).

70.

Portenoy, R. K., Ugarte, C., Fuller, I. & Haas, G. Population-based survey of pain in the United States: differences among white, African American, and Hispanic subjects. J. Pain 5, 317–328 (2004).

71.

Shavers, V. L., Bakos, A. & Sheppard, V. B. Race, ethnicity, and pain among the U.S. adult population. J. Health Care Poor Underserv. 21, 177–220 (2010).

72.

Barratt, W. The Barratt Simplified Measure of Social Status (BSMSS): Measuring SES http://socialclassoncampus.blogspot.com/2012/06/barratt-simplified-measure-of-social.html (2006).

73.

Gray, M. J., Litz, B. T., Hsu, J. L. & Lombardo, T. W. Psychometric properties of the life events checklist. Assessment 11, 330–341 (2004).

74.

Williams, D. R., Yan, Y., Jackson, J. S. & Anderson, N. B. Racial differences in physical and mental health: socio-economic status, stress and discrimination. J. Health Psychol. 2, 335–351 (1997).

75.

Melzack, R. The McGill Pain Questionnaire: major properties and scoring methods. PAIN 1, 277–299 (1975).

76.

Freynhagen, R., Baron, R., Gockel, U. & Tolle, T. R. painDETECT: a new screening questionnaire to identify neuropathic components in patients with back pain. Curr. Med. Res. Opin. 22, 1911–1920 (2006).

77.

Watson, D., Clark, L. A. & Tellegen, A. Development and validation of brief measures of positive and negative affect: the PANAS scales. J. Personal. Soc. Psychol. 54, 1063–1070 (1988).

78.

Spielberger, C. D., Gorsuch, R. L., Lushene, R. E., Vagg, P. R. & Jacobs, G. A. Test Manual for the State Trait Anxiety Inventory (Consulting Psychologists Press, 1983).

79.

Meyer, T. J., Miller, M. L., Metzger, R. L. & Borkovec, T. D. Development and validation of the Penn State Worry Questionnaire. Behav. Res. Ther. 28, 487–495 (1990).

80.

Edwards, L. C., Pearce, S. A., Turner-Stokes, L. & Jones, A. The Pain Beliefs Questionnaire: an investigation of beliefs in the causes and consequences of pain. PAIN 51, 267–272 (1992).

81.

McNeil, D. W. & Rainwater, A. J. 3rd Development of the Fear of Pain Questionnaire—III. J. Behav. Med. 21, 389–410 (1998).

82.

Kohn, P. M. Sensation-seeking, augmenting-reducing, and strength of the nervous system. Motivation, Emotion, and Personality: Proc. XXIII International Congress of Psychology 167–173 (Elsevier, 1985).

83.

Sullivan, M. J., Bishop, S. R. & Pivik, J. The Pain Catastrophizing Scale: development and validation. Psychol. Assess. 7, 524–532 (1995).

84.

Street, R. L., O'Malley, K. J., Cooper, L. A. & Haidet, P. Understanding concordance in patient–physician relationships: personal and ethnic dimensions of shared identity. Ann. Fam. Med. 6, 198–205 (2008).

85.

Hall, M. A. et al. Measuring patients trust in their primary care providers. Med. Care Res. Rev. 59, 293–318 (2002).

86.

Bartoshuk, L. M., Fast, K. & Snyder, D. J. Differences in our sensory worlds: invalid comparisons with labeled scales. Curr. Dir. Psychol. Sci. 14, 122–125 (2005).

87.

Price, D. D., Mcgrath, P. A., Rafii, A. & Buckingham, B. The validation of visual analog scales as ratio scale measures for chronic and experimental pain. PAIN 17, 45–56 (1983).

88.

Reuter, C. & Oehler, M. Psychoacoustics of chalkboard squeaking. J. Acoust. Soc. Am. 130, 2545–2545 (2011).

89.

Bradley, M. M. & Lang, P. J. The International Affective Digitized Sounds (IADS-2): Affective Ratings of Sounds and Instruction Manual (Univ. of Florida, 2007).

90.

R Core Team. R: A Language and Environment for Statistical Computing (R Foundation for Statistical Computing, 2014).

91.

Lindquist, M. A., Spicer, J., Asllani, I. & Wager, T. D. Estimating and testing variance components in a multi-level GLM. Neuroimage 59, 490–501 (2012).

92.

Greenspan, J. D. et al. Studying sex and gender differences in pain and analgesia: a consensus report. PAIN 132, S26–S45 (2007).

93.

Baron, R. M. & Kenny, D. A. The moderator–mediator variable distinction in social psychological research: conceptual, strategic, and statistical considerations. J. Personal. Soc. Psychol. 51, 1173–1182 (1986).

94.

Wager, T. D. et al. Brain mediators of cardiovascular responses to social threat: part I: reciprocal dorsal and ventral sub-regions of the medial prefrontal cortex and heart-rate reactivity. Neuroimage 47, 821–835 (2009).

95.

Atlas, L. Y., Bolger, N., Lindquist, M. A. & Wager, T. D. Brain mediators of predictive cue effects on perceived pain. J. Neurosci. 30, 12964–12977 (2010).

96.

Wager, T. D., Davidson, M. L., Hughes, B. L., Lindquist, M. A. & Ochsner, K. N. Prefrontal-subcortical pathways mediating successful emotion regulation. Neuron 59, 1037–1050 (2008).

97.

Wager, T. D., Keller, M. C., Lacey, S. C. & Jonides, J. Increased sensitivity in neuroimaging analyses using robust regression. Neuroimage 26, 99–113 (2005).

98.

Koyama, T., McHaffie, J. G., Laurienti, P. J. & Coghill, R. C. The single-epoch fMRI design: validation of a simplified paradigm for the collection of subjective ratings. Neuroimage 19, 976–987 (2003).

99.

Rissman, J., Gazzaley, A. & D'Esposito, M. Measuring functional connectivity during distinct stages of a cognitive task. Neuroimage 23, 752–763 (2004).

100.

Rouder, J. N., Speckman, P. L., Sun, D., Morey, R. D. & Iverson, G. Bayesian t-tests for accepting and rejecting the null hypothesis. Psychonom. Bull. Rev. 16, 225–237 (2009).

101.

Lee, M. D. & Wagenmakers, E.-J. Bayesian Cognitive Modeling: A Practical Course (Cambridge Univ. Press, 2013).
Acknowledgements
This work was supported by the National Institutes of Health (grant nos. 2R01MH076136 and R01DA035484 to T.D.W. and 5K01DA045735 to E.A.R.L.) and start-up funds from the University of Miami College of Arts and Sciences (to E.A.R.L.). The funders had no role in study design, data collection and analysis, decision to publish or preparation of the manuscript. We thank the IBG and J. Hewitt and S. A. Rhea for their help and support in recruiting from the IBG participant pools. We thank E. Delk for her help with data analysis and A. Ledbetter and D. Ryan for their help with recruitment and data collection.
Ethics declarations
Competing interests
The authors declare no competing interests.
Additional information
Peer review information Primary Handling Editors: Mary Elizabeth Sutherland and Stavroula Kousta
Publisher's note Springer Nature remains neutral with regard to jurisdictional claims in published maps and institutional affiliations.
Extended data
Error bands are between-participant standard error.
Connectivity between the vmPFC and NAc regions from the GLM exhibited a trend (p <0.1) towards mediating the relationship between painful stimulus intensity and pain rating. Path coefficients are listed for each path with standard errors in parentheses.
Supplementary information
Supplementary Tables 1–11.
About this article
Cite this article
Losin, E.A.R., Woo, CW., Medina, N.A. et al. Neural and sociocultural mediators of ethnic differences in pain. Nat Hum Behav 4, 517–530 (2020). https://doi.org/10.1038/s41562-020-0819-8
Received:

Accepted:

Published:

Issue Date:
Further reading
Alisa J. Johnson
Terrie Vasilopoulos
Kimberly T. Sibille

BMC Musculoskeletal Disorders (2021)

Leonie Koban
Peter J. Gianaros
Tor D. Wager

Nature Reviews Neuroscience (2021)