Abstract
Local news outlets have struggled to stay open in the more competitive market of digital media. Some have noted that this decline may be due to the ways in which digital platforms direct attention to some news outlets and not others. To test this theory, we collected 12.29 million responses to Google News searches within all US counties for a set of keywords. We compared the number of local outlets reported in the results against the number of national outlets. We find that, unless consumers are searching specifically for topics of local interest, national outlets dominate search results. Features correlated with local supply and demand, such as the number of local outlets and demographics associated with local news consumption, are not related to the likelihood of finding a local news outlet. Our findings imply that platforms may be diverting web traffic and desperately needed advertising dollars away from local news.
Access options
Subscribe to Journal
Get full journal access for 1 year
$119.00
only $9.92 per issue
All prices are NET prices.
VAT will be added later in the checkout.
Tax calculation will be finalised during checkout.
Rent or Buy article
Get time limited or full article access on ReadCube.
from$8.99
All prices are NET prices.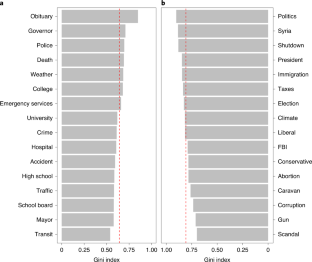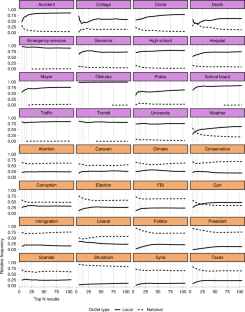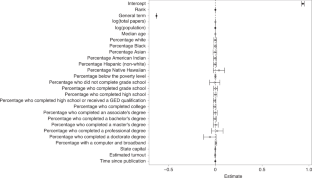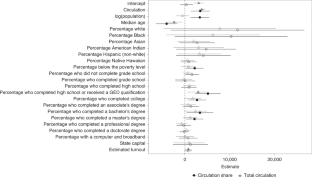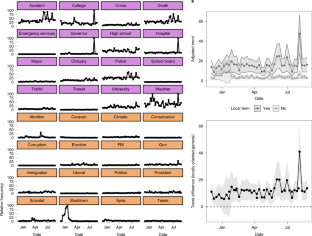 Data availability
The figures and analyses in this paper are based on original data collected by the authors. Raw data, as well as processed minimal datasets necessary for reproducing the analyses and figures, are available via the associated OSF repository for this project (https://osf.io/hwuxf/?view_only=3fa7499661df487689031e11b8ea20b4).
References
1.

Abernathy, P. M. The Expanding News Desert (UNC Press, 2018).

2.

Hindman, M. The Internet Trap: How the Digital Economy Builds Monopolies and Undermines Democracy (Princeton Univ. Press, 2018).

3.

For Local News, Americans Embrace Digital but Still Want Strong Community Connection Technical Report (Pew Research Center, 2019).

4.

Diakopoulos, N. Audit suggests Google favors a small number of major outlets. Columbia Journalism Review https://www.cjr.org/tow_center/google-news-algorithm.php (10 May 2019).

5.

Pan, B. et al. In Google we trust: users' decisions on rank, position, and relevance. J. Comput. Mediat. Commun. 12, 801–823 (2007).

6.

Eubanks, V. Automating Inequality: How High-Tech Tools Profile, Police, and Punish the Poor (St. Martin's Press, 2018).

7.

Robertson, R. E. et al. Auditing partisan audience bias within Google Search. Proc. ACM Hum. Comput. Interact. 2, 148 (2018).

8.

Kliman-Silver, C., Hannak, A., Lazer, D., Wilson, C. & Mislove, A. Location, location, location: the impact of geolocation on web search personalization. in Proceedings of the Internet Measurement Conference 2015 (eds Cho, K., Fukuda, K., Pai, V. & Spring, N.)121–127 (IMC, 2015).

9.

Trielli, D. & Diakopoulos, N. Search as news curator: the role of Google in shaping attention to news information. In Proceedings of the 2019 CHI Conference on Human Factors in Computing Systems 453 (ACM, 2019).

10.

Thorson, K., Cotter, K., Medeiros, M. & Pak, C. Algorithmic inference, political interest, and exposure to news and politics on Facebook. Inf. Commun. Soc. https://doi.org/10.1080/1369118X.2019.1642934 (2019).

11.

Haim, M., Graefe, A. & Brosius, H.-B. Burst of the filter bubble? Effects of personalization on the diversity of Google News. Digit. Journal. 6, 330–343 (2018).

12.

Nechushtai, E. & Lewis, S. C. What kind of news gatekeepers do we want machines to be? Filter bubbles, fragmentation, and the normative dimensions of algorithmic recommendations. Comput. Hum. Behav. 90, 298–307 (2019).

13.

Bakshy, E., Messing, S. & Adamic, L. A. Exposure to ideologically diverse news and opinion on Facebook. Science 348, 1130–1132 (2015).

14.

Newman, N., Fletcher, R., Kalogeropoulos, A. & Nielsen, R. Reuters Institute Digital News Report 2019 Vol. 2019 (Reuters Institute for the Study of Journalism, 2019).

15.

Barthel, M., Grieco, E. & Shearer, E. Older Americans, Black Adults and Americans With Less Education More Interested in Local News. Technical Report (Pew Research Center, 2019).

16.

Benjamin, R. Race After Technology: Abolitionist Tools for the New Jim Code (John Wiley & Sons, 2019).

17.

Hannak, A. et al. Measuring personalization of web search. In Proceedings of the 22nd International World Wide Web Conference (WWW 2013) (2013).

18.

Jansen, B. J., Spink, A. & Saracevic, T. Real life, real users, and real needs: a study and analysis of user queries on the web. Inf. Process. Manage. 36, 207–227 (2000).

19.

Jansen, B. J. & Spink, A. How are we searching the World Wide Web? A comparison of nine search engine transaction logs. Inf. Process. Manage. 42, 248–263 (2006).

20.

Epstein, R. & Robertson, R. E. The search engine manipulation effect (SEME) and its possible impact on the outcomes of elections. Proc. Natl Acad. Sci. USA 112, E4512–E4521 (2015).

21.

Granka, L. A., Joachims, T. & Gay, G. Eye-tracking analysis of user behavior in www search. In Proceedings of the 27th Annual International ACM SIGIR Conference on Research and Development in Information Retrieval 478–479 (ACM, 2004).

22.

Hopkins, D. J. The Increasingly United States: How and Why American Political Behavior Nationalized (Univ. Chicago Press, 2018).

23.

Mahone, J., Wang, Q., Napoli, P., Weber, M. & McCollough, K. Who's Producing Local Journalism? Technical Report (Duke Univ., 2019).

24.

Athey, S., Mobius, M. M. & Pál, J. The impact of aggregators on internet news consumption. Research Paper No. 17-8 https://ssrn.com/abstract=2897960 (Stanford University Graduate School of Business, 2017).

25.

Calzada, J. & Gil, R. What do news aggregators do? Evidence from Google news in Spain and Germany. Mark. Sci. https://doi.org/10.1287/mksc.2019.1150 (2019).

26.

Deahl, D. Google News is getting an overhaul and customized news feeds. The Verge https://www.theverge.com/2018/5/8/17329074/google-news-update-new-features-newsstand-io-2018 (2018).

27.

Oberstein, M. AMP in Google News results skyrockets globally. RankRanger https://www.rankranger.com/blog/amp-google-news-results-spikes (30 January 2017).

28.

Darr, J. P., Hitt, M. P. & Dunaway, J. L.Newspaper closures polarize voting behavior. J. Commun. 68, 1007–1028 (2018).

29.

Shaker, L.Dead newspapers and citizens' civic engagement. Political Commun. 31, 131–148 (2014).

30.

Hayes, D. & Lawless, J. L.As local news goes, so goes citizen engagement: media, knowledge, and participation in US House elections. J. Politics 77, 447–462 (2015).

31.

Hayes, D. & Lawless, J. L.The decline of local news and its effects: new evidence from longitudinal data. J. Politics 80, 332–336 (2018).

32.

Eder, J. S. Knowledge graph based search system. US patent 13/404,109 (2012).

33.

Napoli, P. M., Weber, M., McCollough, K. & Wang, Q. Assessing Local Journalism: News Deserts, Journalism Divides, and the Determinants of the Robustness of Local News (DeWitt Wallace Center for Media & Democracy, 2018).

34.

Pariser, E. The Filter Bubble: How the New Personalized Web is Changing What We Read and How We Think (Penguin, 2011).

35.

Robertson, R. E., Lazer, D. & Wilson, C. Auditing the personalization and composition of politically-related search engine results pages. In Proceedings of the 2018 World Wide Web Conference 955–965 (International World Wide Web Conferences Steering Committee, 2018).

36.

Noble, S. U. in Algorithms of Oppression: How Search Engines Reinforce Racism 41 (NYU Press, 2018).

37.

Gottfried, J. & Shearer, E. News Use Across Social Media Platforms 2016 Technical Report (Pew Research Center, 2016).

38.

Settle, J. E. Frenemies: How Social Media Polarizes America (Cambridge Univ. Press, 2018).

39.

Napoli, P. M., Stonbely, S., McCollough, K. & Renninger, B. Local journalism and the information needs of local communities: toward a scalable assessment approach. Journal. Pract. 11, 373–395 (2017).

40.

Weber, M., Andringa, P. & Napoli, P. M. Local News on Facebook: Assessing the Critical Information Need Served through Facebook's TodayIn Feature News Measures Research Project (Duke University Sanford School of Public Policy & Hubbard School of Journalism and Mass Communication, 2019).

41.

Friedland, L., Napoli, P., Ognyanova, K., Weil, C. & Wilson, E. J. III Review of the Literature Regarding Critical Information Needs of the American Public http://transition.fcc.gov/bureaus/ocbo/Final_Literature_Review.pdf (FCC, 2012).

42.

Van Mens, J. I Search From (2020); http://isearchfrom.com/

43.

Barysevich, A. How you can see Google search results for different locations. SEJ https://www.searchenginejournal.com/see-google-search-results-different-location/294829 (2019).

44.

Caizer, C. How to localize Google search results. Search Engine Land https://searchengineland.com/localize-google-search-results-239768 (2016).

45.

Yin, L. yinleon/LocalNewsDataset: initial release. Zenodo https://doi.org/10.5281/zenodo.1345145 (2018).

46.

Hagar, N., Bandy, J., Trielli, D., Wang, Y. & Diakopoulos, N. Defining local news: a computational approach. In Computational + Journalism Symposium 2020 https://cpb-us-w2.wpmucdn.com/sites.northeastern.edu/dist/d/53/files/2020/02/CJ_2020_paper_40.pdf (2020).

47.

Lowrey, W., Brozana, A. & Mackay, J. B. Toward a measure of community journalism. Mass Commun. Soc. 11, 275–299 (2008).
Acknowledgements
We thank D. Lazer, G. Martin, R. Robertson, D. Trielli, N. Usher and the participants and reviewers at the Politics and Computational Social Science 2019 conference, the Michigan Symposium on Media and Politics and the International Communication Association 2020 conference for helpful comments. The authors received no specific funding for this work.
Ethics declarations
Competing interests
The authors declare no competing interests.
Additional information
Peer review information Primary Handling Editor: Aisha Bradshaw.
Publisher's note Springer Nature remains neutral with regard to jurisdictional claims in published maps and institutional affiliations.
Supplementary information
Supplementary Figs. 1–3, Supplementary Tables 1–7, Supplementary Methods, Supplementary Results and Supplementary References.
About this article
Cite this article
Fischer, S., Jaidka, K. & Lelkes, Y. Auditing local news presence on Google News. Nat Hum Behav 4, 1236–1244 (2020). https://doi.org/10.1038/s41562-020-00954-0
Received:

Accepted:

Published:

Issue Date: