Studies have provided rich data on global preferences for how autonomous vehicles should act in collisions. We describe a framework for incorporating such preferences in policy. Preferences should inform the design of autonomous vehicles only after being screened for bias and only to the degree to which they match major ethical theories.
Access options
Subscribe to Journal
Get full journal access for 1 year
$104.00
only $8.67 per issue
All prices are NET prices.
VAT will be added later in the checkout.
Rent or Buy article
Get time limited or full article access on ReadCube.
from$8.99
All prices are NET prices.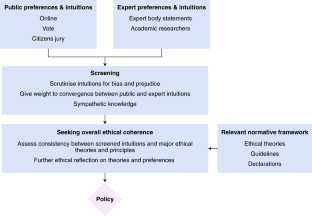 References
1.

Awad, E. et al. Nature 563, 59–64 (2018).

2.

Kanellopoulou, N. SCRIPT-ed 1, 217–223 https://script-ed.org/wp-content/uploads/2016/07/1-1-Kanellopoulou.pdf (2004).

3.

Sikora, J. & Lewins, F. Health Sociol. Rev. 16, 68–78 (2007).

4.

Nordfalk, F., Olejaz, M., Jensen, A. M. B., Skovgaard, L. L. & Hoeyer, K. Transplant. Res. https://doi.org/10.1186/s13737-016-0035-2 (2016).

5.

Rawls, J. Philos. Rev. 60, 177–197 (1951).

6.

Rawls, J. Oxf. J. Leg. Stud. 7, 1–25 (1987).

7.

Luetge, C. Philos. Technol. 30, 547–558 (2017).

8.

Arora, C., Savulescu, J., Maslen, H., Selgelid, M. & Wilkinson, D. BMC Med. Ethics 17, 69 (2016).

9.

Dunn, M., Sheehan, M., Hope, T. & Parker, M. Camb. Q. Healthc. Ethics 21, 466–480 (2012).
Acknowledgements
J.S. and C.G., through their involvement with the Murdoch Children's Research Institute, received funding through from the Victorian State Government through the Operational Infrastructure Support (OIS) Program. J.S. was supported by the Wellcome Trust (WT 104848/Z/14/Z) and (WT203132/Z/16/Z). All the funding bodies provided support for research on themes developed within this paper. The funders had no role in the conceptualization, decision to publish or preparation of the manuscript.
Ethics declarations
Competing interests
The authors declare no competing interests
About this article
Cite this article
Savulescu, J., Kahane, G. & Gyngell, C. From public preferences to ethical policy. Nat Hum Behav 3, 1241–1243 (2019). https://doi.org/10.1038/s41562-019-0711-6
Further reading
Brian D. Earp

,

Joanna Demaree-Cotton

,

Michael Dunn

,

Vilius Dranseika

,

Jim A. C. Everett

,

Adam Feltz

,

Gail Geller

,

Ivar R. Hannikainen

,

Lynn A. Jansen

,

Joshua Knobe

,

Julia Kolak

,

Stephen Latham

,

Adam Lerner

,

Joshua May

,

Mark Mercurio

,

Emilian Mihailov

,

David Rodríguez-Arias

,

Blanca Rodríguez López

,

Julian Savulescu

,

Mark Sheehan

,

Nina Strohminger

,

Jeremy Sugarman

,

Kathryn Tabb

&

Kevin Tobia

AJOB Empirical Bioethics (2020)