Scientists' own perspectives on research funding are often missing. To address this, we surveyed Danish scientists about their ideal research grant. In contrast to a trend towards larger grants, most surveyed scientists prefer small or mid-sized grants to pursue their ideas and advance their scientific careers.
Access options
Subscribe to Journal
Get full journal access for 1 year
$119.00
only $9.92 per issue
All prices are NET prices.
VAT will be added later in the checkout.
Tax calculation will be finalised during checkout.
Rent or Buy article
Get time limited or full article access on ReadCube.
from$8.99
All prices are NET prices.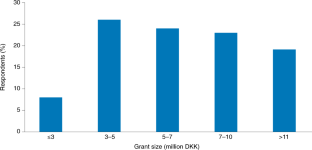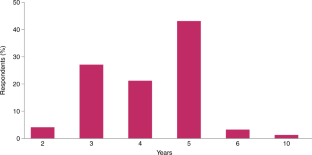 References
1.

Van Noorden, R. & Brumfiel, G. Nature 464, 474–475 (2010).

2.

Nicholson, J. M. & Ioannidis, J. P. A. Nature 492, 34–36 (2012).

3.

Wang, J., Veugelers, R. & Stephan, P. Res. Policy 46, 1416–1436 (2017).

4.

Bornmann, L., Leydesdorff, L. & Van den Besselaar, P. J. Informetrics 4, 211–220 (2010).

5.

Fortin, J. M. & Currie, D. J. PLoS One 8, e65263 (2013).

6.

Bloch, C. & Sørensen, M. P. Sci. Public Policy 42, 30–43 (2014).

7.

Bloch, C., Schneider, J. W. & Sinkjær, T. PLoS One 11, e0147726 (2016).

8.

Wu, L., Wang, D. & Evans, J. A. Nature 566, 378–382 (2019).

9.

Lee, Y. N., Walsh, J. P. & Wang, J. Res. Policy 44, 684–697 (2015).

10.

Wang, J., Lee, Y. N. & Walsh, J. P. Res. Policy 47, 1070–1083 (2018).

11.

NIH Data Book. NIH Research Portfolio Online Reporting Tools (RePORT). https://report.nih.gov/nihdatabook/report/158 (NIH, 2018).

12.

Wohlert, J. et al. The Ideal Research Grant. The Think Tank DEA, the Independent Research Fund Denmark, and The Young Academy https://thinktankdea.org/sites/dea.nu/files/the_ideal_research_grant_0.pdf (The Think Tank DEA, 2018).
Ethics declarations
Competing interests
The authors declare no competing interests.
About this article
Cite this article
Dimke, H., Norn, M.T., Christiansen, P.M. et al. Most scientists prefer small and mid-sized research grants. Nat Hum Behav 3, 765–767 (2019). https://doi.org/10.1038/s41562-019-0643-1
Further reading
Keyu Xiang

,

Haiming Liang

,

Zhaoxia Guo

&

Yucheng Dong

Complex & Intelligent Systems (2021)

António Osório

&

Lutz Bornmann

Scientometrics (2020)