Abstract
Debate over the impact of team composition on the outcome of a contest has attracted sports enthusiasts and sports scientists for years. A commonly held belief regarding team success is the superstar effect; that is, including more talent improves the performance of a team1. However, studies of team sports have suggested that previous relations and shared experiences among team members improve the mutual understanding of individual habits, techniques and abilities and therefore enhance team coordination and strategy2,3,4,5,6,7,8,9. We explored the impact of within-team relationships on the outcome of competition between sports teams. Relations among teammates consist of two aspects: qualitative and quantitative. While quantitative aspects measure the number of times two teammates collaborated, qualitative aspects focus on 'prior shared success'; that is, whether teamwork succeeded or failed. We examined the association between qualitative team interactions and the probability of winning using historical records from professional sports—basketball in the National Basketball Association, football in the English Premier League, cricket in the Indian Premier League and baseball in Major League Baseball—and the multiplayer online battle game Defense of the Ancients 2. Our results show that prior shared success between team members significantly improves the odds of the team winning in all sports beyond the talents of individuals.
Access options
Subscribe to Journal
Get full journal access for 1 year
$119.00
only $9.92 per issue
All prices are NET prices.
VAT will be added later in the checkout.
Tax calculation will be finalised during checkout.
Rent or Buy article
Get time limited or full article access on ReadCube.
from$8.99
All prices are NET prices.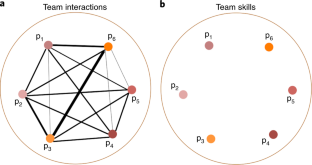 References
1.

Ready, D. A. & Conger, J. A. Make your company a talent factory. Harvard Business Review https://hbr.org/2007/06/make-your-company-a-talent-factory (2007).

2.

Chudoba, K. & Maznevski, M. Bridging space over time: global virtual team dynamics and effectiveness. Organ. Sci. 11, 473–492 (2000).

3.

Skinner, B. The price of anarchy in basketball. J. Quant. Anal. Sports https://doi.org/10.2202/1559-0410.1217 (2010).

4.

Hackman, J. R. in Handbook of Organizational Behavior (ed. Lorsch, J. W.) 315–342 (Prentice-Hall, Englewood Cliffs, 1987).

5.

Contractor, N. Some assembly required: leveraging Web science to understand and enable team assembly. Phil. Trans R. Soc. A 371, 20120385 (2013).

6.

Duch, J., Waitzman, J. S. & Amaral, L. A. N. Quantifying the performance of individual players in a team activity. PLoS ONE 5, e10937 (2010).

7.

Fewell, J. H., Armbruster, D., Ingraham, J., Petersen, A. & Waters, J. S. Basketball teams as strategic networks. PLoS ONE 7, e47445 (2012).

8.

Lusher, D., Robins, G. & Kremer, P. The application of social network analysis to team sports. Meas. Phys. Educ. Exerc. Sci. 14, 211–224 (2010).

9.

Arrow, H. & Mcgrath, J. E. Membership matters: how member change and continuity affect small group structure, process, and performance. Small Group Res. 24, 334–361 (1993).

10.

Sibanda, M. Analysts hail teamwork as Germany rule Brazil. CAJ News Africa (14 July 2014).

11.

Swaab, R. I., Schaerer, M., Anicich, E. M., Ronay, R. & Galinsky, A. D. The too-much-talent effect: team interdependence determines when more talent is too much or not enough. Psychol. Sci. 25, 1581–1591 (2014).

12.

Bell, S. T. Deep-level composition variables as predictors of team performance: a meta-analysis. J. Appl. Psychol. 92, 595–615 (2007).

13.

Humphrey, S. E., Morgeson, F. P. & Mannor, M. J. Developing a theory of the strategic core of teams: a role composition model of team performance. J. Appl. Psychol. 94, 48–61 (2009).

14.

Yukelson, D. Principles of effective team building interventions in sport: a direct services approach at Penn State University. J. Appl. Sport Psychol. 9, 73–96 (1997).

15.

Harrison, D. A., Mohammed, S., Mcgrath, J. E., Florey, A. T. & Vanderstoep, S. W. Time matters in team performance: effects of member familiarity, entrainment, and task discontinuity on speed and quality. Pers. Psychol. 56, 633–669 (2003).

16.

Montjoye, Y.-A., de, Stopczynski, A., Shmueli, E., Pentland, A. & Lehmann, S. The strength of the strongest ties in collaborative problem solving. Sci. Rep. 4, 5277 (2014).

17.

Joshi, A. & Roh, H. The role of context in work team diversity research: a meta-analytic review. Acad. Manage. J. 52, 599–627 (2009).

18.

Cummings, J. N. & Kiesler, S. Who collaborates successfully? Prior experience reduces collaboration barriers in distributed interdisciplinary research. In Proc. 2008 ACM Conf. Computer Supported Cooperative Work 437–446 (ACM, 2008).

19.

Goodman, P. S. & Leyden, D. P. Familiarity and group productivity. J. Appl. Psychol. 76, 578–586 (1991).

20.

Gruenfeld, D. H., Mannix, E. A., Williams, K. Y. & Neale, M. A. Group composition and decision making: how member familiarity and information distribution affect process and performance. Organ. Behav. Hum. Decis. Process. 67, 1–15 (1996).

21.

Hinds, P. J., Carley, K. M., Krackhardt, D. & Wholey, D. Choosing work group members: balancing similarity, competence, and familiarity. Organ. Behav. Hum. Decis. Process. 81, 226–251 (2000).

22.

Cummings, J. N. & Cross, R. Structural properties of work groups and their consequences for performance. Soc. Netw. 25, 197–210 (2003).

23.

Hong, L. & Page, S. E. Groups of diverse problem solvers can outperform groups of high-ability problem solvers. Proc. Natl Acad. Sci. USA 101, 16385–16389 (2004).

24.

Guimerà, R., Uzzi, B., Spiro, J. & Amaral, L. A. N. Team assembly mechanisms determine collaboration network structure and team performance. Science 308, 697–702 (2005).

25.

Uzzi, B., Mukherjee, S., Stringer, M. & Jones, B. Atypical combinations and scientific impact. Science 342, 468–472 (2013).

26.

Balkundi, P. & Harrison, D. A. Ties, leaders, and time in teams: strong inference about network structure's effects on team viability and performance. Acad. Manage. J. 49, 49–68 (2006).

27.

Lungeanu, A., Huang, Y. & Contractor, N. S. Understanding the assembly of interdisciplinary teams and its impact on performance. J. Informetr. 8, 59–70 (2014).

28.

Mukherjee, S. Complex network analysis in cricket: community structure, player's role and performance index. Adv. Complex Syst. 16, 1350031 (2013).

29.

Clemente, F. M., Martins, F. M. L., Kalamaras, D., Wong, P. D. & Mendes, R. S. General network analysis of national soccer teams in FIFA World Cup 2014. Int. J. Perform. Anal. Sport 15, 80–96 (2015).

30.

Tesluk, P. E. & Jacobs, R. R. Toward an integrated model of work experience. Pers. Psychol. 51, 321–355 (1998).

31.

Dunn, J. R. & Schweitzer, M. E. Feeling and believing: the influence of emotion on trust. J. Pers. Soc. Psychol. 88, 736–748 (2005).

32.

Romero, D. M., Uzzi, B. & Kleinberg, J. Social networks under stress. In Proc. 25th International Conf. World Wide Web 9–20 (International World Wide Web Conferences Steering Committee, 2016).

33.

Scarf, P., Shi, X. & Akhtar, S. On the distribution of runs scored and batting strategy in test cricket. J. R. Stat. Soc. Ser. A Stat. Soc. 174, 471–497 (2011).

34.

Raftery, A. E. Bayesian model selection in social research. Sociol. Methodol. 25, 111–163 (1995).

35.

Silver, N. The Signal and the Noise (Penguin, New York, 2012).

36.

Lewis, M. M. Moneyball: The Art of Winning an Unfair Game (W. W. Norton & Company, New York, 2003).

37.

Liang, D. W., Moreland, R. & Argote, L. Group versus individual training and group performance: the mediating role of transactive memory. Pers. Soc. Psychol. Bull. 21, 384–393 (1995).

38.

Lee, J.-Y., Bachrach, D. G. & Lewis, K. Social network ties, transactive memory, and performance in groups. Organ. Sci. 25, 951–967 (2014).

39.

Bloom, M. The performance effects of pay dispersion on individuals and organizations. Acad. Manage. J. 42, 25–40 (1999).

40.

Halevy, N., Chou, E. Y., Galinsky, A. D. & Murnighan, J. K. When hierarchy wins: evidence from the National Basketball Association. Soc. Psychol. Personal. Sci. 3, 398–406 (2012).

41.

McEwan, D. & Beauchamp, M. R. Teamwork in sport: a theoretical and integrative review. Int. Rev. Sport Exerc. Psychol. 7, 229–250 (2014).

42.

Grund, T. U. The relational value of network experience in teams: evidence from the English Premier League. Am. Behav. Sci. 60, 1260–1280 (2016).

43.

Pobiedina, N., Neidhardt, J., Moreno, M. d C. C., Grad-Gyenge, L. & Werthner, H. On successful team formation: statistical analysis of a multiplayer online game. In 2013 IEEE 15th Conf. Business Informatics 55–62 (IEEE, 2013).

44.

Neter, J., Kutner, M. H., Nachtsheim, C. J. & Wasserman, W. Applied Linear Statistical Models (Irwin, New York, 1990).
Acknowledgements
This research was funded by grants from the Northwestern University Clinical and Translational Sciences Institute (NUCATS), the Northwestern University Institute for Complex Systems (NICO), the National Institutes of Health (1R01GM112938-01), the US Army Research Laboratory and US Army Research Office Grant W911NF-15-1-0577, the Army Research Laboratory (grant W911NF-09-2-0053), and the Army Research Office (grant W911NF-14-10686). The funders had no role in study design, data collection and analysis, decision to publish or preparation of the manuscript.
Ethics declarations
Competing interests
The authors declare no competing interests.
Additional information
Publisher's note: Springer Nature remains neutral with regard to jurisdictional claims in published maps and institutional affiliations.
Supplementary information
Supplementary Tables 1–61, Supplementary Figures 1 and 2, Supplementary Methods
About this article
Cite this article
Mukherjee, S., Huang, Y., Neidhardt, J. et al. Prior shared success predicts victory in team competitions. Nat Hum Behav 3, 74–81 (2019). https://doi.org/10.1038/s41562-018-0460-y
Received:

Accepted:

Published:

Issue Date:
Further reading
Nature Human Behaviour (2019)

Omid Askarisichani

,

Jacqueline Ng Lane

,

Francesco Bullo

,

Noah E. Friedkin

,

Ambuj K. Singh

&

Brian Uzzi

Nature Communications (2019)