Abstract
Understanding how humans sustain cooperation in large, anonymous societies remains a central question of both theoretical and practical importance. In the laboratory, experimental behavioural research using tools like public goods games suggests that cooperation can be sustained by institutional punishment—analogous to governments, police forces and other institutions that sanction free-riders on behalf of individuals in large societies1,2,3. In the real world, however, corruption can undermine the effectiveness of these institutions4,5,6,7,8. Levels of corruption correlate with institutional, economic and cultural factors, but the causal directions of these relationships are difficult to determine5,6,8–10. Here, we experimentally model corruption by introducing the possibility of bribery. We investigate the effect of structural factors (a leader's punitive power and economic potential), anti-corruption strategies (transparency and leader investment in the public good) and cultural background. The results reveal that (1) corruption possibilities cause a large (25%) decrease in public good provisioning, (2) empowering leaders decreases cooperative contributions (in direct opposition to typical institutional punishment results), (3) growing up in a more corrupt society predicts more acceptance of bribes and (4) anti-corruption strategies are effective under some conditions, but can further decrease public good provisioning when leaders are weak and the economic potential is poor. These results suggest that a more nuanced approach to corruption is needed and that proposed panaceas, such as transparency, may actually be harmful in some contexts.
Access options
Subscribe to Journal
Get full journal access for 1 year
$104.00
only $8.67 per issue
All prices are NET prices.
VAT will be added later in the checkout.
Rent or Buy article
Get time limited or full article access on ReadCube.
from$8.99
All prices are NET prices.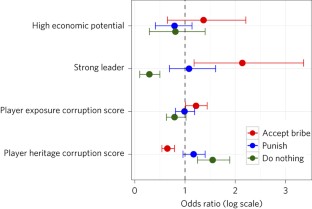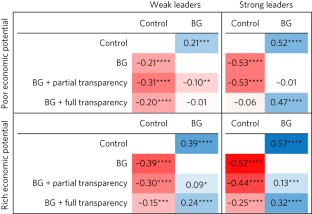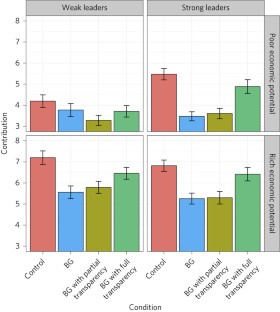 References
1

Fehr, E. & Williams, T. Endogenous Emergence of Institutions to Sustain Cooperation (2013); http://researchers-sbe.unimaas.nl/wp-content/uploads/gsbe/spring-2014/papers-and-abstracts/Paper_williams.pdf

2

O'Gorman, R., Henrich, J. & Van Vugt, M. Constraining free riding in public goods games: designated solitary punishers can sustain human cooperation. Proc. R. Soc. Lond. B Biol. Sci. 276, 323–329 (2009).

3

Sigmund, K., De Silva, H., Traulsen, A. & Hauert, C. Social learning promotes institutions for governing the commons. Nature 466, 861–863 (2010).

4

Ambraseys, N. & Bilham, R. Corruption kills. Nature 469, 153–155 (2011).

5

Gächter, S. & Schulz, J. F. Intrinsic honesty and the prevalence of rule violations across societies. Nature 531, 496–499 (2016).

6

Weisel, O. & Shalvi, S. The collaborative roots of corruption. Proc. Natl Acad. Sci. USA 112, 10651–10656 (2015).

7

Kaufmann, D. Myths and realities of governance and corruption. http://dx.doi.org/10.2139/ssrn.829244 (2005).

8

Treisman, D. What have we learned about the causes of corruption from ten years of cross-national empirical research? Annu. Rev. Polit. Sci. 10, 211–244 (2007).

9

Treisman, D. The causes of corruption: a cross-national study. J. Pub. Econ. 76, 399–457 (2000).

10

Gneezy, U ., Saccardo, S. & van Veldhuizen, R. Bribery: greed versus reciprocity. http://dx.doi.org/10.2139/ssrn.2803623 ( 2016).

11

Fehr, E. & Gachter, S. Cooperation and punishment in public goods experiments. Am. Econ. Rev. 90, 980–994 (2000).

12

Gächter, S., Renner, E. & Sefton, M. The long-run benefits of punishment. Science 322, 1510–1510 (2008).

13

Rockenbach, B. & Milinski, M. The efficient interaction of indirect reciprocity and costly punishment. Nature 444, 718–723 (2006).

14

Henrich, J. et al. Costly punishment across human societies. Science 312, 1767–1770 (2006).

15

Henrich, J. et al. Markets, religion, community size, and the evolution of fairness and punishment. Science 327, 1480–1484 (2010).

16

Herrmann, B., Thöni, C. & Gächter, S. Antisocial punishment across societies. Science 319, 1362–1367 (2008).

17

Boyd, R. & Richerson, P. J. Punishment allows the evolution of cooperation (or anything else) in sizable groups. Ethol. Sociobiol. 13, 171–195 (1992).

18

Panchanathan, K. & Boyd, R. Indirect reciprocity can stabilize cooperation without the second-order free-rider problem. Nature 432, 499–502 (2004).

19

Nikiforakis, N. Punishment and counter-punishment in public good games: can we really govern ourselves? J. Pub. Econ. 92, 91–112 (2008).

20

Henrich, J., Heine, S. J. & Norenzayan, A. Most people are not WEIRD. Nature 466, 29–29 (2010).

21

Traulsen, A ., Röhl, T. & Milinski, M. An economic experiment reveals that humans prefer pool punishment to maintain the commons.Proc. R. Soc. B Biol. Sci. 279, 3716–3721 (2012).

22

Kenya, T. I. The Kenya Urban Bribery Index (Transparency International—Kenya, 2001).

23

Transparency International. Corruption perceptions index 2014 brochure. https://www.transparency.org/cpi2014/results#myAnchor2 (2014).

24

Olken, B. A. Corruption and the costs of redistribution: micro evidence from Indonesia. J. Pub. Econ. 90, 853–870 (2006).

25

Pande, R. & Olken, B. Corruption in developing countries. Annu. Rev. Econom. 4, 479–509 (2012).

26

Chudek, M. & Henrich, J. Culture–gene coevolution, norm-psychology and the emergence of human prosociality. Trends Cogn. Sci. 15, 218–226 (2011).

27

Chudek, M., Muthukrishna, M. & Henrich, J. in The Handbook of Evolutionary Psychology Vol. 2 (ed. Buss, D. M. ) Ch. 30 (John Wiley and Sons, 2015).

28

Kimbrough, E. O. & Vostroknutov, A. Norms Make Preferences Social (Dept of Economics, Simon Fraser Univ., 2013).

29

Fisman, R. & Miguel, E. Corruption, norms, and legal enforcement: evidence from diplomatic parking tickets. J. Polit. Econ. 115, 1020–1048 (2007).

30

Kuan Yew, L. From Third World to First World; the Singapore Story: 1965–2000 (Harper Collins, 2000).
Acknowledgements
J.H. acknowledges support from the Canadian Institute for Advanced Research. J.H. and P.F. acknowledge support from the Social Sciences and Humanities Research Council, Canada. The funders had no role in study design, data collection and analysis, decision to publish or preparation of the manuscript.
Ethics declarations
Competing interests
The authors declare no competing interests.
Supplementary information
Supplementary Methods, Supplementary Results, Supplementary Figures 1–20, Supplementary Tables 1–41, Supplementary References.
About this article
Cite this article
Muthukrishna, M., Francois, P., Pourahmadi, S. et al. Corrupting cooperation and how anti-corruption strategies may backfire. Nat Hum Behav 1, 0138 (2017). https://doi.org/10.1038/s41562-017-0138
Received:

Accepted:

Published: