Abstract
Humans are intuitively cooperative1. Humans are also capable of deliberation, which includes social comparison2, self-reflection3 and mental simulation of the future4. Does deliberation undermine or sustain cooperation? Some studies suggest that deliberation is positively associated with cooperation5, whereas other work indicates that deliberation (vis-à-vis intuition) impairs cooperation in social dilemmas6,7. Do some aspects of reasoning qualify whether deliberation sustains cooperation or impairs it? Here, we propose that wise reasoning8–10—that is, taking a bigger-picture perspective of the situation, including sensitivity to temporal and social interdependence between events—helps to integrate self-protective and cooperative goals, thereby sustaining cooperation when deliberating. Study 1 demonstrated that individual differences in wise reasoning about personal conflicts moderated the impact of naturalistic and experimentally manipulated deliberation time on cooperation. Studies 2 and 3 manipulated an observer perspective, the key aspect of wise reasoning, which eliminated the negative effect of deliberation time on cooperation. Under these circumstances, participants reported being guided by interdependent goals when making their decisions; thus, in these conditions, deliberation sustained cooperation. Combining scholarship on wisdom and behavioural economics, the present insights qualify the relationship between deliberation and prosociality, and highlight conditions under which wisdom promotes prosociality.
Relevant articles
Open Access articles citing this article.
Izzy Gainsburg

,

Walter J. Sowden

…

Ethan Kross

Scientific Reports Open Access 11 January 2022

Justin P. Brienza

,

Franki Y. H. Kung

&

Melody M. Chao

Nature Communications Open Access 03 June 2021

Marianna Belloc

,

Ennio Bilancini

…

Simone D'Alessandro

Scientific Reports Open Access 16 October 2019
Access options
Access Nature and 54 other Nature Portfolio journals
Get Nature+, our best-value online-access subscription
$29.99 / 30 days
cancel any time
Subscribe to this journal
Receive 12 digital issues and online access to articles
$119.00 per year
only $9.92 per issue
Rent or buy this article
Prices vary by article type
from$1.95
to$39.95
Prices may be subject to local taxes which are calculated during checkout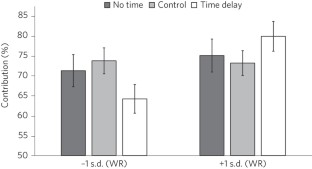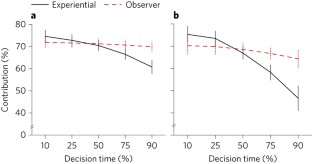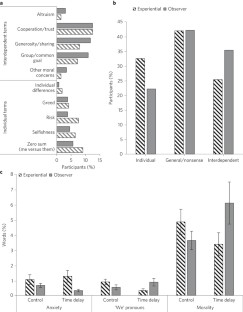 References
Zaki, J. & Mitchell, J. P. Intuitive prosociality. Curr. Dir. Psychol. Sci. 22, 466–470 (2013).

Festinger, L. A theory of social comparison processes. Hum. Relat. 7, 117–140 (1954).

Mitchell, J. P., Banaji, M. R. & Neil, C. The link between social cognition and self-referential thought in the medial prefrontal cortex. J. Cogn. Neurosci. 17, 1306–1315 (2005).

Gilbert, D. T. & Wilson, T. D. Prospection: experiencing the future. Science 317, 1351–1354 (2007).

Fiedler, S., Glöckner, A., Nicklisch, A. & Dickert, S. Social value orientation and information search in social dilemmas: an eye-tracking analysis. Organ. Behav. Hum. Decis. Process. 120, 272–284 (2013).

Rand, D. G., Greene, J. D. & Nowak, M. A. Spontaneous giving and calculated greed. Nature 489, 427–430 (2012).

Yamagishi, T. et al. Cortical thickness of the dorsolateral prefrontal cortex predicts strategic choices in economic games. Proc. Natl Acad. Sci. USA 113, 5582–5587 (2016).

Bangen, K. J., Meeks, T. W. & Jeste, D. V. Defining and assessing wisdom: a review of the literature. Am. J. Geriat. Psychiat. 21, 1254–1266 (2013).

Staudinger, U. M. & Glück, J. Psychological wisdom research: commonalities and differences in a growing field. Annu. Rev. Psychol. 62, 215–241 (2011).

Grossmann, I. Wisdom in context. Perspect. Psychol. Sci. (in the press).

Baltes, P. B. & Smith, J. The fascination of wisdom: its nature, ontogeny, and function. Perspect. Psychol. Sci. 3, 56–64 (2008).

Grossmann, I., Na, J., Varnum, M. E. W., Kitayama, S. & Nisbett, R. E. A route to well intelligence versus wise reasoning. J. Exp. Psychol. Gen. 142, 944–953 (2013).

Grossmann, I. & Kross, E. Exploring Solomon's paradox: self-distancing eliminates the self-other asymmetry in wise reasoning about close relations in younger and older adults. Psychol. Sci. 25, 1571–1580 (2014).

Kross, E. & Grossmann, I. Boosting wisdom: distance from the self enhances wise reasoning, attitudes, and behavior. J. Exp. Psychol. Gen. 141, 43–48 (2012).

Grossmann, I. et al. Reasoning about social conflicts improves into old age. Proc. Natl Acad. Sci. USA 107, 7246–7250 (2010).

Staudinger, U. M., Lopez, D. & Baltes, P. B. The psychometric location of wisdom-related performance: intelligence, personality, and more? Personal. Soc. Psychol. Bull. 23, 1200–1214 (1997).

Sternberg, R. J. A balance theory of wisdom. Rev. Gen. Psychol. 2, 347–365 (1998).

Brienza, J., Kung, F., Santos, H. C., Bobocel, R. & Grossmann, I. Wisdom and Bias: Towards a State-level Measure of Wisdom-related Cognition (Univ. Waterloo, 2016).

James, W. Principles of Psychology (Holt, 1890).

Markus, H. R. Self-schemata and processing information about the self. J. Pers. Soc. Psychol. 35, 63–78 (1977).

Ariely, D. & Norton, M. I. From thinking too little to thinking too much: a continuum of decision making. WIREs Cogn. Sci. 2, 39–46 (2011).

Evans, A. M., Dillon, K. D. & Rand, D. G. Fast but not intuitive, slow but not reflective: decision conflict drives reaction times in social dilemmas. J. Exp. Psychol. Gen. 144, 951–966 (2015).

Epley, N., Keysar, B., Van Boven, L. & Gilovich, T. Perspective taking as egocentric anchoring and adjustment. J. Pers. Soc. Psychol. 87, 327–339 (2004).

Kross, E. & Ayduk, O. Making meaning out of negative experiences by self-distancing. Curr. Dir. Psychol. Sci. 20, 187–191 (2011).

Kahneman, D. & Frederick, S. in Heuristics and Biases: The Psychology of Intuitive Judgment (eds Gilovich, T., Griffin, D. & Kahneman, D. ) 49–81 (Cambridge Univ. Press, 2002).

Metcalfe, J. & Mischel, W. A hot/cool-system analysis of delay of gratification: dynamics of willpower. Psychol. Rev. 106, 3–19 (1999).

Kelley, H. H. & Stahelski, A. J. The social interaction basis of cooperators' and competitors beliefs about others. J. Pers. Soc. Psychol. 16, 66–91 (1970).

Libby, L. K. & Eibach, R. P. in Advances in Experimental Social Psychology Vol. 44 (eds Olson, J. M. & Zanna, M. P. ) 185–245 (Academic Press, 2011).

Greene, J. D. Moral Tribes: Emotion, Reason and the Gap Between Us and Them (Penguin, 2013).

Hayes, A. F. Introduction to Mediation, Moderation, and Conditional Process Analysis: A Regression-based Approach (Guilford Press, 2013).

Sibley, W. M. The rational versus the reasonable. Philos. Rev. 62, 554–560 (1953).

Grossmann, I. et al. Aging and wisdom: culture matters. Psychol. Sci. 23, 1059–1066 (2012).

Kekes, J. Moral Wisdom and Good Lives (Cornell Univ. Press, 1995).

Krajbich, I., Bartling, B., Hare, T. & Fehr, E. Rethinking fast and slow based on a critique of reaction-time reverse inference. Nat. Commun. 6, 7455 (2015).

Ayduk, Ö. & Kross, E. From a distance: implications of spontaneous self-distancing for adaptive self-reflection. J. Pers. Soc. Psychol. 98, 809–829 (2010).

Kitayama, S., Park, H., Sevincer, A. T., Karasawa, M. & Uskul, A. K. A cultural task analysis of implicit independence: comparing North America, Western Europe, and East Asia. J. Pers. Soc. Psychol. 97, 236–255 (2009).

Paolacci, G. & Chandler, J. Inside the Turk: understanding Mechanical Turk as a participant pool. Curr. Dir. Psychol. Sci. 23, 184–188 (2014).

Ipeirotis, P. G. Demographics of Mechanical Turk NYU Working Paper No. CEDER-10-01 (New York Univ., 2010); https://ssrn.com/abstract=1585030

Nisbett, R. E., Peng, K., Choi, I. & Norenzayan, A. Culture and systems of thought: holistic vs. analytic cognition. Psychol. Rev. 108, 291–310 (2001).

Grossmann, I. & Na, J. Research in culture and psychology: past lessons and future challenges. WIREs Cogn. Sci. 5, 1–14 (2014).

Frank, R. H., Gilovich, T. & Regan, D. T. Does studying economics inhibit cooperation? J. Econ. Perspect. 7, 159–171 (1993).

Balliet, D., Mulder, L. B. & Van Lange, P. A. M. Reward, punishment, and cooperation: a meta-analysis. Psychol. Bull. 137, 594–615 (2011).

Gervais, W. M. & Norenzayan, A. Analytic thinking promotes religious disbelief. Science 336, 493–496 (2012).

Rand, D. G. Cooperation, fast and slow: meta-analytic evidence for a theory of social heuristics and self-interested deliberation. Psychol. Sci. 27, 1192–1206 (2016).

Henrich, J., Heine, S. J. & Norenzayan, A. Most people are not WEIRD. Nature 466, 29 (2010).

Chandler, J., Paolacci, G., Peer, E., Mueller, P. & Ratliff, K. A. Using nonnaive participants can reduce effect sizes. Psychol. Sci. 26, 1131–1139 (2015).

Gervais, W. M., Jewell, J. A., Najle, M. B. & Ng, B. K. L. A powerful nudge? Presenting calculable consequences of underpowered research shifts incentives toward adequately powered designs. Soc. Psychol. Personal. Sci. 6, 847–854 (2015).

Tinghög, G. et al. Intuition and cooperation reconsidered. Nature 498, E1–E2 (2013).

Kahneman, D., Krueger, A. B., Schkade, D. A., Schwarz, N. & Stone, A. A. A survey method for characterizing daily life experience: the day reconstruction method. Science 306, 1776–1780 (2004).

Schwarz, N., Kahneman, D. & Xu, J. in Calendar and Time Diary: Methods in Life Events Research (eds Belli, R., Alwin, D. & Stafford, F. ) 157–174 (Sage Publications, 2009).

Mulligan, N. W. Attention and implicit memory tests: the effects of varying attentional load on conceptual priming. Mem. Cognit. 25, 11–17 (1997).

Liberman, N. & Trope, Y. The psychology of transcending the here and now. Science 322, 1201–1205 (2008).

Pennebaker, J. W., Francis, M. E. & Booth, R. J. Linguistic Inquiry and Word Count (LIWC): LIWC2001 (Lawrence Erlbaum Associates, 2001).

Grossmann, I. & Kross, E. The impact of culture on adaptive versus maladaptive self-reflection. Psychol. Sci. 21, 1150–1157 (2010).

Gardner, W. L., Gabriel, S. & Lee, A. Y. 'I' value freedom, but 'we' value relationships: self-construal priming mirrors cultural differences in judgment. Psychol. Sci. 10, 321–326 (1999).

Graham, J., Haidt, J. & Nosek, B. A. Liberals and conservatives rely on different sets of moral foundations. J. Pers. Soc. Psychol. 96, 1029–1046 (2009).
Acknowledgements
The present research was funded by Social Sciences and Humanities Research Council of Canada Insight Grants 435-2014-0685 (to I.G.) and 435-2012-0306 (to D.R.B.), and by the John Templeton Foundation Science of Prospection grant (to I.G.). The funders had no role in study design, data collection and analysis, decision to publish or preparation of the manuscript.
Ethics declarations
Competing interests
The authors declare no competing interests.
Supplementary information
Supplementary Figures, Supplementary Tables, Supplementary Notes, Supplementary Methods, Supplementary References. (PDF 475 kb)
About this article
Cite this article
Grossmann, I., Brienza, J. & Bobocel, D. Wise deliberation sustains cooperation. Nat Hum Behav 1, 0061 (2017). https://doi.org/10.1038/s41562-017-0061
Received:

Accepted:

Published:

DOI: https://doi.org/10.1038/s41562-017-0061