Abstract
Understanding the response of faults to the injection of high-pressure fluids is important for several subsurface applications, for example, geologic carbon sequestration or energy storage. Lab-based experiments suggest that fluid injection can activate fault slip and that this slip can lead to increased fluid transmission along low-permeability faults. Here we present in situ observations from a cross-borehole fluid-injection experiment in a low-permeability shale-bearing fault, which show fault displacement occurring before fluid-pressure build-up. Comparing these observations with numerical models with differing permeability evolution histories, we find that the observed variation in fluid pressure is best explained by a change in permeability only after the fault fails and slips beyond the pressurized area. Once fluid migration occurs along the fault as a result of slip-induced permeability increase, the fault experiences further opening due to a decrease in the effective normal stress. We suggest that decoupling of fault slip and opening, leading to a rapid increase in fluid pressurization following the initial fault slip, could be an efficient driver for fluid migration in low-permeability faults.
Access options
Subscribe to Nature+
Get immediate online access to the entire Nature family of 50+ journals
Subscribe to Journal
Get full journal access for 1 year
$119.00
only $9.92 per issue
All prices are NET prices.
VAT will be added later in the checkout.
Tax calculation will be finalised during checkout.
Buy article
Get time limited or full article access on ReadCube.
$32.00
All prices are NET prices.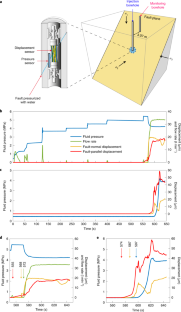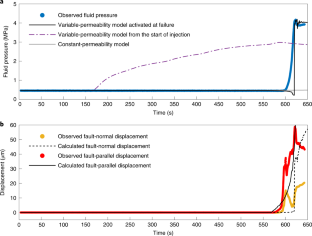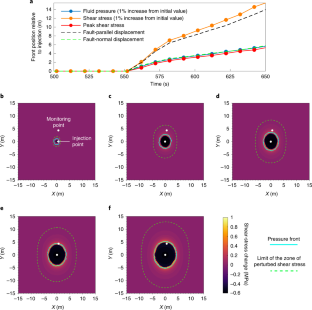 References
Shelly, D. R. et al. Fluid-faulting evolution in high definition: connecting fault structure and frequency–magnitude variations during the 2014 Long Valley Caldera, California, earthquake swarm. J. Geophys. Res. 121, 1776–1795 (2016).

Ross, Z. E. et al. 3D fault architecture controls the dynamism of earthquake swarms. Science 368, 1357–1361 (2020).

Ellsworth, W. L. Injection-induced earthquakes. Science 341, 6142 (2013).

Keranen, K. M. & Weingarten, M. Induced seismicity. Annu. Rev. Earth Planet. Sci. 46, 149–174 (2018).

Guglielmi, Y. et al. Seismicity triggered by fluid injection-induced aseismic slip. Science 348, 1224 (2015).

Wei, S. et al. The 2012 Brawley swarm triggered by injection-induced aseismic slip. Earth Planet. Sci. Lett. 422, 115–125 (2015).

Sibson, R. H. Conditions for fault-valve behaviour. Geological Society, London, Special Publications 54, 15–28. https://doi.org/10.1144/GSL.SP.1990.054.01.02 (1990).

Zhu, W. et al. Fault valving and pore pressure evolution in simulations of earthquake sequences and aseismic slip. Nat. Commun. 11, 4833 (2020).

Guglielmi, Y. et al. In situ observations on the coupling between hydraulic diffusivity and displacements during fault reactivation in shales. J. Geophys. Res. https://doi.org/10.1002/2015JB012158 (2015).

Wu, W. et al. Permeability evolution of slowly slipping faults in shale reservoirs. Geophys. Res. Lett. 44, 11368–11375 (2017).

Wenning, Q. C. et al. Shale fault zone structure and stress dependent anisotropic permeability and seismic velocity properties (Opalinus Clay, Switzerland). J. Struct. Geol. 144, 104273 (2020).

Thury, M. & Bossart, P. The Mont Terri rock laboratory, a new international research project in a Mesozoic shale formation, in Switzerland. Eng. Geol. 52, 347–359 (1999).

Guglielmi, Y. et al. ISRM suggested method for step-rate injection method for fracture in situ properties (SIMFIP): using a 3-components borehole deformation sensor. Rock Mech. Rock Eng. 47, 303–311. https://doi.org/10.1007/s00603-013-0517-1 (2014).

Martin, C. D. & Lanyon, G. W. Measurement of in situ stress in weak rocks at Mont Terri Rock Laboratory, Switzerland. Int. J. Rock. Mech. Min. Sci. 40, 1077–1088 (2003).

Guglielmi, Y. et al. Complexity of fault rupture and fluid leakage in shale: insights from a controlled fault activation experiment. J. Geophys. Res. https://doi.org/10.1029/2019JB017781 (2020).

Guglielmi, Y. et al. Estimating perturbed stress from 3D borehole displacements induced by fluid injection in fractured or faulted shales. Geophys. J. Int. https://doi.org/10.1093/gji/ggaa103 (2020).

Aoki, K. et al. Micro-textures of deformed gouges by friction experiments of Mont Terri Main Fault, Switzerland. In Proc. 2017 AGU Fall Meeting MR33B-2057 (AGU, 2017).

Ida, Y. Cohesive force across the tip of a longitudinal-shear crack and Griffith's specific surface energy. J. Geophys. Res. 77, 3796–3805 (1972).

Witherspoon, P. A. et al. Validity of cubic law for fluid flow in a deformable rock fracture. Water Resour. Res. 16, 1016–1024 (1980).

Cappa, F. et al. On the relationship between fault permeability increases, induced stress perturbation, and the growth of aseismic slip during fluid injection. Geophys. Res. Lett. https://doi.org/10.1029/2018GL080233 (2018).

Bhattacharya, P. & Viesca, R. C. Fluid-induced aseismic fault slip outpaces pore-fluid migration. Science. https://doi.org/10.1126/science.aaw7354 (2019).

Scuderi, M. M. et al. Frictional stability and earthquake triggering during fluid pressure stimulation of an experimental fault. Earth Planet. Sci. Lett. https://doi.org/10.1016/j.epsl.2017.08.009 (2017).

Scuderi, M. M. & Collettini, C. Fluid injection and the mechanics of frictional stability of shale-bearing faults. J. Geophys. Res. https://doi.org/10.1029/2018JB016084 (2018).

Wang, H. F. Theory of Linear Poroelasticity (Princeton Univ. Press, 2000).

Rutter, E. H. & Hackston, A. On the effective stress law for rock-on-rock frictional sliding, and fault slip triggered by means of fluid injection. Phil. Trans. R. Soc. Lond. https://doi.org/10.1098/rsta.2016.0001 (2017).

Evans, K. F. et al. Microseismicity and permeability enhancement of hydrogeologic structures during massive fluid injections into granite at 3 km depth at the Soultz HDR site. Geophys. J. Int. 160, 388–412 (2005).

3DEC 3-dimensional distinct element code version 7.00 (ICG, 2020).

Wynants-Morel, N., Cappa, F., De Barros, L. & Ampuero, J. P. Stress perturbation from aseismic slip drives the seismic front during fluid injection in a permeable fault. J. Geophys. Res. 125, e2019JB019179 (2020).

Jaeger, J. C. & Cook, N. G. W. Fundamentals of Rock Mechanics (Chapman and Hall, 1979).

Cundall, P. A. & Strack, O. D. L. A discrete numerical model for granular assemblies. Geotechnique 29, 47–65 (1979).

Cundall, P. A. Formulation of a three‐dimensional distinct element model—part I. A scheme to detect and represent contacts in a system composed of many polyhedral blocks. Int. J. Rock. Mech. Min. Sci. Geomech. Abs. 25, 107–116 (1988).

Nussbaum, C., Bossart, P., Amann, F. & Aubourg, C. Analysis of tectonic structures and excavation induced fractures in the Opalinus Clay, Mont Terri underground rock laboratory (Switzerland). Swiss J. Geosci. 104, 187–210 (2011).

Shimamoto, T. Frictional Properties of Mont Terri Claystones from Fault Slip Test Sites at Low to Intermediate Slip Rates (JAEA, 2017)
Acknowledgements
This work has been supported by the Federal Office of Topography, Swisstopo, and by the US Department of Energy (Spent Fuel and Waste Science and Technology Research Group). F.C. acknowledges support from the Institut Universitaire de France. We thank E. Dunham and R.M. Pollyea for constructive comments.
Ethics declarations
Competing interests
The authors declare no competing interests.
Peer review
Peer review information
Nature Geoscience thanks Ryan Pollyea, Eric Dunham and the other, anonymous, reviewer(s) for their contribution to the peer review of this work. Primary Handling Editors: Louise Hawkins and Rebecca Neely, in collaboration with the Nature Geoscience team.
Additional information
Publisher's note Springer Nature remains neutral with regard to jurisdictional claims in published maps and institutional affiliations.
Supplementary information
Rights and permissions
Springer Nature or its licensor holds exclusive rights to this article under a publishing agreement with the author(s) or other rightsholder(s); author self-archiving of the accepted manuscript version of this article is solely governed by the terms of such publishing agreement and applicable law.
About this article
Cite this article
Cappa, F., Guglielmi, Y., Nussbaum, C. et al. Fluid migration in low-permeability faults driven by decoupling of fault slip and opening. Nat. Geosci. 15, 747–751 (2022). https://doi.org/10.1038/s41561-022-00993-4
Received:

Accepted:

Published:

Issue Date:

DOI: https://doi.org/10.1038/s41561-022-00993-4