Abstract
Fossil fuels contain small amounts of helium, which are co-released into the atmosphere together with carbon dioxide. However, a clear build-up of helium in the atmosphere has not previously been detected. Using a high-precision mass spectrometry technique to determine the atmospheric ratio of helium-4 to nitrogen, we show that helium-4 concentrations have increased significantly over the past five decades. Obtaining a direct measure of the rise in atmospheric helium-4 is possible because changes in nitrogen are negligible. Using 46 air samples acquired between 1974 and 2020, we find that the helium-4 concentration increased at an average rate of 39 ± 3 billion mol per year (2σ). Given that previous observations have shown that the ratio between helium-3 and helium-4 in the atmosphere has remained constant, our results also imply that the concentration of helium-3 is increasing. The inferred rise in atmospheric helium-3 greatly exceeds estimates of anthropogenic emissions from natural gas, nuclear weapons and nuclear power generation, suggesting potential problems with previous isotope measurements or an incorrect assessment of known sources.
Access options
Subscribe to Nature+
Get immediate online access to the entire Nature family of 50+ journals
Subscribe to Journal
Get full journal access for 1 year
$119.00
only $9.92 per issue
All prices are NET prices.
VAT will be added later in the checkout.
Tax calculation will be finalised during checkout.
Buy article
Get time limited or full article access on ReadCube.
$32.00
All prices are NET prices.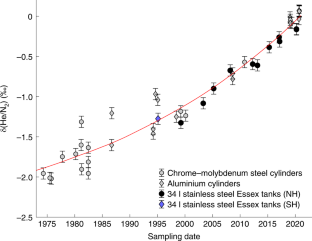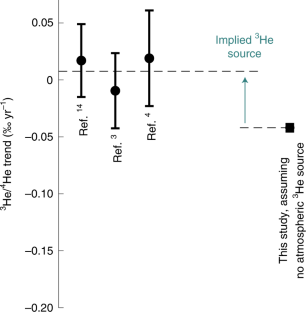 Data availability
All data generated or analysed during this study are included in the Article. Source data are provided with this paper.
References
Sano, Y., Wakita, H., Makide, Y. & Tominaga, T. A ten-year decrease in the atmospheric helium isotope ratio possibly caused by human activity. Geophys. Res. Lett. 16, 1371–1374 (1989).

Oliver, B. M., Bradley, J. G. & Farrar, H. IV Helium concentration in the Earth's lower atmosphere. Geochim. Cosmochim. Acta 48, 1759–1767 (1984).

Mabry, J. C. et al. No evidence for change of the atmospheric helium isotope composition since 1978 from re-analysis of the Cape Grim Air Archive. Earth Planet. Sci. Lett. 428, 134–138 (2015).

Boucher, C., Marty, B., Zimmermann, L. & Langenfelds, R. Atmospheric helium isotopic ratio from 1910 to 2016 recorded in stainless steel containers. Geochem. Perspect. Lett. 6, 23–27 (2018).

Brennwald, M. S. et al. Concentrations and isotope ratios of helium and other noble gases in the Earth's atmosphere during 1978–2011. Earth Planet. Sci. Lett. 366, 27–37 (2013).

Sano, Y., Furukawa, Y. & Takahata, N. Atmospheric helium isotope ratio: possible temporal and spatial variations. Geochim. Cosmochim. Acta 74, 4893–4901 (2010).

Pierson-Wickmann, A. C., Marty, B. & Ploquin, A. Helium trapped in historical slags: a search for temporal variation of the He isotopic composition of air. Earth Planet. Sci. Lett. 194, 165–175 (2001).

Torgersen, T. Terrestrial helium degassing fluxes and the atmospheric helium budget: implications with respect to the degassing processes of continental crust. Chem. Geol. 79, 1–14 (1989).

Banks, P. M. & Kockarts, G. Aeronomy Part B 1st edn (Academic Press, 1973).

Sano, Y., Marty, B. & Burnard, P. in The Noble Gases as Geochemical Tracers 2nd edn (ed. Burnard, P.) 17–31 (Springer, 2013).

Sano, Y., Wakita, H., Makide, Y. & Tominaga, T. Reply to Lupton and Graham. Geophys. Res. Lett. 18, 486–4888 (1991).

Mishima, K. et al. Accurate determination of the absolute 3He/4He ratio of a synthesized helium standard gas (Helium Standard of Japan, HESJ): toward revision of the atmospheric 3He/4He ratio. Geochem. Geophys. Geosyst. 19, 3995–4005 (2018).

Matsuda, J. I., Matsumoto, T. & Suzuki, A. Helium in old porcelain: the historical variation of the He isotopic composition in air. Geochem. J. 44, 5–9 (2010).

Lupton, J. & Evans, L. Changes in the atmospheric helium isotope ratio over the past 40 years. Geophys. Res. Lett. 40, 6271–6275 (2013).

Lupton, J. & Evans, L. The atmospheric helium isotope ratio: is it changing? Geophys. Res. Lett. 31, L13101 (2004).

Birner, B., Paplawsky, W., Severinghaus, J. & Keeling, R. F. A method for resolving changes in atmospheric He/N2 as an indicator of fossil fuel extraction and stratospheric circulation. Atmos. Meas. Tech. 14, 2515–2527 (2021).

Kockarts, G. Helium in the terrestrial atmosphere. Space Sci. Rev. 14, 723–757 (1973).

Torgersen, T. Continental degassing flux of 4He and its variability. Geochem. Geophys. Geosyst. 11, Q06002 (2010).

Mohr, S. & Ward, J. Helium production and possible projection. Minerals 4, 130–144 (2014).

Datta, P. S. et al. A survey of helium in ground water in parts of Sabarmati basin in Gujarat state and in the Jaisalmer district, Rajasthan. Hydrol. Sci. Bull. 25, 183–193 (1980).

Kulongoski, J. T., Hilton, D. R., Cresswell, R. G., Hostetler, S. & Jacobson, G. Helium-4 characteristics of groundwaters from Central Australia: comparative chronology with chlorine-36 and carbon-14 dating techniques. J. Hydrol. 348, 176–194 (2008).

Kulongoski, J. T., Hilton, D. R. & Izbicki, J. A. Source and movement of helium in the eastern Morongo groundwater basin: the influence of regional tectonics on crustal and mantle helium fluxes. Geochim. Cosmochim. Acta 69, 3857–3872 (2005).

Torgersen, T. & Clarke, W. B. Helium accumulation in groundwater, I: an evaluation of sources and the continental flux of crustal 4He in the Great Artesian Basin, Australia. Geochim. Cosmochim. Acta 49, 1211–1218 (1985).

Wada, Y. & Bierkens, M. F. Sustainability of global water use: past reconstruction and future projections. Environ. Res. Lett. 9, 104003 (2014).

Birner, B. et al. Gravitational separation of Ar/N2 and age of air in the lowermost stratosphere in airborne observations and a chemical transport model. Atmos. Chem. Phys. 20, 12391–12408 (2020).

Aldrich, L. T. & Nier, A. O. The occurrence of He3 in natural sources of helium. Phys. Rev. 74, 1590–1594 (1948).

Davidson, T. A. & Emerson, D. E. Method and Apparatus for Direct Determination of Helium-3 in Natural Gas and Helium (US Department of the Interior, 1990).

Wittenberg, L. J. Inventory of terrestrial helium-3. In Abstracts Presented to the Topical Conference Origin of the Earth 109–110 (Lunar and Planetary Institute, 1988).

Sano, Y., Tominaga, T., Nakamura, Y. & Wakita, H. 3He/4He ratios of methane-rich natural gases in Japan. Geochem. J. 16, 237–245 (1982).

Pinti, D. L. & Marty, B. in Fluids and Basin Evolution (ed. Kyser, K.) 160–196 (Mineralogy Association of Canada, 2000).

Ballentine, C. J. & Burnard, P. G. Production, release and transport of noble gases in the continental crust. Rev. Mineral. Geochem. 47, 481–538 (2002).

Bentoumi, G., Didsbury, R., Jonkmans, G., Rodrigo, L. & Sur, B. Direct harvesting of helium-3 (3He) from heavy water nuclear reactors. Nucl. Rev. 2, 109–112 (2013).

Shea, D. A. & Morgan, D. The Helium-3 Shortage: Supply, Demand, and Options for Congress (Congressional Research Service, 2010).

Zartman, R. E., Wasserburg, G. J. & Reynolds, J. H. Helium, argon, and carbon in some natural gases. J. Geophys. Res. 66, 277–306 (1961).

Prinn, R. G. et al. History of chemically and radiatively important atmospheric gases from the Advanced Global Atmospheric Gases Experiment (AGAGE). Earth Syst. Sci. Data 10, 985–1018 (2018).

Prinn, R. G. et al. A history of chemically and radiatively important gases in air deduced from ALE/GAGE/AGAGE. J. Geophys. Res. Atmos. 105, 17751–17792 (2000).

Mühle, J. et al. Perfluorocarbons in the global atmosphere: tetrafluoromethane, hexafluoroethane, and octafluoropropane. Atmos. Chem. Phys. 10, 5145–5164 (2010).

Keeling, R. F., Manning, A. C., Paplawsky, W. J. & Cox, A. C. On the long-term stability of reference gases for atmospheric O2/N2 and CO2 measurements. Tellus B 59, 3–14 (2007).

Keeling, R. F., Manning, A. C., McEvoy, E. M. & Shertz, S. R. Methods for measuring changes in atmospheric O2 concentration and their application in Southern Hemisphere air. J. Geophys. Res. 103, 3381–3397 (1998).

Keeling, R. F. et al. Measurement of changes in atmospheric Ar/N2 ratio using a rapid-switching, single-capillary mass spectrometer system. Tellus B 56, 322–338 (2004).

York, D., Evensen, N. M., Martinez, M. L. & De Basabe Delgado, J. Unified equations for the slope, intercept, and standard errors of the best straight line. Am. J. Phys. 72, 367–375 (2004).
Acknowledgements
We thank R. Beaudette, A. Seltzer, S. Shackleton, J. Morgan, J. Ng, J. Dohner, Y. Jin and E. Morgan for comments and insightful discussions during the development and troubleshooting of the He/N2 analysis method. We are grateful to S. Hatley, A. Cox and T. Lueker for locating many old cylinders and unearthing documentation of their history. This work would not have been possible without the support of C. Harth, who generously shared the AGAGE Essex tanks and advised on their use and history. We also thank B. Paplawsky and S. Clark for maintaining and operating the Ar/N2, O2/N2 and CO2 analysis systems in the Keeling laboratory. This work was supported by National Science Foundation grants MRI-1920369 (J.S.), OCE-1924394 (J.S.) and AGS-1940361 (R.F.K.).
Ethics declarations
Competing interests
The authors declare no competing interests.
Peer review
Peer review information
Nature Geoscience thanks Yuji Sano, Christine Boucher and the other, anonymous, reviewer(s) for their contribution to the peer review of this work. Primary Handling Editor: Tom Richardson, in collaboration with the Nature Geoscience team.
Additional information
Publisher's note Springer Nature remains neutral with regard to jurisdictional claims in published maps and institutional affiliations.
Supplementary information
Summary of sample properties.
Summary of all sample data.
About this article
Cite this article
Birner, B., Severinghaus, J., Paplawsky, B. et al. Increasing atmospheric helium due to fossil fuel exploitation. Nat. Geosci. 15, 346–348 (2022). https://doi.org/10.1038/s41561-022-00932-3
Received:

Accepted:

Published:

Issue Date:

DOI: https://doi.org/10.1038/s41561-022-00932-3