Access options
Subscribe to Nature+
Get immediate online access to the entire Nature family of 50+ journals
Subscribe to Journal
Get full journal access for 1 year
$119.00
only $9.92 per issue
All prices are NET prices.
VAT will be added later in the checkout.
Tax calculation will be finalised during checkout.
Buy article
Get time limited or full article access on ReadCube.
$32.00
All prices are NET prices.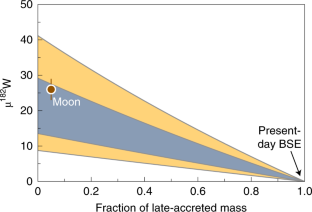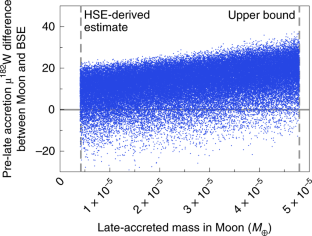 References
Thiemens, M. M., Sprung, P., Fonseca, R. O. C., Leitzke, F. P. & Münker, C. Early Moon formation inferred from hafnium–tungsten systematics. Nat. Geosci. https://doi.org/10.1038/s41561-019-0398-3 (2019).

Maurice, M., Tosi, N., Schwinger, S., Breuer, D. & Kleine, T. A long-lived magma ocean on a young Moon. Sci. Adv. 6, eaba8949 (2020).

Kruijer, T. S. & Kleine, T. Tungsten isotopes and the origin of the Moon. Earth Planet. Sci. Lett. 475, 15–24 (2017).

Kruijer, T. S., Kleine, T., Fischer-Gödde, M. & Sprung, P. Lunar tungsten isotopic evidence for the late veneer. Nature 520, 534–537 (2015).

Touboul, M., Puchtel, I. S. & Walker, R. J. Tungsten isotopic evidence for disproportional late accretion to the Earth and Moon. Nature 520, 530–533 (2015).

Jacobson, S. A. et al. Highly siderophile elements in Earth's mantle as a clock for the Moon-forming impact. Nature 508, 84–87 (2014).

Palme, H. & O'Neill, H. S. C. in Treatise on Geochemistry Vol. 3, 2nd edn (eds Holland, D. A & Turekian, K. K.) 1–39 (Elsevier, 2014).

Archer, G. J. et al. Lack of late-accreted material as the origin of 182W excesses in the Archean mantle: evidence from the Pilbara Craton, Western Australia. Earth Planet. Sci. Lett. 528, 115841 (2019).

Willbold, M., Elliott, T. & Moorbath, S. The tungsten isotopic composition of the Earth's mantle before the terminal bombardment. Nature 477, 195–199 (2011).

Touboul, M., Puchtel, I. S. & Walker, R. J. 182W evidence for long-term preservation of early mantle differentiation products. Science 335, 1065–1069 (2012).

Morbidelli, A. et al. The timeline of the lunar bombardment: revisited. Icarus 305, 262–276 (2018).

Brenan, J. M., Mungall, J. E. & Bennett, N. R. Abundance of highly siderophile elements in lunar basalts controlled by iron sulfide melt. Nat. Geosci. 12, 701–706 (2019).

Zhu, M.-H. et al. Reconstructing the late accretion history of the Moon. Nature 571, 226–229 (2019).

Fischer, R. A., Zube, N. G. & Nimmo, F. The origin of the Moon's Earth-like tungsten isotopic composition from dynamical and geochemical modeling. Nat. Commun. 12, 35 (2021).

Lock, S. J. et al. The origin of the Moon within a terrestrial synestia. J. Geophys. Res. 123, 910–951 (2018).
Acknowledgements
Funded by the Deutsche Forschungsgemeinschaft (DFG, German Research Foundation), Project-ID 263649064–TRR 170. This is TRR 170 publication no. 111.
Ethics declarations
Competing interests
The authors declare no competing interests.
Additional information
Peer review information Nature Geoscience thanks Alan Brandon and Stephen Mojzsis for their contribution to the peer review of this work.
Publisher's note Springer Nature remains neutral with regard to jurisdictional claims in published maps and institutional affiliations.
About this article
Cite this article
Kruijer, T.S., Archer, G.J. & Kleine, T. No 182W evidence for early Moon formation. Nat. Geosci. 14, 714–715 (2021). https://doi.org/10.1038/s41561-021-00820-2
Received:

Accepted:

Published:

Issue Date:

DOI: https://doi.org/10.1038/s41561-021-00820-2
Further reading
Maxwell Marzban Thiemens
Jonas Tusch
Carsten Münker

Nature Geoscience (2021)