Abstract
The sinking of organic particles in the ocean and their degradation by marine microorganisms is one of the main drivers of the biological pump. Yet, the mechanisms determining the magnitude of the pump remain poorly understood, limiting our ability to predict this carbon flux in future ocean scenarios. Current ocean models assume that the biological pump is governed by the competition between sinking speed and degradation rate, with the two processes independent from one another. Contrary to this paradigm, we show that sinking itself is a primary determinant of the rate at which bacteria degrade particles. Heterotrophic bacterial degradation rates were obtained from a laboratory study on model surface-colonized particles at atmospheric pressure under a range of flow speeds to mimic different sinking velocities. We find that even modest sinking speeds of 8 m day−1 enhance degradation rates more than 10-fold compared with degradation rates of non-sinking particles. We discovered that the molecular mechanism underlying this sinking-enhanced degradation is the flow-induced removal from the particles of the oligomeric breakdown products, which otherwise compete for enzymatic activity. This mechanism applies across several substrates and bacterial strains, suggesting its potentially broad occurrence under natural marine conditions. Integrating our findings into a mathematical model of particulate carbon flux, we propose that the coupling of sinking and degradation may contribute, in conjunction with other processes, to determining the magnitude of the vertical carbon flux in the ocean.
Relevant articles
Open Access articles citing this article.
Davide Ciccarese

,

Omar Tantawi

…

Andrew R. Babbin

Communications Earth & Environment Open Access 28 July 2023

Thomas R. Anderson

,

Wendy C. Gentleman

…

Daniel J. Mayor

Biogeochemistry Open Access 17 June 2023

Isabell Klawonn

,

Silke Van den Wyngaert

…

Hans-Peter Grossart

Communications Biology Open Access 21 February 2023
Access options
Access Nature and 54 other Nature Portfolio journals
Get Nature+, our best-value online-access subscription
$29.99 / 30 days
cancel any time
Subscribe to this journal
Receive 12 print issues and online access
$259.00 per year
only $21.58 per issue
Rent or buy this article
Prices vary by article type
from$1.95
to$39.95
Prices may be subject to local taxes which are calculated during checkout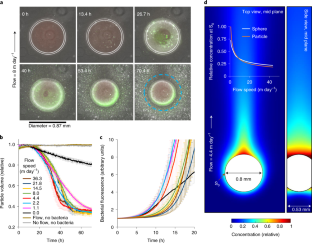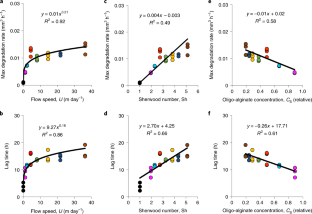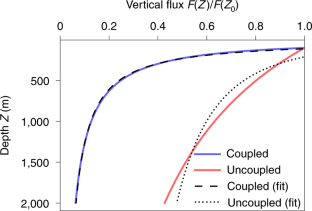 References
Boyd, P. W., Claustre, H., Levy, M., Siegel, D. A. & Weber, T. Multi-faceted particle pumps drive carbon sequestration in the ocean. Nature 568, 327–335 (2019).

Buesseler, K. O. & Boyd, P. W. Shedding light on processes that control particle export and flux attenuation in the twilight zone of the open ocean. Limnol. Oceanogr. 54, 1210–1232 (2009).

Eppley, R. W. & Peterson, B. J. Particulate organic matter flux and planktonic new production in the deep ocean. Nature 282, 677–680 (1979).

Jiao, N. et al. Microbial production of recalcitrant dissolved organic matter: long-term carbon storage in the global ocean. Nat. Rev. Microbiol. 8, 593–599 (2010).

Volk, T., Hoffert, M. I. in The Carbon Cycle and Atmospheric CO2: Natural Variations Archean to Present Vol. 32 (eds Sundquist, E. T. & Broecker, W. S.) 99–110 (American Geophysical Union, 1985).

Smith, D. C., Simon, M., Alldredge, A. L. & Azam, F. Intense hydrolytic enzyme activity on marine aggregates and implications for rapid particle dissolution. Nature 359, 139–142 (1992).

Silver, M. W., Shanks, A. L. & Trent, J. D. Marine snow: microplankton habitat and source of small-scale patchiness in pelagic populations. Science 201, 371–373 (1978).

Lampitt, R. S., Wishner, K. F., Turley, C. M. & Angel, M. V. Marine snow studies in the Northeast Atlantic Ocean: distribution, composition and role as a food source for migrating plankton. Mar. Biol. 116, 689–702 (1993).

Briggs, N., Dall'Olmo, G. & Claustre, H. Major role of particle fragmentation in regulating biological sequestration of CO2 by the oceans. Science 367, 791–793 (2020).

Giering, S. L. C. et al. Reconciliation of the carbon budget in the ocean's twilight zone. Nature 507, 480–483 (2014).

Smriga, S., Fernandez, V. I., Mitchell, J. G. & Stocker, R. Chemotaxis toward phytoplankton drives organic matter partitioning among marine bacteria. Proc. Natl Acad. Sci. USA 113, 1576–1581 (2016).

Biddanda, B. Microbial aggregation and degradation of phytoplankton-derived detritus in seawater. II. Microbial metabolism. Mar. Ecol. Prog. Ser. 42, 89–95 (1988).

Kiørboe, T., Grossart, H. P., Ploug, H. & Tang, K. Mechanisms and rates of colonisation of sinking aggregates. Appl. Environ. Microbiol. 68, 3996–4006 (2002).

Yawata, Y. et al. Competition-dispersal tradeoff ecologically differentiates recently speciated marine bacterioplankton populations. Proc. Natl Acad. Sci. USA 111, 5622–5627 (2014).

Singh, P. K. et al. Vibrio cholerae combines individual and collective sensing to trigger biofilm dispersal. Curr. Biol. 27, 3359–3366.e7 (2017).

Buchan, A., LeCleir, G. R., Gulvik, C. A., González, J. M. & Gonzalez, J. M. Master recyclers: features and functions of bacteria associated with phytoplankton blooms. Nat. Rev. Microbiol. 12, 686–698 (2014).

Ebersbach, F. & Trull, T. W. Sinking particle properties from polyacrylamide gels during the Kerguelen ocean and plateau compared study (KEOPS): zooplankton control of carbon export in an area of persistent natural iron inputs in the Southern Ocean. Limnol. Oceanogr. 53, 212–224 (2008).

Martin, J. H., Knauer, G. A., Karl, D. M. & Broenkow, W. W. VERTEX: carbon cycling in the Northeast Pacific. Deep Sea Res. A 34, 267–285 (1987).

Ducklow, H. W., Steinberg, D. K. & Buesseler, K. O. Upper ocean carbon export and the biological pump. Oceanography 14, 50–58 (2001).

Stukel, M. R., Song, H., Goericke, R. & Miller, A. J. The role of subduction and gravitational sinking in particle export, carbon sequestration, and the remineralization length scale in the California Current ecosystem. Limnol. Oceanogr. 63, 363–383 (2018).

Siegel, D. A. et al. Prediction of the export and fate of global ocean net primary production: the exports science plan. Front. Mar. Sci. 3, 22 (2016).

Dunne, J. P., Sarmiento, J. L. & Gnanadesikan, A. A synthesis of global particle export from the surface ocean and cycling through the ocean interior and on the seafloor. Global Biogeochem. Cycles 21, GB4006 (2007).

Armstrong, R. A., Lee, C., Hedges, J. I., Honjo, S. & Wakeham, S. G. A new, mechanistic model for organic carbon fluxes in the ocean based on the quantitative association of POC with ballast minerals. Deep Sea Res. II 49, 219–236 (2001).

Lutz, M., Dunbar, R. & Caldeira, K. Regional variability in the vertical flux of particulate organic carbon in the ocean interior. Global Biogeochem. Cycles 16, 11-1–11-18 (2002).

Williams, R. G. & Follows, M. J. Ocean Dynamics and the Carbon Cycle: Principles and Mechanisms (Cambridge Univ. Press, 2011).

Omand, M. M., Govindarajan, R., He, J. & Mahadevan, A. Sinking flux of particulate organic matter in the oceans: sensitivity to particle characteristics. Sci. Rep. 10, 5582 (2020).

Henson, S. A., Sanders, R. & Madsen, E. Global patterns in efficiency of particulate organic carbon export and transfer to the deep ocean. Global Biogeochem. Cycles 26, GB1028 (2012).

Krause-Jensen, D. & Duarte, C. M. Substantial role of macroalgae in marine carbon sequestration. Nat. Geosci. 9, 737–742 (2016).

Hehemann, J. H. et al. Adaptive radiation by waves of gene transfer leads to fine-scale resource partitioning in marine microbes. Nat. Commun. 7, 12860 (2016).

Hunt, D. E. et al. Resource partitioning and sympatric differentiation among closely related bacterioplankton. Science 320, 1081–1085 (2008).

Kiørboe, T. & Jackson, G. A. Marine snow, organic solute plumes, and optimal chemosensory behavior of bacteria. Limnol. Oceanogr. 46, 1309–1318 (2001).

Laurenceau-Cornec, E. C., Trull, T. W., Davies, D. M., De La Rocha, C. L. & Blain, S. Phytoplankton morphology controls on marine snow sinking velocity. Mar. Ecol. Prog. Ser. 520, 35–56 (2015).

Ploug, H. & Grossart, H. P. Bacterial production and respiration in suspended aggregates—a matter of the incubation method. Aquat. Microb. Ecol. 20, 321–329 (1999).

Karp-Boss, L., Boss, E. & Jumars, P. A. Nutrient fluxes to planktonic osmotrophs in the presence of fluid motion. Oceanogr. Mar. Biol. 34, 71–107 (1996).

Guidi, L. et al. Plankton networks driving carbon export in the oligotrophic ocean. Nature 532, 465–470 (2016).

Alldredge, A. L. & Gotschalk, C. In situ settling behavior of marine snow. Limnol. Ocean. 33, 339–35 (1988).

Buesseler, K. O., Boyd, P. W., Black, E. E. & Siegel, D. A. Metrics that matter for assessing the ocean biological carbon pump. Proc. Natl Acad. Sci. USA 117, 9679–9687 (2020).

Guidi, L. et al. Effects of phytoplankton community on production, size and export of large aggregates: a world-ocean analysis. Limnol. Oceanogr. 54, 1951–1963 (2009).

Stemmann, L. & Boss, E. Plankton and particle size and packaging: from determining optical properties to driving the biological pump. Ann. Rev. Mar. Sci. 4, 263–290 (2012).

Trull, T. W. et al. In situ measurement of mesopelagic particle sinking rates and the control of carbon transfer to the ocean interior during the Vertical Flux in the Global Ocean (VERTIGO) voyages in the North Pacific. Deep Sea Res. II 55, 1684–1695 (2008).

Alonso-Gonzalez, I. J. et al. Role of slowly settling particles in the ocean carbon cycle. Geophys. Res. Lett. 37, L13608 (2010).

Jokulsdottir, T. & Archer, D. A stochastic, Lagrangian model of sinking biogenic aggregates in the ocean (SLAMS 1.0): model formulation, validation and sensitivity. Geosci. Model Dev. 9, 1455–1476 (2016).

Herndl, G. J. & Reinthaler, T. Microbial control of the dark end of the biological pump. Nat. Geosci. 6, 718–724 (2013).

Marsay, C. M. et al. Attenuation of sinking particulate organic carbon flux through the mesopelagic ocean. Proc. Natl Acad. Sci. USA 112, 1089–1094 (2015).

Kim, B. K. et al. Vertical distributions of macromolecular composition of particulate organic matter in the water column of the Amundsen Sea polynya during the summer in 2014. J. Geophys. Res. Oceans 123, 1393–1405 (2018).

Becker, S. et al. Laminarin is a major molecule in the marine carbon cycle. Proc. Natl Acad. Sci. USA 117, 6599–6607 (2020).

Alldredge, A. L., Passow, U. & Logan, B. E. The abundance and significance of a class of large, transparent organic particles in the ocean. Deep Sea Res. I 40, 1131–1140 (1993).

Drescher, K., Nadell, C. D., Stone, H. A., Wingreen, N. S. & Bassler, B. L. Solutions to the public goods dilemma in bacterial biofilms. Curr. Biol. 24, 50–55 (2014).

Datta, M. S. et al. Successions on model marine particles. Nat. Commun. 7, 11965 (2016).

Muhammad Yusof, N. L. B., Lim, L. Y. & Khor, E. Preparation and characterization of chitin beads as a wound dressing precursor. J. Biomed. Mater. Res. 54, 59–68 (2001).

McDonnell, A. M. P. & Buesseler, K. O. Variability in the average sinking velocity of marine particles. Limnol. Oceanogr. 55, 2085–2096 (2010).

Enke, T. N., Leventhal, G. E., Metzger, M., Saavedra, J. T. & Cordero, O. X. Microscale ecology regulates particulate organic matter turnover in model marine microbial communities. Nat. Commun. 9, 2743 (2018).

Ebrahimi, A., Schwartzman, J. & Cordero, O. X. Cooperation and spatial self-organization determine rate and efficiency of particulate organic matter degradation in marine bacteria. Proc. Natl Acad. Sci. USA 116, 23309–23316 (2019).
Acknowledgements
We thank R. Naisbit for help with editing and members of the Simons Foundation PriME collaboration for fruitful discussions. We gratefully acknowledge funding from the European Molecular Biology Organization (EMBO; ALTF 1109-2016) and the Human Frontier Science Program (HFSP; LT001209/2017) to U.A.; the European Union's Horizon 2020 research and innovation programme under a Marie Skłodowska-Curie grant agreement (No. 798411) to F.J.P.; the Science for Life Laboratory (SciLifeLab Fellowship grant, SLL 2019/2) to L.B.; and from a Gordon and Betty Moore Foundation Symbiosis in Aquatic Systems Investigator Award (GBMF9197; https://doi.org/10.37807/GBMF9197), the Simons Foundation through the Principles of Microbial Ecosystems (PriME) collaboration (grant 542395) and the Swiss National Science Foundation, National Centre of Competence in Research (NCCR) Microbiomes (No. 51NF40_180575) to R.S.
Ethics declarations
Competing interests
The authors declare no competing interests.
Additional information
Peer review information Nature Geoscience thanks Philip Boyd and the other, anonymous, reviewer(s) for their contribution to the peer review of this work. Primary handling editor: James Super.
Publisher's note Springer Nature remains neutral with regard to jurisdictional claims in published maps and institutional affiliations.
Supplementary information
About this article
Cite this article
Alcolombri, U., Peaudecerf, F.J., Fernandez, V.I. et al. Sinking enhances the degradation of organic particles by marine bacteria. Nat. Geosci. 14, 775–780 (2021). https://doi.org/10.1038/s41561-021-00817-x
Received:

Accepted:

Published:

Issue Date:

DOI: https://doi.org/10.1038/s41561-021-00817-x