Hydrogen ions move freely within the crystal structure of a hydrous mineral under lower mantle conditions, resulting in high electrical conductivity that may make it possible to map water in the deep mantle.
Access options
Subscribe to Journal
Get full journal access for 1 year
$59.00
only $4.92 per issue
All prices are NET prices.
VAT will be added later in the checkout.
Tax calculation will be finalised during checkout.
Rent or Buy article
Get time limited or full article access on ReadCube.
from$8.99
All prices are NET prices.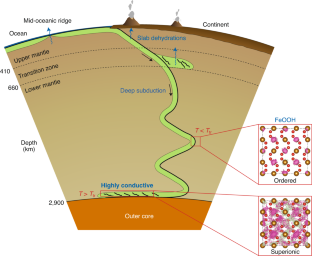 References
1.

Hou, M. et al. Nat. Geosci. https://doi.org/10.1038/s41561-021-00696-2 (2021).

2.

Ringwood, A. E. & Major, A. Earth Planet. Sci. Lett. 2, 130–133 (1967).

3.

Nishi, M. et al. Nat. Geosci. 7, 224–227 (2014).

4.

Huang, X., Xu, Y. & Karato, S.-I. Nature 434, 746–749 (2005).

5.

Yoshino, T., Manthilake, G., Matsuzaki, T. & Katsura, T. Nature 451, 326–329 (2008).

6.

Sugimura, E. et al. J. Chem. Phys. 137, 194505 (2012).

7.

Millot, M. et al. Nat. Phys. 14, 297–302 (2018).

8.

Nishihara, Y. & Matsukage, K. N. Am. Mineral. 101, 919–927 (2016).

9.

Komabayashi, T. in Earth's Deep Water Cycle (eds Jacobsen, S. & van der Lee, S.) 29–44 (American Geophysical Union, 2006).
Ethics declarations
Competing interests
The author declares no competing interests.
About this article
Cite this article
Komabayashi, T. Hydrogen dances in the deep mantle. Nat. Geosci. 14, 116–117 (2021). https://doi.org/10.1038/s41561-021-00704-5