Warm and wet conditions could have episodically punctuated a generally cold early climate on Mars, according to a multidisciplinary modelling approach that potentially solves a five-decade long debate regarding warm conditions on early Mars.
This is a preview of subscription content
Access options
Subscribe to Journal
Get full journal access for 1 year
$99.00
only $8.25 per issue
All prices are NET prices.
VAT will be added later in the checkout.
Tax calculation will be finalised during checkout.
Rent or Buy article
Get time limited or full article access on ReadCube.
from$8.99
All prices are NET prices.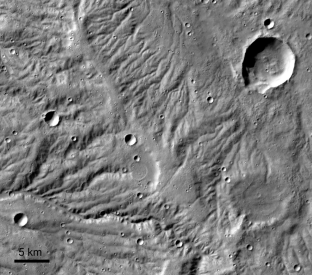 References
1.

Howard, A. D., Moore, J. F. & Irwin, R. P. III J. Geophys. Res. 110, E12S14 (2005).

2.

Goudge, T. A., Aureli, K. L., Head, J. W., Fassett, C. I. & Mustard, J. F. Icarus 260, 346–367 (2015).

3.

Carter, J., Loizeau, D., Mangold, N., Poulet, F. & Bibring, J.-P. Icarus 248, 373–382 (2015).

4.

Wordsworth, R. et al. Nat. Geosci. https://doi.org/10.1038/s41561-021-00701-8 (2021).

5.

Ramirez, R. M. et al. Nat. Geosci. 7, 59–63 (2014).

6.

Werner, S. C. Icarus 195, 45–60 (2008).

7.

Kite, E. S. et al. Sci. Adv. 5, eaav7710 (2019).

8.

Salese, F. et al. Astrobiology 20, 977–993 (2020).

9.

Hauber, E. et al. J. Geophys. Res. Planets 118, 1529–1544 (2013).

10.

Poulet, F. et al. Nature 438, 623–627 (2005).

11.

Ehlmann, B. L. & Edwards, C. S. Annu. Rev. Earth Planet. Sci. 42, 291–315 (2014).

12.

Lanza, N. L. et al. Geophys. Res. Lett. 43, 7398–7407 (2016).
Ethics declarations
Competing interests
The author declares no competing interests.
About this article
Cite this article
Mangold, N. Intermittent warmth on young Mars. Nat. Geosci. 14, 112–113 (2021). https://doi.org/10.1038/s41561-021-00700-9