Abstract
Water ice becomes a superionic phase under the high pressure and temperature conditions of deep planetary interiors of ice planets such as Neptune and Uranus, which affects interior structures and generates magnetic fields. The solid Earth, however, contains only hydrous minerals with a negligible amount of ice. Here we combine high pressure and temperature electrical conductivity experiments, Raman spectroscopy and first-principles simulations to investigate the state of hydrogen in the pyrite-type FeO2Hx (x ≤ 1), which is a potential H-bearing phase near the core–mantle boundary. We find that when the pressure increases beyond 73 GPa at room temperature, symmetric hydroxyl bonds are softened and the H+ (or proton) becomes diffusive within the vicinity of its crystallographic site. Increasing temperature under pressure, the diffusivity of hydrogen is extended beyond the individual unit cell to cover the entire solid, and the electrical conductivity soars, indicating a transition to the superionic state, which is characterized by freely moving protons and a solid FeO2 lattice. The highly diffusive hydrogen provides fresh transport mechanisms for charge and mass, which dictate the geophysical behaviours of electrical conductivity and magnetism, as well as geochemical processes of redox, hydrogen circulation and hydrogen isotopic mixing in Earth's deep mantle.
Access options
Subscribe to Nature+
Get immediate online access to the entire Nature family of 50+ journals
Subscribe to Journal
Get full journal access for 1 year
$119.00
only $9.92 per issue
All prices are NET prices.
VAT will be added later in the checkout.
Tax calculation will be finalised during checkout.
Buy article
Get time limited or full article access on ReadCube.
$32.00
All prices are NET prices.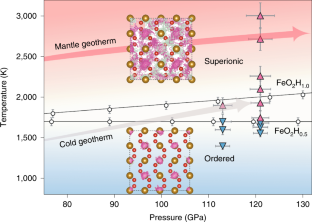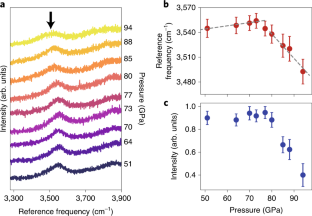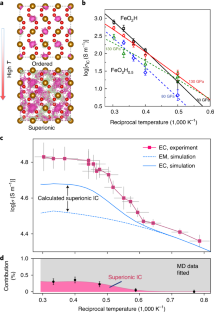 Data availability
The data supporting the findings of this study have been deposited at the 4TU Center for Research Data (https://doi.org/10.4121/13487643.v1). Any additional data can be requested by e-mailing the corresponding author. Source data are provided with this paper.
References
Pamato, M. G. et al. Lower-mantle water reservoir implied by the extreme stability of a hydrous aluminosilicate. Nat. Geosci. 8, 75–79 (2014).

Schmandt, B., Jacobsen, S. D., Becker, T. W., Liu, Z. & Dueker, K. G. Dehydration melting at the top of the lower mantle. Science 344, 1265–1268 (2014).

Wang, D., Mookherjee, M., Xu, Y. & Karato, S.-I. The effect of water on the electrical conductivity of olivine. Nature 443, 977–980 (2006).

Yoshino, T. & Katsura, T. Electrical conductivity of mantle minerals: role of water in conductivity anomalies. Annu. Rev. Earth Planet. Sci. 41, 605–628 (2013).

Chang, Y.-Y., Hsieh, W.-P., Tan, E. & Chen, J. Hydration-reduced lattice thermal conductivity of olivine in Earth's upper mantle. Proc. Natl Acad. Sci. USA 114, 4078–4081 (2017).

Mao, Z. et al. Velocity crossover between hydrous and anhydrous forsterite at high pressures. Earth Planet. Sci. Lett. 293, 250–258 (2010).

Litasov, K. D. & Ohtani, E. in Advances in High-Pressure Mineralogy Special Paper 421 (ed. Ohtani, E.) 115–156 (Geological Society of America, 2007).

Hirschmann, M. M. Water, melting, and the deep Earth H2O cycle. Annu. Rev. Earth Planet. Sci. 34, 629–653 (2006).

Jacobsen, S. D. & van der Lee, S. Earth's Deep Water Cycle Volume 168 (American Geophysical Union, 2006).

Ni, H. et al. Distribution, cycling and impact of water in the Earth's interior. Natl Sci. Rev. 4, 879–891 (2017).

Goncharov, A. F., Struzhkin, V. V., Somayazulu, M., Hemley, R. J. & Mao, H. K. Compression of ice to 210 GPa: evidence for a symmetric hydrogen bonded phase. Science 273, 218–220 (1996).

Cavazzoni, C. et al. Superionic and metallic states of water and ammonia at giant planet conditions. Science 283, 44–46 (1999).

Sugimura, E. et al. Experimental evidence of superionic conduction in H2O ice. J. Chem. Phys. 137, 194505 (2012).

Millot, M. et al. Experimental evidence for superionic water ice using shock compression. Nat. Phys. 14, 297–302 (2018).

Millot, M. et al. Nanosecond X-ray diffraction of shock-compressed superionic water ice. Nature 569, 251–255 (2019).

Hu, Q. et al. Dehydrogenation of goethite in Earth's deep lower mantle. Proc. Natl Acad. Sci. USA 114, 1498–1501 (2017).

Nishi, M., Kuwayama, Y., Tsuchiya, J. & Tsuchiya, T. The pyrite-type high-pressure form of FeOOH. Nature 547, 205–208 (2017).

Boulard, E. et al. CO2-induced destabilization of pyrite-structured FeO2Hx in the lower mantle. Natl Sci. Rev. 5, 870–877 (2018).

Yuan, L. et al. Chemical reactions between Fe and H2O up to megabar pressures and implications for water storage in the Earth's mantle and core. Geophys. Res. Lett. 45, 1330–1338 (2018).

Hernandez, J.-A. & Caracas, R. Superionic–superionic phase transitions in body-centered cubic H2O ice. Phys. Rev. Lett. 117, 135503 (2016).

Futera, Z., Tse, J. S. & English, N. J. Possibility of realizing superionic ice VII in external electric fields of planetary bodies. Sci. Adv. 6, eaaz2915 (2020).

Ohta, K. et al. The electrical conductivity of post-perovskite in Earth's D" layer. Science 320, 89–91 (2008).

Sinmyo, R., Pesce, G., Greenberg, E., McCammon, C. & Dubrovinsky, L. Lower mantle electrical conductivity based on measurements of Al, Fe-bearing perovskite under lower mantle conditions. Earth Planet. Sci. Lett. 393, 165–172 (2014).

Ohta, K., Yagi, T., Hirose, K. & Ohishi, Y. Thermal conductivity of ferropericlase in the Earth's lower mantle. Earth Planet. Sci. Lett. 465, 29–37 (2017).

Zhang, Y. et al. Reconciliation of experiments and theory on transport properties of iron and the geodynamo. Phys. Rev. Lett. 125, 078501 (2020).

Mao, H.-K. et al. When water meets iron at Earth's core–mantle boundary. Natl Sci. Rev. 4, 870–878 (2017).

Khan, A. & Shankland, T. J. A geophysical perspective on mantle water content and melting: inverting electromagnetic sounding data using laboratory-based electrical conductivity profiles. Earth Planet. Sci. Lett. 317–318, 27–43 (2012).

Deschamps, F. & Khan, A. Electrical conductivity as a constraint on lower mantle thermo-chemical structure. Earth Planet. Sci. Lett. 450, 108–119 (2016).

Liu, J. et al. Hydrogen-bearing iron peroxide and the origin of ultralow-velocity zones. Nature 551, 494–497 (2017).

Hsieh, W.-P., Deschamps, F., Okuchi, T. & Lin, J.-F. Effects of iron on the lattice thermal conductivity of Earth's deep mantle and implications for mantle dynamics. Proc. Natl Acad. Sci. USA 115, 4099–4104 (2018).

Liu, J. et al. Altered chemistry of oxygen and iron under deep Earth conditions. Nat. Commun. 10, 153 (2019).

McCammon, C. The paradox of mantle redox. Science 308, 807–808 (2005).

Stagno, V., Ojwang, D. O., McCammon, C. A. & Frost, D. J. The oxidation state of the mantle and the extraction of carbon from Earth's interior. Nature 493, 84–88 (2013).

Clog, M., Auband, C., Cartigny, P. & Dosso, L. The hydrogen isotopic compositions and water content of southern Pacific MORB: a reassessment of D/H ratio of the depleted mantle reservior. Earth Planet. Sci. Lett. 381, 156–165 (2013).

Boulard, E. et al. Ferrous iron under oxygen-rich conditions in the deep mantle. Geophys. Res. Lett. 46, 1348–1356 (2019).

Yoshino, T., Baker, E. & Duffey, K. Fate of water in subducted hydrous sediments deduced from stability fields of FeOOH and AlOOH up to 20 GPa. Phys. Earth Planet. Inter. 294, 106295 (2019).

Struzhkin, V. et al. Superconductivity in La and Y hydrides: remaining questions to experiment and theory. Matter Radiat. Extremes 5, 028201 (2020).

Snider, E. et al. Room-temperature superconductivity in a carbonaceous sulfur hydride. Nature 586, 373–377 (2020).

Eremets, M. I., Drozdov, A. P., Kong, P. P. & Wang, H. Semimetallic molecular hydrogen at pressure above 350 GPa. Nat. Phys. 15, 1246–1249 (2019).

Ji, C. et al. Crystallography of low Z material at ultrahigh pressure: case study on solid hydrogen. Matter Radiat. Extremes 5, 038401 (2020).

Gregoryanz, E. et al. Everything you always wanted to know about metallic hydrogen but were afraid to ask. Matter Radiat. Extremes 5, 038101 (2020).

Weir, S. T., Mitchell, A. C. & Nellis, W. J. Metallization of fluid molecular hydrogen at 140 GPa (1.4 Mbar). Phys. Rev. Lett. 76, 1860–1863 (1996).

Ohta, K. et al. Electrical conductivities of pyrolitic mantle and MORB materials up to the lowermost mantle conditions. Earth Planet. Sci. Lett. 289, 497–502 (2010).

Ohta, K. et al. Experimental and theoretical evidence for pressure-induced metallization in FeO with rocksalt-type structure. Phys. Rev. Lett. 108, 026403 (2012).

Perdew, J. P., Burke, K. & Ernzerhof, M. Generalized gradient approximation made simple. Phys. Rev. Lett. 77, 3865–3868 (1996).

Kresse, G. & Furthmüller, J. Efficient iterative schemes for ab initio total-energy calculations using a plane-wave basis set. Phys. Rev. B 54, 11169–11186 (1996).

Nosé, S. A unified formulation of the constant temperature molecular dynamics methods. J. Chem. Phys. 81, 511–519 (1984).

Dickey, J. M. & Paskin, A. Computer simulation of the lattice dynamics of solids. Phys. Rev. 188, 1407–1418 (1969).

French, M., Hamel, S. & Redmer, R. Dynamical screening and ionic conductivity in water from ab initio simulations. Phys. Rev. Lett. 107, 185901 (2011).

Hutter, J., Iannuzzi, M., Schiffmann, F. & VandeVondele, J. cp2k: atomistic simulations of condensed matter systems. Wiley Interdiscip. Rev. Comput. Mol. Sci. 4, 15–25 (2014).

Goedecker, S., Teter, M. & Hutter, J. Separable dual-space Gaussian pseudopotentials. Phys. Rev. B 54, 1703–1710 (1996).

Ceriotti, M., Bussi, G. & Parrinello, M. Colored-noise thermostats à la carte. J. Chem. Theory Comput. 6, 1170–1180 (2010).

Umari, P. & Pasquarello, A. Ab initio molecular dynamics in a finite homogeneous electric field. Phys. Rev. Lett. 89, 157602 (2002).

Cassone, G., Giaquinta, P. V., Saija, F. & Saitta, A. M. Effect of electric field orientation on the mechanical and electrical properties of water ices: an ab-initio study. J. Phys. Chem. B 118, 12717–12724 (2014).

Pozzo, M., Davies, C., Gubbins, D. & Alfè, D. Thermal and electrical conductivity of iron at Earth's core conditions. Nature 485, 355–358 (2012).

de Koker, N., Steinle-Neumann, G. & Vlček, V. Electrical resistivity and thermal conductivity of liquid Fe alloys at high P and T, and heat flux in Earth's core. Proc. Natl Acad. Sci. USA 109, 4070–4073 (2012).

Di Paola, C., Macheda, F., Laricchia, S., Weber, C. & Bonini, N. First-principles study of electronic transport and structural properties of Cu12Sb4S13 in its high-temperature phase. Phys. Rev. Res. 2, 033055 (2020).

Haule, K. Quantum Monte Carlo impurity solver for cluster dynamical mean-field theory and electronic structure calculations with adjustable cluster base. Phys. Rev. B 75, 155113 (2007).

Haule, K. & Birol, T. Free energy from stationary implementation of the DFT+DMFT functional. Phys. Rev. Lett. 115, 256402 (2015).

Xu, J. et al. Thermal conductivity and electrical resistivity of solid iron at Earth's core conditions from first principles. Phys. Rev. Lett. 121, 096601 (2018).

Hausoel, A. et al. Local magnetic moments in iron and nickel at ambient and Earth's core conditions. Nat. Commun. 8, 16062 (2017).

Prakapenka, V. B. et al. Advanced flat top laser heating system for high pressure research at GSECARS: application to the melting behavior of germanium. High Press. Res. 28, 225–235 (2008).

Shen, G., Rivers, M. L., Wang, Y. & Sutton, S. R. Laser heated diamond cell system at the Advanced Photon Source for in situ X-ray measurements at high pressure and temperature. Rev. Sci. Instrum. 72, 1273–1282 (2001).

Holtgrewe, N., Greenberg, E., Prescher, C., Prakapenka, V. B. & Goncharov, A. F. Advanced integrated optical spectroscopy system for diamond anvil cell studies at GSECARS. High. Press. Res. 39, 457–470 (2019).

Akahama, Y. & Kawamura, H. Pressure calibration of diamond anvil Raman gauge to 310GPa. J. Appl. Phys. 100, 043516 (2006).

Buehler, M. G. & Thurber, W. R. An experimental study of various cross sheet resistor test structures. J. Electrochem. Soc. 125, 645–650 (1978).
Acknowledgements
Y.H. is also supported by HPSTAR. We acknowledge X. Du, N. Li, Y. Zhao, W. Yang and E. Greenburg for assistance in conducting laser heating and EC measurements; J. Cheng and B. Li for conducting Raman; and Y. Sun for FPMD technical support. This work is supported by the National Key Research and Development Program of China (2019YFA0708502), the National Natural Science Foundation of China (grant no. U1530402, U1930401, 41774101 and 11774015) and the Youth Innovation Promotion Association of CAS (2020394). XRD patterns were collected at High Pressure Collaborative Access Team (16ID-B) and GeoSoilEnviroCARS (13ID-D), Advanced Photon Source (APS), Argonne National Laboratory. HPCAT operations are supported by DOE-NNSA's Office of Experimental Sciences. APS is supported by DOE-BES, under contract no. DE-AC02-06CH11357. GeoSoilEnviroCARS is supported by the National Science Foundation—Earth Sciences (EAR - 1634415) and Department of Energy—Geosciences (DE-FG02-94ER14466). M.H. is supported by NSF grant EAR-1847707. Y.Z. is supported by China Postdoctoral Science Foundation grant 18NZ021-0213-216308. J.C. acknowledges the support of NSF grant EAR-1723185. L.D. is supportd by the Strategic Priority Research Program of CAS under grant XDB18000000. J.H.S. is supported by the Brain Pool Program through the National Research Foundation of Korea funded by the Ministry of Science and ICT under grant NRF-2020H1D3A2A02111022. C.J.P. is supported by a Royal Society Wolfson Research Merit Award. R.J.N. is supported by the Engineering and Physical Sciences Research Council under the grant EP/P034616/1. H.-K.M. is supported by NSF grants EAR-1722515 and EAR-1447438. Q.H. is supported by a Tencent XPLORER Prize.
Ethics declarations
Competing interests
The authors declare no competing interests.
Additional information
Peer review information Nature Geoscience thanks Jean-Alexis Hernandez and the other, anonymous, reviewer(s) for their contribution to the peer review of this work. Primary Handling Editor: Rebecca Neely.
Publisher's note Springer Nature remains neutral with regard to jurisdictional claims in published maps and institutional affiliations.
About this article
Cite this article
Hou, M., He, Y., Jang, B.G. et al. Superionic iron oxide–hydroxide in Earth's deep mantle. Nat. Geosci. 14, 174–178 (2021). https://doi.org/10.1038/s41561-021-00696-2
Received:

Accepted:

Published:

Issue Date:

DOI: https://doi.org/10.1038/s41561-021-00696-2
Further reading
Yu He
Shichuan Sun
Ho-kwang Mao

Nature (2022)

Nature Geoscience (2021)