Time capsules of fluid, trapped within the oxide minerals from two iron ore deposits reveal an important role for sediment-derived carbonate–sulfate-rich melts in the concentration of iron, a crucial element for humanity's development.
Access options
Subscribe to Journal
Get full journal access for 1 year
$169.00
only $14.08 per issue
All prices are NET prices.
VAT will be added later in the checkout.
Rent or Buy article
Get time limited or full article access on ReadCube.
from$8.99
All prices are NET prices.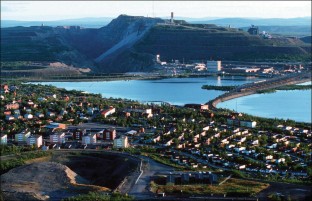 References
1.

Bain, W. M. et al. Nat. Geosci. https://doi.org/10.1038/s41561-020-0635-9 (2020).

2.

Barton, M. D. & Johnson, D. A. Geology 24, 259–262 (1996).

3.

Sillitoe, R. H. & Burrows, D. R. Econ. Geol. 97, 1101–1109 (2002).

4.

Nyström, J. O. & Henríquez, F. Econ. Geol. 89, 820–839 (1994).

5.

Naslund, H. R., Henriquez, F., Nystroem, J. O., Vivallo, W. & Dobbs, F. M. in Hydrothermal Iron Oxide Copper-Gold and Related Deposits: A Global Perspective Vol. 2 (ed. Porter, T. M.) 207–226 (PGC Publishing, 2002).

6.

Charlier, B. & Grove, T. L. Contrib. Mineral. Petrol. 164, 27–44 (2012).

7.

Hou, T. et al. Nat. Commun. 9, 1415 (2018).
Ethics declarations
Competing interests
The author declares no competing interests.
About this article
Cite this article
Brenan, J.M. The magmatic forge. Nat. Geosci. 13, 716–717 (2020). https://doi.org/10.1038/s41561-020-0644-8