It is commonly thought that old groundwater cannot be pumped sustainably, and that recently recharged groundwater is inherently sustainable. We argue that both old and young groundwaters can be used in physically sustainable or unsustainable ways.
Access options
Subscribe to Journal
Get full journal access for 1 year
$99.00
only $8.25 per issue
All prices are NET prices.
VAT will be added later in the checkout.
Tax calculation will be finalised during checkout.
Rent or Buy article
Get time limited or full article access on ReadCube.
from$8.99
All prices are NET prices.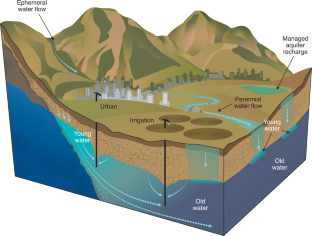 References
1.

Bethke, C. M. & Johnson, T. M. Annu. Rev. Earth Planet. Sci. 36, 121–152 (2008).

2.

Bierkens, M. F. & Wada, Y. Environ. Res. Lett. 14, 063002 (2019).

3.

Margat, J., Foster, S. & Droubi, A. in Non-Renewable Groundwater Resources: A Guidebook on Socially-Sustainable Management for Water-Policy Makers (eds Foster, S. & Loucks, D. P.) 13–24 (UNESCO, 2006).

4.

de Jong, M., Moran, J. E. & Visser, A. Quat. Int. https://doi.org/10.1016/j.quaint.2019.04.008 (2019).

5.

Gleeson, T., Cuthbert, M., Ferguson, G. & Perrone, D. Annu. Rev. Earth Planet. Sci. 48, 431–463 (2020).

6.

Döll, P. & Fiedler, K. Hydrol. Earth Syst. Sci. Discuss. 4, 4069–4124 (2007).

7.

Bredehoeft, J. D. Groundwater 40, 340–345 (2002).

8.

Rodell, M. et al. Nature 557, 651–659 (2018).

9.

Sturchio, N. C. et al. Geophys. Res. Lett. 31, L05503 (2004).

10.

McIntosh, J. C., Schlegel, M. E. & Person, M. Geofluids 12, 7–21 (2012).

11.

Bethke, C. M., Zhao, X. & Torgersen, T. J. Geophys. Res. Solid Earth 104, 12999–13011 (1999).

12.

Cuthbert, M. et al. Nat. Clim. Change 9, 137–141 (2019).

13.

Zinn, B. A. & Konikow, L. F. Water Resour. Res. 43, W06418 (2007).

14.

Suckow, A. Appl. Geochem. 50, 222–230 (2014).

15.

Jasechko, S. et al. Nat. Geosci. 10, 425–429 (2017).

16.

Dillon, P. et al. Hydrogeol. J. 27, 1–30 (2019).
Acknowledgements
This research was supported by a Global Water Futures grant to G.F. and J.C.M. and an NSERC Discovery Grant to G.F. J.C.M acknowledges funding received as a Fellow of the CIFAR Earth4D Subsurface Science and Exploration Program. M.O.C. acknowledges support under an Independent Research Fellowship from the UK Natural Environment Research Council (NERC; NE/P017819/1). This commentary benefitted from discussions with P. Döll, J. Famiglietti, G. Fogg, X. Huggins, A. Manning, K. Markovich and M. Rohde.
Ethics declarations
Competing interests
The authors declare no competing interests.
About this article
Cite this article
Ferguson, G., Cuthbert, M.O., Befus, K. et al. Rethinking groundwater age. Nat. Geosci. 13, 592–594 (2020). https://doi.org/10.1038/s41561-020-0629-7