A revised age reconstruction suggests marine-based regions of the Eurasian Ice Sheet melted rapidly, contributing to a major sea-level rise some 14,600 years ago. Such a rapid collapse of massive ice hints at the vulnerability of Earth's remaining ice sheets.
Access options
Subscribe to Journal
Get full journal access for 1 year
$99.00
only $8.25 per issue
All prices are NET prices.
VAT will be added later in the checkout.
Tax calculation will be finalised during checkout.
Rent or Buy article
Get time limited or full article access on ReadCube.
from$8.99
All prices are NET prices.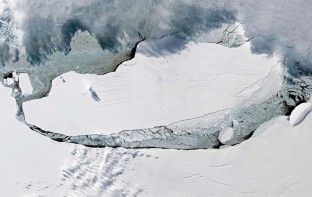 References
1.

Hays, J. D., Imbrie, J. & Shackleton, N. J. Science 194, 1121–1132 (1976).

2.

Imbrie, J. & Imbrie, J. Z. Science 207, 943–953 (1980).

3.

Brendryen, J., Haflidason, H., Yokoyama, Y., Haaga, K. A. & Hannisdal, B. Nat. Geosci. https://doi.org/10.1038/s41561-020-0567-4 (2020).

4.

Clark, P. U. et al. Paleoceanogr. Paleoclimatol. 11, 563–577 (1996).

5.

Carlson, A. E. & Clark, P. U. Rev. Geophys. 50, RG4007 (2012).

6.

Hormes, A., Gjermundsen, E. F. & Rasmussen, T. L. Quat. Sci. Rev. 75, 78–99 (2013).

7.

Hughes, A. L. C., Gyllencreutz, R., Lohne, Ø. S., Mangerud, J. & Svendsen, J. I. Boreas 45, 1–45 (2015).

8.

Siegert, N. J., Dowdeswell, J. A., Svendsen, J.-I. & Elverhøi, A. Am. Sci. 90, 32–39 (2002).

9.

Baggenstos, D. et al. Proc. Natl Acad. Sci. USA 116, 14881–14886 (2019).

10.

Myhre, G. et al. in Climate Change 2013: The Physical Science Basis (eds Stocker, T. F. et al.) Ch. 8 (Cambridge Univ. Press, 2013).

11.

Naish, T. et al. Nature 458, 322–328 (2009).
About this article
Cite this article
Ortiz, J.D. Ancient ice-sheet collapse. Nat. Geosci. 13, 328–329 (2020). https://doi.org/10.1038/s41561-020-0572-7