Strengthening and poleward movement of the Southern Westerlies, and increased melting of the Antarctic ice sheet play a primary role in changes observed in the Southern Ocean over the past few decades, according to measurements and modelling.
Access options
Subscribe to Journal
Get full journal access for 1 year
$169.00
only $14.08 per issue
All prices are NET prices.
VAT will be added later in the checkout.
Rent or Buy article
Get time limited or full article access on ReadCube.
from$8.99
All prices are NET prices.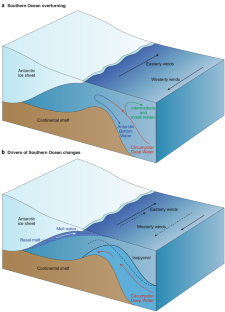 References
1.

Frölicher, T. L. et al. J. Clim. 28, 862–886 (2015).

2.

Rintoul Nature 558, 209–218 (2018).

3.

Bronselaer, B. et al. Nat. Geosci. https://doi.org/10.1038/s41561-019-0502-8 (2020).

4.

Gruber, N. et al. Annu. Rev. Mar. Sci. 11, 159–86 (2019).

5.

Haumann, F. A. Nature 537, 89–92 (2016).

6.

Swart, N. C. et al. Nat. Geosci. 11, 836–841 (2018).
About this article
Cite this article
Silvano, A. Changes in the Southern Ocean. Nat. Geosci. 13, 4–5 (2020). https://doi.org/10.1038/s41561-019-0516-2