This is a preview of subscription content
Access options
Subscribe to Journal
Get full journal access for 1 year
$99.00
only $8.25 per issue
All prices are NET prices.
VAT will be added later in the checkout.
Tax calculation will be finalised during checkout.
Rent or Buy article
Get time limited or full article access on ReadCube.
from$8.99
All prices are NET prices.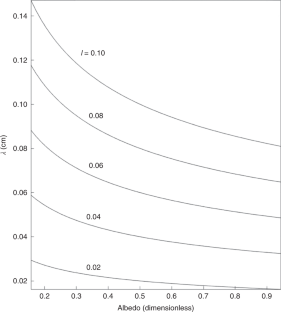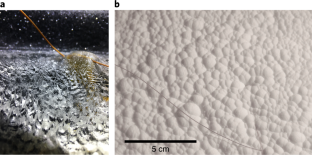 References
1.

Hobley, D. E. J., Moore, J. M., Howard, A. D. & Umurhan, O. M. Formation of metre-scale bladed roughness on Europa's surface by ablation of ice. Nat. Geosci. 11, 901–904 (2018).

2.

Lliboutry, L. The origin of penitents. J. Glaciol. 2, 331–338 (1954).

3.

Betterton, M. D. Theory of structure formation in snowfields motivated by penitentes, suncups, and dirt cones. Phys. Rev. E 63, 056129 (2001).

4.

Bergeron, V., Berger, C. & Betterton, M. D. Controlled irradiative formation of penitentes. Phys. Rev. Lett. 96, 098502 (2006).

5.

Cathles, L. M., Abbot, D. S. & MacAyeal, D. R. Intra-surface radiative transfer limits the geographic extent of snow penitents on horizontal snowfields. J. Glaciol. 60, 147–154 (2014).

6.

Claudin, P., Jarry, H., Vignoles, G., Plapp, M. & Andreotti, B. Physical processes causing the formation of penitentes. Phys. Rev. E 92, 033015 (2015).

7.

Berisford, D. et al. Laboratory simulation of sublimating planetary surface ices: experiment design and thermal considerations. In 48th International Conference on Environmental Systems (ICES, 2018); https://go.nature.com/345i1mu

8.

Moore, J. M. et al. Sublimation as a landform-shaping process on Pluto. Icarus 287, 320–333 (2017).

9.

White, O. L., Umurhan, O. M., Moore, J. M. & Howard, A. D. Modeling of ice pinnacle formation on Callisto. J. Geophys. Res. Planets 121, 21–45 (2016).

10.

Moores, J. E., Smith, C. L., Toigo, A. D. & Guzewich, S. D. Penitentes as the origin of the bladed terrain of Tartarus Dorsa on Pluto. Nature 541, 188–190 (2017).

11.

Corripio, J. G. Modelling the Energy Balance of High Altitude Glacierised Basins in the Central Andes. PhD thesis, Univ. Edinburgh (2002).

12.

Slack, G. A. Thermal conductivity of ice. Phys. Rev. B 22, 3065 (1980).

13.

Ostro, S. J. & Shoemaker, E. M. The extraordinary radar echoes from Europa, Ganymede, and Callisto: a geological perspective. Icarus 85, 335–345 (1990).

14.

Ostro, S. J. et al. Europa, Ganymede, and Callisto: new radar results from Arecibo and Goldstone. J. Geophys. Res. Planets 97, 18227–18244 (1992).

15.

Rignot, E. J., Ostro, S. J., Van Zyl, J. J. & Jezek, K. C. Unusual radar echoes from the Greenland ice sheet. Science 261, 1710–1713 (1993).
Acknowledgements
This research was carried out at the Jet Propulsion Laboratory, California Institute of Technology, under a contract with the National Aeronautics and Space Administration.
Ethics declarations
Competing interests
The authors declare no competing interests.
Additional information
Peer review information Primary Handling Editor(s): Stefan Lachowycz.
Publisher's note Springer Nature remains neutral with regard to jurisdictional claims in published maps and institutional affiliations.
About this article
Cite this article
Hand, K.P., Berisford, D., Daimaru, T. et al. Penitente formation is unlikely on Europa. Nat. Geosci. 13, 17–19 (2020). https://doi.org/10.1038/s41561-019-0496-2
Received:

Accepted:

Published:

Issue Date:
Further reading
Daniel E. J. Hobley
Jeffrey M. Moore
Orkan M. Umurhan

Nature Geoscience (2020)