Abstract
The ocean is the largest solar energy collector on Earth. The amount of heat it can store is modulated by its complex circulation, which spans a broad range of spatial scales, from metres to thousands of kilometres. In the classical paradigm, fine oceanic scales, less than 20 km in size, are thought to drive a significant downward heat transport from the surface to the ocean interior, which increases oceanic heat uptake. Here we use a combination of satellite and in situ observations in the Antarctic Circumpolar Current to diagnose oceanic vertical heat transport. The results explicitly demonstrate how deep-reaching submesoscale fronts, with a size smaller than 20 km, are generated by mesoscale eddies of size 50–300 km. In contrast to the classical paradigm, these submesoscale fronts are shown to drive an anomalous upward heat transport from the ocean interior back to the surface that is larger than other contributions to vertical heat transport and of comparable magnitude to air–sea fluxes. This effect can remarkably alter the oceanic heat uptake and will be strongest in eddy-rich regions, such as the Antarctic Circumpolar Current, the Kuroshio Extension and the Gulf Stream, all of which are key players in the climate system.
Access options
Subscribe to Nature+
Get immediate online access to Nature and 55 other Nature journal
Subscribe to Journal
Get full journal access for 1 year
$119.00
only $9.92 per issue
All prices are NET prices.
VAT will be added later in the checkout.
Tax calculation will be finalised during checkout.
Buy article
Get time limited or full article access on ReadCube.
$32.00
All prices are NET prices.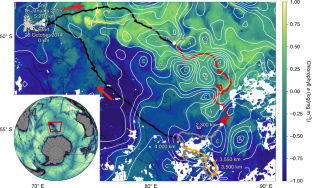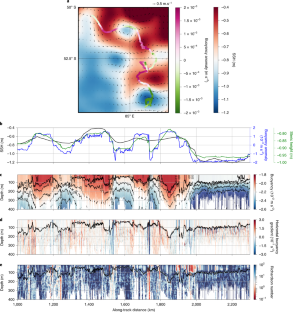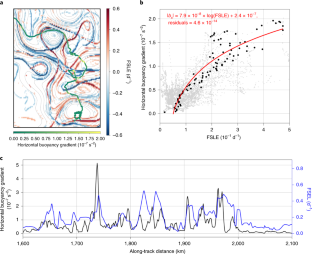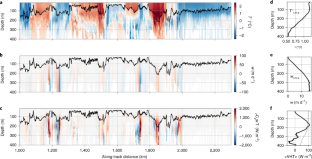 References
Munk, W. & Wunsch, C. Abyssal recipes II: energetics of tidal and wind mixing. Deep Sea Res. Part I 45, 1977–2010 (1998).

Wolfe, C., Cessi, P., McClean, J. & Maltrud, M. Vertical heat transport in eddying ocean models. Geophys. Res. Lett. 35, L23605 (2008).

Griffies, S. M. et al. Impacts on ocean heat from transient mesoscale eddies in a hierarchy of climate models. J. Clim. 28, 952–977 (2015).

Ferrari, R. & Wunsch, C. Ocean circulation kinetic energy: reservoirs, sources, and sinks. Annu. Rev. Fluid Mech. 41, 253–282 (2009).

Klein, P. & Lapeyre, G. The oceanic vertical pump induced by mesoscale and submesoscale turbulence. Annu. Rev. Mar. Sci. 1, 351–375 (2009).

Ferrari, R. A frontal challenge for climate models. Science 332, 316–317 (2011).

Mahadevan, A. The impact of submesoscale physics on primary productivity of plankton. Annu Review Mar. Sci. 8, 161–184 (2016).

McWilliams, J. C. Submesoscale currents in the ocean. Proc. R. Soc. A 472, 20160117 (2016).

Lévy, M., Frank, P. J. & Smith, S. K. The role of submesoscale currents in structuring marine ecosystems. Nat. Commun. 9, 4758 (2018).

Vallis, G. K. Atmospheric and Oceanic Fluid Dynamics (Cambridge Univ. Press, 2017).

Taylor, J. R. & Ferrari, R. Ocean fronts trigger high latitude phytoplankton blooms. Geophys. Res. Lett. 38, 23 (2011).

Thomas, L. N., Taylor, J. R., Ferrari, R. & Joyce, T. M. Symmetric instability in the Gulf Stream. Deep. Sea Res. Pt II 91, 96–110 (2013).

Bachman, S. D. & Taylor, J. R. Modelling of partially-resolved oceanic symmetric instability. Ocean Model. 82, 15–27 (2014).

Yu, X. et al. An annual cycle of submesoscale vertical flow and restratification in the upper ocean. J. Phys. Oceanogr. 49, 1439–1461 (2019).

Large, W. G. & Yeager, S. The global climatology of an interannually varying air–sea flux data set. Clim. Dynam. 33, 341–364 (2009).

Hogg, A. M. et al. Recent trends in the Southern Ocean eddy field. J. Geophys. Res. Ocean 120, 257–267 (2015).

Chelton, D. B., DeSzoeke, R. A., Schlax, M. G., El Naggar, K. & Siwertz, N. Geographical variability of the first baroclinic Rossby radius of deformation. J. Phys. Oceanogr. 28, 433–460 (1998).

Chelton, D. B., Schlax, M. G., Freilich, M. H. & Milliff, R. F. Satellite measurements reveal persistent small-scale features in ocean winds. Science 303, 978–983 (2004).

Thompson, A. F. et al. Open-ocean submesoscale motions: a full seasonal cycle of mixed layer instabilities from gliders. J. Phys. Oceanogr. 46, 1285–1307 (2016).

duPlessis, M., Swart, S., Ansorge, I. J. & Mahadevan, A. Submesoscale processes promote seasonal restratification in the Subantarctic Ocean. J. Geophys. Res. Ocean 122, 2960–2975 (2017).

Viglione, G. A., Thompson, A. F., Flexas, M. M., Sprintall, J. & Swart, S. Abrupt transitions in submesoscale structure in southern Drake Passage: glider observations and model results. J. Phys. Oceanogr. 48, 2011–2027 (2018).

d'Ovidio, F. & Fernández, V. & Hernández-García, E. & López. Mixing structures in the Mediterranean Sea from finite-size Lyapunov exponents. Geophys. Res. Lett. 31, L17203 (2004).

Hoskins, B. J., Draghici, I. & Davies, H. C. A new look at the ω-equation. Q. J. R. Meteorol. Soc. 104, 31–38 (1978).

McGillicuddy Jr, D. J. Mechanisms of physical–biological–biogeochemical interaction at the oceanic mesoscale. Annu. Review Mar. Sci. 8, 125–159 (2016).

Salmon, R. Baroclinic instability and geostrophic turbulence. Geophys. Astrophys. Fluid Dyn. 15, 167–211 (1980).

Su, Z., Wang, J., Klein, P., Thompson, A. F. & Menemenlis, D. Ocean submesoscales as a key component of the global heat budget. Nat. Commun. 9, 775 (2018).

Rio, M. H. et al. Improving the altimeter-derived surface currents using high-resolution sea surface temperature data: a feasibility study based on model outputs. J. Atmos. Ocean. Technol. 33, 2769–2784 (2016).

Ubelmann, C., Klein, P. & Fu, L. L. Dynamic interpolation of sea surface height and potential applications for future high-resolution altimetry mapping. J. Atmos. Ocean. Technol. 32, 177–184 (2015).

Ballarotta, M. et al. On the resolutions of ocean altimetry maps. Ocean Sci. 15, 1091–1109 (2019).

Waugh, D. W., Abraham, E. R. & Bowen, M. M. Spatial variations of stirring in the surface ocean: a case study of the Tasman Sea. J. Phys. Oceanogr. 36, 526–542 (2006).

d'Ovidio, F., Isern-Fontanet, J., López, C., Hernández-García, E. & García-Ladona, E. Comparison between Eulerian diagnostics and finite-size Lyapunov exponents computed from altimetry in the Algerian Basin. Deep. Sea Res. Pt I 56, 15–31 (2009).

Siegelman, L. et al. Correction and accuracy of high-and low-resolution CTD data from animal-borne instruments. J. Atmospheric Ocean. Technol. 36, 745–760 (2019).

Intergovernmental Oceanographic Commission The International Thermodynamic Equation of Seawater—2010: Calculation and Use of Thermodynamic Properties (Includes Corrections up to 31st October 2015) (UNESCO, 2015);https://www.oceanbestpractices.net/bitstream/handle/11329/286/TEOS-10_Manual.pdf?sequence=1

Molemaker, J., McWilliams, J. & Yavneh, I. Baroclinic instability and loss of balance. J. Phys. Oceanogr. 35, 1505–1517 (2005).

Thomas, L. N., Tandon, A. & Mahadevan, A. in Ocean Modeling an Eddying Regime (eds Hecht, M. W. & Hasumi, H.) 17–38 (Geophysical Monograph Series Vol. 177, American Geophysical Union, 2008).

Giordani, H., Prieur, L. & Caniaux, G. Advanced insights into sources of vertical velocity in the ocean. Ocean. Dyn. 56, 513–524 (2006).

Burns, K. J., Vasil, G. M., Oishi, J. S., Lecoanet, D. & Brown, B. Dedalus: Flexible Framework for Spectrally Solving Differential Equations (Astrophysics Source Code Library, 2016).

Vallis, G. K. Climate and the Oceans (Princeton Univ. Press, 2012).

Foussard, A., Lapeyre, G. & Plougonven, R. Response of surface wind divergence to mesoscale SST anomalies under different wind conditions. J. Atmos. Sci. 76, 2065–2082 (2019).
Acknowledgements
We thank K. Richards for his insightful comments, F. d'Ovidio for providing the code to compute FSLE. The elephant seal work was supported as part of the SNO-MEMO and by the CNES-TOSCA project Elephant seals as Oceanographic Samplers of submesoscale features led by C. Guinet with support of the French Polar Institute (programmes 109 and 1201). This research was carried out, in part, at the Jet Propulsion Laboratory, California Institute of Technology, under a contract with the National Aeronautics and Space Administration (NASA). High-end computing resources for the numerical simulation were provided by the NASA Advanced Supercomputing Division at the Ames Research Center. This work was partly funded by the CNES (OSTST-OSIW) and the Laboratoire d'Excellence LabexMER (ANR-10-LABX-19). L.S. is a NASA-JVSRP affiliate and is supported by a joint CNES-Région Bretagne doctoral grant. P.K. is supported by the NASA-CNES SWOT mission and a NASA Senior NPP Fellowship. A.F.T. is supported by the David and Lucille Packard Foundation and NASA grant NNX16AG42G. M.F. is supported by NASA grant NNX15AG42G.
Ethics declarations
Competing interests
The authors declare no competing interests.
Additional information
Peer review information Primary Handling Editor(s): Heike Langenberg.
Publisher's note Springer Nature remains neutral with regard to jurisdictional claims in published maps and institutional affiliations.
Supplementary information
About this article
Cite this article
Siegelman, L., Klein, P., Rivière, P. et al. Enhanced upward heat transport at deep submesoscale ocean fronts. Nat. Geosci. 13, 50–55 (2020). https://doi.org/10.1038/s41561-019-0489-1
Received:

Accepted:

Published:

Issue Date:

DOI: https://doi.org/10.1038/s41561-019-0489-1
This article is cited by
Haijin Cao
Xin Meng
Xiaoxiao Yang

Acta Oceanologica Sinica (2022)

Jean-Baptiste Sallée
Violaine Pellichero
Mikael Kuusela

Nature (2021)