The Moon's isotopic composition is uncannily similar to Earth's. This may be the signature of a magma ocean on Earth at the time of the Moon-forming giant impact, according to numerical simulations.
This is a preview of subscription content
Access options
Subscribe to Journal
Get full journal access for 1 year
$99.00
only $8.25 per issue
All prices are NET prices.
VAT will be added later in the checkout.
Tax calculation will be finalised during checkout.
Rent or Buy article
Get time limited or full article access on ReadCube.
from$8.99
All prices are NET prices.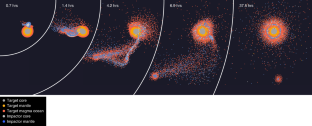 References
1.

Canup, R. M. Ann. Rev. Astron. Astrophys. 42, 441–475 (2004).

2.

Melosh, H. J. Phil. Trans. Royal Soc. A 372, 20130168 (2014).

3.

Hosono, N. et al. Nat. Geosci. https://doi.org/10.1038/s41561-019-0354-2 (2019).

4.

Elkins-Tanton, L. Ann. Rev. Earth Planet. Sci. 40, 113–139 (2012).

5.

Young, E. D. et al. Science 351, 493–496 (2016).

6.

Canup, R. M., Barr, A. C. & Crawford, D. A. Icarus 222, 200–219 (2013).
About this article
Cite this article
Melosh, H.J. Why the Moon is so like the Earth. Nat. Geosci. 12, 402–403 (2019). https://doi.org/10.1038/s41561-019-0364-0