Extreme temperature swings and deteriorating environments are perhaps what killed most life in the end-Permian extinction, suggest climate model simulations. Siberian Traps volcanism probably triggered the events.
Access options
Subscribe to Journal
Get full journal access for 1 year
$59.00
only $4.92 per issue
All prices are NET prices.
VAT will be added later in the checkout.
Tax calculation will be finalised during checkout.
Rent or Buy article
Get time limited or full article access on ReadCube.
from$8.99
All prices are NET prices.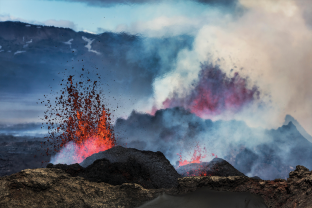 References
1.

Erwin, D. H. The Great Paleozoic Crisis: Life and Death in the Permian (Columbia Univ. Press, New York, 1993).

2.

Black, B. A. et al. Nat. Geosci. https://doi.org/10.1038/s41561-018-0261-y (2018).

3.

Black, B. A., Hauri, E. H., Elkins-Tanton, L. T. & Brown, S. M. Earth Planet. Sci. Lett. 394, 58–69 (2014).

4.

Bürger, R. & Lynch, M. Evolution 49, 151–163 (1995).

5.

Le Quéré, C. et al. Earth Syst. Sci. Data 8, 605 (2016).

6.

Cui, Y., Kump, L. R. & Ridgwell, A. Palaeogr. Palaoclim. Palaecol 387, 176–184 (2013).
About this article
Cite this article
Cui, Y. Climate swings in extinction. Nature Geosci 11, 889–890 (2018). https://doi.org/10.1038/s41561-018-0264-8