Abstract
Pulses of warm and moist air from lower latitudes provide energy to the Arctic and form its main energy source outside of the summer months. These pulses can cause substantial surface warming and trigger ice melt. Air-mass transport in the opposite direction, away from the Arctic, leads to cold-air outbreaks. The outbreaks are often associated with cold extremes over continents, and extreme surface heat fluxes and occasional polar lows over oceans. Air masses advected across the strong Arctic-to-mid-latitude temperature gradient are rapidly transformed into colder and dryer or warmer and moister air masses by clouds, radiative and turbulent processes, particularly in the boundary layer. Phase changes from liquid to ice within boundary-layer clouds are critical in these air-mass transformations. The presence of liquid water determines the radiative effects of these clouds, whereas the presence of ice is crucial for subsequent cloud decay or dissipation, processes that are poorly represented in weather and climate models. We argue that a better understanding of how air masses are transformed on their way into and out of the Arctic is essential for improved prediction of weather and climate in the Arctic and mid-latitudes. Observational and modelling exercises should take an air-mass-following Lagrangian approach to attain these goals.
Main
The atmospheric general circulation can be viewed as a global heat engine1: air is strongly heated and moistened in the tropics, carried poleward and then rapidly cooled and dried at high latitudes before returning equatorwards2. Here, we review the understanding of how air is transformed as it cools and dries while entering the Arctic in the northward branch of this circulation, or is warmed and moistened on its way south, out of the Arctic.
By controlling the radiative heat loss and vertical temperature structure in the Arctic, air-mass transformation processes are also crucial for the Arctic amplificaton3 of climate change, which is found in observations, reconstructions of past climates, and climate model experiments4,5,6.
Most of the heat and moisture import into the Arctic occurs as pulses of anomalously warm and moist air that penetrate into the region from lower latitudes. We refer to these events as intrusions throughout this article. Intrusions occur throughout the year7,8,9,10 and are important for extreme Arctic weather and climate in all seasons11,12,13,14. When warm, moist air intrudes into the Arctic, and radiative cooling in winter or turbulent fluxes towards the melting surface in summer lead to the formation of low-level liquid clouds. These liquid-containing clouds warm the surface, though the warming effect does not occur late in the summer season. As radiative cooling continues in wintertime intrusions, frozen precipitation gradually dries the air, and the clouds glaciate or dissipate in the cold and dry final stage of the air-mass transformation15,16,17,18.
Conversely, cold and dry Arctic air is transformed as it is transported southward in cold-air outbreaks. During such outbreaks over the ocean in winter, the ice-free surface releases large amounts of heat and moisture to the much colder air. Clouds develop at the top of a convective boundary layer, which progressively deepens19,20. The clouds often arrange themselves in streets roughly along the wind direction, breaking up into cellular structures at larger distances from the sea-ice edge21. Cold-air outbreaks over continents cause extreme cold weather and may lead to severe disruption in populated areas of lower latitudes22. In this article, we focus primarily on marine outbreaks, in which the transformation process is faster and more intense than in continental outbreaks.
Both intrusions and cold-air outbreaks typically occur when the prevailing large-scale wind has a meridional orientation, often in association with a blocking-like high-pressure system. How likely such configurations are to occur depends on the state of the tropical atmosphere9 and on stratospheric dynamics23. Changes in their frequency of occurrence would potentially have important impacts on the weather and climate of mid and high latitudes24.
The observational record of Arctic weather and climate is short and includes both large trends and large internal variability25. Models have problems capturing many processes specific to Arctic air-mass transformations26,27. Over the next few years, ongoing and planned concerted observational and modelling efforts to improve the understanding of Arctic weather and climate and the multi-scale processes controlling it28, including studies on intrusions and cold-air outbreaks, will provide unprecedented opportunities to further our understanding of Arctic air-mass transformations.
In this article, we first condense the state of understanding of the boundary-layer dynamics triggered by the strong vertical temperature gradients between the surface and atmosphere in both types of air-mass transformation. We then review the roles of these features in the global climate system. The final outlook section is intended to set the stage for, and guide, upcoming activities based on the synthesis of current knowledge and crucial open questions.
Intrusions of warm, moist air into the Arctic
In intrusions, mid-latitude air masses penetrate into the Arctic basin, mostly in filamentary structures7,29 akin to atmospheric rivers (Fig. 1)30. Intrusions occur throughout the year31. They are initiated by large-scale flow anomalies typically featuring a blocking-like high centred near the Arctic Circle with a low-pressure system to its west (Fig. 1). This dipole generates strong poleward flow that injects mid-latitude air across the Arctic Circle and guides it into the Arctic basin8,29. The injection point can occur at any longitude, but in winter there is a marked preference for intrusions originating in the North Atlantic and North Pacific, the two sectors where mid-latitude marine air lies in closest proximity to the Arctic. Such intrusions occur roughly once a week on average and take about five days to cross the Arctic29. In summer, intrusions commonly originate over the warm Siberian land mass10,32.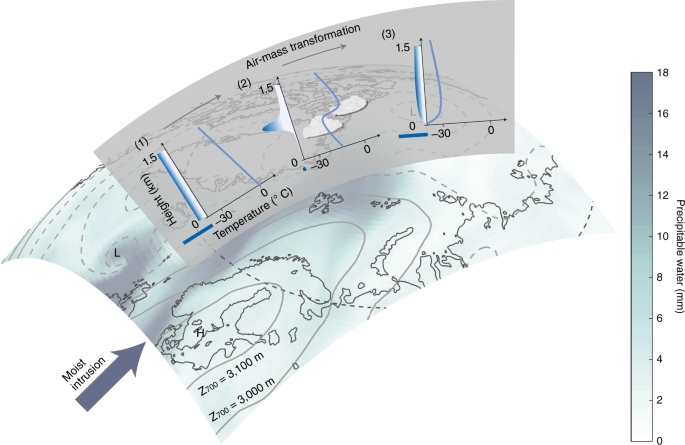 Over 60% of the total moisture flux into the Arctic occurs during events occupying only 10% of the time9, and more than one-third of the total flux occurs during spatially and temporally coherent intrusion events8. The intrusions cause strong, locally concentrated positive anomalies of column water vapour, usually accompanied by clouds, which lead to positive surface temperature anomalies in excess of 6 K over land or sea ice12,16,26,29,31,33,34. The surface warming results mostly from increased downward terrestrial radiation and can limit sea-ice growth by reducing the ocean's conductive heat loss through the ice35 and may trigger an earlier onset of the spring melt12,13,36. On longer time scales, nearly half of the 1979–2011 sea-ice decline in the Barents-Kara Seas can be attributed to an increased flux of heat and moisture from lower latitudes34. Individual events are important; for example, an intrusion caused melt over more than 90% of the Greenland ice sheet surface in summer 201214,37,38, and warm air from Siberia was advected northward over the Arctic Ocean, causing rapid sea-ice melt in August 201432.
It is useful to take a Lagrangian view of the air-mass transformation15,16,39, following a column of warm and moist air as it intrudes over the Arctic ice pack (see inset in Fig. 1). The lowermost part of the atmosphere cools rapidly until it reaches saturation and cloud droplets form. As liquid-water clouds are largely opaque to terrestrial radiation, the strongest cooling is displaced to the cloud top (Fig. 1, (2))26. The downward motion generated by this cloud-top cooling drives turbulence, which can extend all the way to the surface or form a separate turbulent layer18,40. Ice particles appear as the cloud continues to cool radiatively. In spite of moisture losses due to precipitating ice crystals and latent heat release due to condensation, this mixed-phase state is often very long-lived17,41, as radiative cooling and cloud-top entrainment of moist air across the elevated inversion sustain the cloud42. In the cold season, these coupled radiative, dynamical and microphysical processes eventually consume most of the available moisture and the cloud glaciates and/or dissipates43,44,45, leaving a state where radiative surface cooling forms a surface-based temperature inversion (Fig. 1, (3)).
Arctic air can also be formed over high-latitude continents, where it reaches even colder temperatures than over the Arctic ocean. In addition to radiative cooling, evaporative cooling caused by precipitation falling into dry layers of air contributes to this air-mass transformation. Over Canada, Arctic air formation is often associated with cold-air damming in the lee of the Rocky Mountains46.
The interaction between the small-scale processes in shallow layers, with cold temperatures, weak turbulence and a rapidly responding surface, is challenging not only for global weather and climate models, but also for smaller-scale cloud-resolving models47. Models struggle to represent both the cloudy and cloud-free states and the transition between the two in a Lagrangian transformation33, and generate a range of different vertical structures and surface energy exchanges. Maintaining super-cooled liquid water in the presence of ice particles, which ultimately determines the cloud radiative effect on the surface48, is a particular challenge. This problem seems to be less pronounced in models that separately compute the temporal evolution of cloud ice and liquid water33,45,49.
The partitioning between liquid water and ice is particularly sensitive to the number of cloud condensation nuclei and ice-nucleating particles44,45, yet there are few obvious local sources of these particles in the Arctic. Relatively weak precipitation and sedimentation rates are important for sustaining liquid water over several days. Ice-nucleating particles from ice crystals sublimating below the cloud can be recycled and contribute to sustaining the ice processes43,45. Intrusions may also supply cloud condensation nuclei and ice-nucleating particles as these are usually more abundant at lower latitudes. Relatively aerosol-rich free tropospheric air could be an important source of such particles, particularly for clouds that extend into the inversion50,51. Collectively representing these processes is essential for properly capturing the time-scale of the air-mass transformation and thereby the spatial extent of the cloudy state, which provides substantial energy to the surface and maintains a higher surface temperature.
Fast warming and moistening in marine cold-air outbreaks
Cold-air outbreaks occur when cold Arctic air is advected into much warmer regions by the large-scale flow, with the strongest events produced by a pressure dipole with a high on the western side and a low on the eastern side (Fig. 2)20. Cold-air outbreaks most frequently occur in bands stretching from the North Pacific to western North America and from the North Atlantic towards Europe52. Over the warm currents in the western Atlantic and Pacific, cold air masses advected off the continents are mostly transformed in baroclinic processes that drive the storm tracks. We here discuss the canonical, more vertically uniform cold-air outbreaks that occur over the ice-free or partly freezing seas in the Arctic and develop most frequently in the cold sectors of cyclones. The extent and impact region of a cold-air outbreak is defined not only by the scale of the synoptic eddy, but also by the along-stream horizontal scale of the air-mass transformation53, which is proportional to the temperature difference between the open water surface and cold air mass and can extend to about 500–1,000 km. Thus, colder outbreaks or those reaching warmer sea surface temperatures have larger horizontal extent52.

The temperature difference between the ocean surface and the advected cold air can exceed 30 K and generate surface fluxes of heat and moisture of 500 W m−2 (ref. 54) close to the coastline or sea-ice edge. The associated instability of the boundary layer results in intense shallow convection, which can be clearly identified on satellite imagery as cloud streets close to the sea-ice edge and open cells further downstream (Fig. 2)21,26. Cloud streets associated with roll circulations in the boundary layer are typically found over the first several hundred kilometres downwind of the sea-ice edge or coastline (Fig. 2). Large-eddy simulations55 show that the organization into rolls is triggered by surface temperature heterogeneities in the marginal ice zone. The transition from rolls to open cells is often accompanied by a transition from thin, elongated stratocumulus to deeper, dispersed cumulus clouds56. Traditionally, the roll-to-cell transition is explained as a shift towards a more convective state of the boundary layer and thereby increasing latent heat release in clouds relative to surface heating57. A recent study58 concluded that mixed-phase microphysical processes and, in particular, an enhancement of precipitation due to cloud ice formation play an important role in the stratocumulus-to-cumulus transition.
Intense snow showers are observed at downstream coastlines. These convective snowstorms are well-studied for some regions (for example, the densely populated Great Lakes region59), but less investigated for the Arctic coast60. Marine cold-air outbreaks account for 60–80% of the ocean heat loss over the Norwegian and Irminger seas during the cold season54, and play a key role in deep-water formation61 and ocean vertical mixing62. Moreover, marine cold-air outbreaks strongly influence new sea-ice formation and ice and ocean dynamics of the marginal ice zone62,63.
While strong winds are common during marine cold-air outbreaks, they are even further enhanced when the flow is organized in orographic jets64, low-level baroclinic jets65, fronts66 and polar lows67,68. Such enhanced wind speeds further intensify the surface heat flux and thus ocean heat loss69,70.
The representation of convection and clouds in marine cold-air outbreaks in weather prediction and climate models remains problematic, although models generally simulate the transition from a well-mixed stratocumulus boundary layer to a partly decoupled cumulus boundary layer26. Models tend to underestimate cloud liquid water and ice in these conditions56,71, which also leads to an underestimation of solar radiation reflected by clouds in the cold sectors of cyclones72. The lack of cloud water is possibly related to an underestimation of surface fluxes and vertical mixing in the presence of strong wind shear27.
Slow air-mass transformation over continents
Continental cold-air outbreaks often occur in anticyclonic conditions73 that advect Arctic air southward from Canada or westward into Europe from Siberia. With a typical size of several thousand kilometres, continental cold-air outbreaks have a larger spatial scale than their marine counterparts22. These large spatial scales and timescales of several days74 are due to a slower warming and moistening of cold air over the continents. Most research on continental cold-air outbreaks has been focused on the dynamics and predictability of such events, and little is known about their thermodynamics. Estimates for typical heat and moisture fluxes in cold-air outbreaks over Asia are below 100 W m−2 (ref. 75), and substantially smaller values have been reported for snow-covered continents74. Snow reflects much of the solar radiation that reaches the surface, which is an important effect in continental cold-air outbreaks that reach far outside the Arctic. Adiabatic warming due to downward motion in high-pressure systems can play an important role in the energy budget of continental cold-air outbreaks73.
Connections to the global climate system
Mid-latitude air cools and dries in an intrusion, whereas Arctic air moistens and warms in a marine cold-air outbreak. These air masses typically have well-defined boundaries over which little lateral mixing occurs39, so air-mass transformations are essential pathways of communication between the Arctic and mid-latitudes. From the global heat engine perspective, cooling and drying of warm, moist air is the dominant situation in the polar branch of the mass circulation, whereas the regionally important rapid warming and moistening in outbreaks is small compared to the warming and moistening of air in the deep tropics2. When the circulation is averaged on surfaces of constant potential temperature, mean inflow into the Arctic occurs at heights above 700 hPa76. The episodic and extreme intrusions that carry much of the poleward moisture flux occur below 850 hPa8. Most Arctic air flows southward across the continents and fuels the baroclinic storm-track processes when it reaches the ocean. Only a smaller fraction of Arctic air is transformed in marine cold-air outbreaks76.
Thermodynamic controls
Assuming fixed advection, the along-wind horizontal scale of an air-mass transformation depends on the timescale of the transformation, which largely depends on the thermodynamic processes in the boundary layer and clouds discussed in the previous sections. This timescale is substantially shorter for marine cold-air outbreaks (hours up to a day) than for continental cold-air outbreaks and intrusions (several days), with implications on the climate impacts of air-mass transformations. The longer an intruding moist air mass remains in the cloudy state with substantially increased downward radiation, the greater its effect on the surface energy budget and sea ice will be29. How the timescale of air-mass transformation depends on the air-mass properties, surface conditions and the large-scale circulation is therefore an important research question.
The thermodynamics of air-mass transformations are changing in a warming climate. Assuming fixed relative humidity and no major changes in circulation, the Clausius–Clapeyron relation77 implies that the amount of moisture injected into the Arctic in intrusions will increase in a warming world. Higher initial moisture content in intrusions could contribute to longer lifetimes of liquid clouds during the air-mass cooling process, contributing to surface-amplified warming over the Arctic and high-latitude continents78 and thereby to the positive Arctic lapse-rate feedback. The reduction of sea-ice area will shrink the domain over which air masses cool following an intrusion, also increasing the relative importance of the cloudy state of the boundary layer. Reduced sea-ice and snow thickness will increase the ocean heat release and thus surface temperatures especially in the clear state. We expect that this will further increase the timescale of air-mass transformation.
Arctic amplification implies that the source regions of cold-air outbreaks warm more than the regions affected by the outbreaks, reducing the severity of continental cold-air outbreaks and thus cold extremes in mid-latitudes more than implied by the local increase in average winter temperatures79,80. Furthermore, the marine cold-air outbreak source regions will move poleward with the retreating sea-ice edge. Over the North Atlantic, this leads to a weakening of cold-air outbreaks as their location shifts away from the warm Atlantic surface currents, while no major change is seen in the Sea of Okhotsk81. Changes in ocean currents and thereby in sea surface temperatures could additionally impact the strength of marine cold-air outbreaks. The observed increase of open ocean north of Svalbard and also in the north-eastern Barents Sea makes these newly ice-free areas prone to strong heat loss and ice production during outbreaks both leading to increased mixing in the ocean. This contributes to the observed 'atlantification' of the Eurasian Basin of the Arctic Ocean82. Another consequence is that warmer temperatures and a thicker and moister boundary layer are observed over Svalbard during outbreaks83. Polar lows in the North Atlantic are projected to become less frequent because warming aloft is stronger than at the surface, which suppresses their formation84.
While the thermodynamic changes in the properties of intrusions in a warming climate follow first principles, analogous dynamical theory to explain their interaction with large-scale dynamics is lacking. This issue relates to the World Climate Research Program's grand challenge of clouds, circulation and climate sensitivity85.
Dynamical response and forcing
In idealized simulations of Arctic air-mass formation, low-level radiative cooling causes a dynamic response: cold and dense outflow near the surface leads to convergence into the air mass aloft that is balanced by downward motion in the centre of the air mass86. This leads to high pressure in the centre and the development of anticyclonic motion, in agreement with observations showing that cold, dry air tends to be associated with higher surface pressure17. In numerical experiments without subsidence, cloudy layers in intrusions rise rapidly by entrainment33,47, while observed clouds remain much closer to the surface87. Downward motion above the clouds could maintain clouds at low levels while they entrain moist air from aloft. However, real-world intrusions are driven by a pressure dipole with a cyclone to the west and an anticyclone to the east (Fig. 1), and reanalysis composites suggest that upward motion initially dominates on the cyclonic side of this dipole, and subsidence only prevails after about five days, when the air mass has largely crossed the Arctic11. Tropopause polar vortices also generate both ascent and descent over different areas, and are generally associated with cold anomalies in the troposphere88. The evolution of large-scale vertical motion during an intrusion is a key observational challenge both for process understanding and model improvement89.
The strong meridional advection patterns that drive intrusions and outbreaks are often associated with blocking-like high pressure systems that can remain stagnant for several days. Mid-latitude cyclones also play an important role, but often they do not enter into the Arctic. Blocking events that enhance the meridional flow may have precursors in the stratosphere or far from the region of interest. If the strong zonal winds in the stratospheric polar vortex are weakened or reversed in sudden stratospheric warming events, strong meridional advection patterns are more likely to occur in the troposphere23,90. Intrusions often follow Rossby-wave breaking events, which cause a local reversal of the climatological temperature gradient, disturb the westerly flow and can lead to blocking and stronger meridional transport9. Localized tropical convection over the Pacific Ocean can generate planetary-scale Rossby-wave trains that propagate poleward, where they interact with the climatological stationary waves to generate meridional flow and moisture advection into the Arctic91,92.
If disturbances of the westerlies at high latitudes became more or less frequent or persistent in a warming climate, this would also change the frequency or characteristics of intrusions and outbreaks, with substantial impacts on weather and climate. To what extent and by what mechanisms Arctic amplification could lead to an increased frequency of such disturbances is still under discussion24.
The pathway forward
Improved understanding of Arctic air-mass transformations and their role in the climate system requires a new holistic and coupled view that incorporates both observations and models. Air-mass transformations are more than merely a flux of heat or moisture to or from the Arctic. Their rich multi-scale physics provide an opportunity to better understand both local-scale processes (for example, cloud microphysics, boundary-layer turbulence) and the feedbacks between these processes and larger-scale circulations, as well as the coupling among atmosphere, ocean and sea ice. Models are key tools for understanding such linkages, and their failure to adequately represent important aspects of the air-mass transformations impedes our understanding of the Arctic and global systems in a changing climate.
Most of the observational basis for understanding, especially at process level, has been developed through an Eulerian framework. Air-mass transformation, however, occurs over Lagrangian pathways15,16,39,57. Therefore, an alternative conceptual thinking is required when planning observations and improving models that better targets air-mass transformation processes across surface temperature gradients, coastlines or the marginal ice zone. Such a concept was pioneered for stratocumulus to cumulus transformations93.
This Lagrangian perspective can be applied to existing observations to improve the understanding of, for example, the spatial variation in processes and the timescales involved in the transformations94. Using trajectory analysis, cases can be identified that leverage consecutive observations from several locations along an air-mass trajectory, allowing for a characterization of up- and down-stream conditions during air-mass transformation events. Key examples would be combining icebreaker-based observations from within the icepack (for example, SHEBA, ASCOS, PASCAL, see Table 1) with coastal land-based observatories, ideally with supporting aircraft observations (for example FIRE-ACE, AMISA, ACLOUD) to provide spatial linking and context.
The ongoing Polar Prediction Project (PPP, 2013-2022) and the Year of Polar Prediction (YOPP) provide additional observational, model and coupled reanalysis data to the community28,95. The MOSAiC initiative will offer a full year perspective on the Arctic atmosphere and coupled climate system from the central Arctic sea ice directly within a major transport pathway for intrusions. At the same time, the COMBLE campaign will focus on cold air outbreaks in the North Atlantic Arctic. Advances in observatories at locations such as Ny Ålesund and Barrow provide additional continuous atmospheric profiling along important transport pathways. While many of these observations are still primarily Eulerian in concept, there are now opportunities to engage mobile observation systems that can target and follow air masses as they move into or out of the Arctic. Long-range aircraft systems such as HALO and HIAPER, along with other key airborne assets, can play a central role in linking fixed observatories. Autonomous aircraft, such as the Global Hawk and other drones or airships, also offer the ability to track air masses as they evolve and provide near-instantaneous transects along and across the primary direction of large-scale flow. Satellite products provide larger areal coverage and the data can be organized along calculated trajectories for air-mass transformation. In particular, new satellite opportunities (for example, EarthCARE) will allow for enhanced observations of the spatial structure of air-mass transformation events, including exciting insight into the associated clouds.
Modelling air-mass transformations correctly is essential to improve forecast capabilities and to represent feedback mechanisms important for climate change. Particular focus is needed on how models handle transitions between cloudy and cloud-free states, the evolution of cloud phase partitioning and air-mass moisture sources and sinks (that is precipitation efficiency), all of which impact the spatio-temporal scales of transformations. The representation of exchange processes between the transforming air and the underlying surface also requires improvement, to consider complexities related to strong contrasts in for example temperature, roughness and albedo between land, variable sea-ice cover, and open ocean. To improve our scientific understanding, it is essential to employ a hierarchy of model perspectives ranging from tools that resolve boundary-layer turbulent eddies and cloud-scale processes, up to regional and global-scale models that can represent large-scale forcing and responses. In the Arctic, with the rapidly changing surface, it is important to develop models within a coupled framework96. Omitting surface interactions in model development, by forcing sub-models with observations or reanalysis, leads to severe biases when models are ultimately coupled.
We suggest that the path forward is to focus on advancing the understanding of processes important for air-mass transformation. With the additional observational efforts, now is an opportune time for the broader community to engage in implementing new knowledge in models that is necessary to understand the connections between the Arctic and mid-latitude weather and climate. This could be supported by process-oriented model intercomparisons33 focusing on air-mass water budgets, cloud longevity, surface energy budgets, entrainment and turbulence, and cloud/air-mass structural organization for both cold air outbreaks and warm-air intrusions.
Essential lessons
Air masses that are exchanged between lower latitudes and the Arctic undergo key transformations that involve the boundary layer, clouds, and thermodynamic and dynamical interactions with the larger-scale environment. The transformations occur over hours to days and across hundreds to thousands of kilometres and are unique at high latitudes. The thermodynamics of the transformations are affected by climate change and its amplification in the Arctic, and affect Arctic climate feedbacks. Current models do not adequately represent the underlying processes, and classical observations that are fixed in space only provide one snapshot of an ongoing transformation. We suggest that observations and model experiments that follow air masses on their paths to and from the Arctic will substantially advance our understanding of the transformation processes.
Data availability
ERA-Interim data for Fig. 1 have been obtained from the European Centre for Medium-range Weather Forecasts' (ECMWF) data server. The satellite image in Fig. 2 is from the Moderate Resolution Imaging Spectroradiometer (MODIS) onboard the Aqua satellite, provided by the National Aeronautics and Space Administration (NASA) via https://earthdata.nasa.gov
Additional information
Publisher's note: Springer Nature remains neutral with regard to jurisdictional claims in published maps and institutional affiliations.
References
1.

Laliberté, F. et al. Constrained work output of the moist atmospheric heat engine in a warming climate. Science 347, 540–543 (2015).

2.

Pauluis, O., Czaja, A. & Korty, R. The global atmospheric circulation on moist isentropes. Science 321, 1075–1078 (2008).

3.

Pithan, F. & Mauritsen, T. Arctic amplification dominated by temperature feedbacks in contemporary climate models. Nat. Geosci. 7, 181–184 (2014).

4.

Serreze, M., Barrett, A., Stroeve, J., Kindig, D. & Holland, M. The emergence of surface-based Arctic amplification. Cryosphere 3, 11–19 (2009).

5.

Masson-Delmotte, V. et al. Past and future polar amplification of climate change: climate model intercomparisons and ice-core constraints. Clim. Dyn. 26, 513–529 (2006).

6.

Holland, M. & Bitz, C. Polar amplification of climate change in coupled models. Clim. Dyn. 21, 221–232 (2003).

7.

Doyle, J. G. et al. Water vapor intrusions into the High Arctic during winter. Geophys. Res. Lett. 38, L12806 (2011).

8.

Woods, C., Caballero, R. & Svensson, G. Large-scale circulation associated with moisture intrusions into the Arctic during winter. Geophys. Res. Lett. 40, 4717–4721 (2013).

9.

Liu, C. & Barnes, E. A. Extreme moisture transport into the Arctic linked to rossby wave breaking. J. Geophys. Res. Atmos. 120, 3774–3788 (2015).

10.

Sedlar, J. & Tjernström, M. Clouds, warm air, and a climate cooling signal over the summer Arctic. Geophys. Res. Lett. 44, 1095–1103 (2017).

11.

Messori, G., Woods, C. & Caballero, R. On the drivers of wintertime temperature extremes in the High Arctic. J. Climate 31, 1597–1618 (2018).

12.

Kapsch, M.-L., Graversen, R. G. & Tjernström, M. Springtime atmospheric energy transport and the control of Arctic summer sea-ice extent. Nat. Clim. Change 3, 744–748 (2013).

13.

Mortin, J. et al. Melt onset over Arctic sea ice controlled by atmospheric moisture transport. Geophys. Res. Lett. 43, 6636–6642 (2016).

14.

Solomon, A., Shupe, M. D. & Miller, N. B. Cloud-atmospheric boundary layer-surface interactions on the Greenland ice sheet during the July 2012 extreme melt event. J. Climate 30, 3237–3252 (2017).

15.

Wexler, H. Cooling in the lower atmosphere and the structure of polar continental air. Mon. Weather Rev. 64, 122–136 (1936).

16.

Curry, J. On the formation of continental polar air. J. Atmos. Sci. 40, 2278–2292 (1983).

17.

Morrison, H. et al. Resilience of persistent Arctic mixed-phase clouds. Nat. Geosci. 4, 11–17 (2012).

18.

Shupe, M. et al. Cloud and boundary layer interactions over the Arctic sea ice in late summer. Atmos. Chem. Phys 13, 9379–9399 (2013).

19.

Brümmer, B. Boundary-layer modification in wintertime cold-air outbreaks from the arctic sea ice. Bound.-Layer Meteor. 80, 109–125 (1996).

20.

Kolstad, E. W., Bracegirdle, T. J. & Seierstad, I. A. Marine cold-air outbreaks in the north Atlantic: temporal distribution and associations with large-scale atmospheric circulation. Clim. Dyn. 33, 187–197 (2009).

21.

Brümmer, B. & Pohlmann, S. Wintertime roll and cell convection over Greenland and Barents sea regions: a climatology. J. Geophys. Res. Atmos. 105, 15559–15566 (2000).

22.

Walsh, J. E., Phillips, A. S., Portis, D. H. & Chapman, W. L. Extreme cold outbreaks in the United States and Europe, 1948-99. J. Climate 14, 2642–2658 (2001).

23.

Kretschmer, M. et al. More-persistent weak stratospheric polar vortex states linked to cold extremes. Bull. Am. Meteor. Soc. 99, 49–60 (2017).

24.

Cohen, J. et al. Recent Arctic amplification and extreme mid-latitude weather. Nat. Geosci. 7, 627–637 (2014).

25.

Overland, J., Wang, M. & Salo, S. The recent Arctic warm period. Tellus A 60, 589–597 (2008).

26.

Pithan, F., Medeiros, B. & Mauritsen, T. Mixed-phase clouds cause climate model biases in Arctic wintertime temperature inversions. Clim. Dyn. 43, 289–303 (2014).

27.

Tomassini, L. et al. The 'grey zone' cold air outbreak global model intercomparison: a cross evaluation using large-eddy simulations. J. Adv. Model. Earth Sys. 9, 39–64 (2017).

28.

Jung, T. et al. Advancing polar prediction capabilities on daily to seasonal time scales. Bull. Am. Meteor. Soc 97, 1631–1647 (2016).

29.

Woods, C. & Caballero, R. The role of moist intrusions in winter Arctic warming and sea ice decline. J. Climate 29, 4473–4485 (2016).

30.

Gimeno, L., Nieto, R., Vázquez, M. & Lavers, D. Atmospheric rivers: a mini-review. Front. Earth Science 2, 2 (2014).

31.

Johansson, E., Devasthale, A., Tjernström, M., Ekman, A. M. & L'Ecuyer, T. Response of the lower troposphere to moisture intrusions into the Arctic. Geophys. Res. Lett. 44, 2527–2536 (2017).

32.

Tjernström, M. et al. Warm-air advection, air mass transformation and fog causes rapid ice melt. Geophys. Res. Lett. 42, 5594–5602 (2015).

33.

Pithan, F. et al. Select strengths and biases of models in representing the arctic winter boundary layer over sea ice: the Larcform 1 single column model intercomparison. J. Adv. Model. Earth Syst. 8, 1345–1357 (2016).

34.

Park, D.-S. R., Lee, S. & Feldstein, S. B. Attribution of the recent winter sea ice decline over the Atlantic sector of the Arctic ocean. J. Climate 28, 4027–4033 (2015).

35.

Persson, P. O. G., Shupe, M. D., Perovich, D. & Solomon, A. Linking atmospheric synoptic transport, cloud phase, surface energy fluxes, and sea-ice growth: observations of midwinter SHEBA conditions. Clim. Dyn. 49, 1341–1364 (2017).

36.

Kapsch, M.-L., Graversen, R. G., Tjernström, M. & Bintanja, R. The effect of downwelling longwave and shortwave radiation on Arctic summer sea ice. J. Climate 29, 1143–1159 (2016).

37.

Nghiem, S. et al. The extreme melt across the Greenland ice sheet in 2012. Geophys. Res. Lett. 39, L20502 (2012).

38.

Bennartz, R. et al. July 2012 Greenland melt extent enhanced by low-level liquid clouds. Nature 496, 83–86 (2013).

39.

Emanuel, K. in Synoptic—Dynamic Meteorology and Weather Analysis and Forecasting (eds Bosart, L. & Bluestein, H.) 87–96 (Springer, New York, 2008).

40.

Brooks, I. M. et al. The turbulent structure of the Arctic summer boundary layer during the Arctic summer cloud-ocean study. J. Geophys. Res. Atmos. 122, 9685–9704 (2017).

41.

Shupe, M. D. et al. Clouds at Arctic atmospheric observatories. Part I: Occurrence and macrophysical properties. J. Appl. Meteorol. Climatol. 50, 626–644 (2011).

42.

Solomon, A. et al. The sensitivity of springtime Arctic mixed-phase stratocumulus clouds to surface layer and cloud-top inversion layer moisture sources. J. Atmos. Sci. 71, 574–595 (2014).

43.

Solomon, A., Feingold, G. & Shupe, M. The role of ice nuclei recycling in the maintenance of cloud ice in Arctic mixed-phase stratocumulus. Atmos. Chem. Phys. 15, 10631–10643 (2015).

44.

Loewe, K. et al. Modelling micro-and macrophysical contributors to the dissipation of an Arctic mixed-phase cloud during the arctic summer cloud ocean study (ASCOS). Atmos. Chem. Phys. 17, 6693–6704 (2017).

45.

Stevens, R. G. et al. A model intercomparison of CCN-limited tenuous clouds in the High Arctic. Atmos. Chem. Phys. 18, 11041–11071 (2017).

46.

Turner, J. K. & Gyakum, J. R. The development of Arctic air masses in Northwest Canada and their behaviour in a warming climate. J. Climate 24, 4818–4633 (2011).

47.

Cronin, T. W., Li, H. & Tziperman, E. Suppression of Arctic air formation with climate warming: investigation with a two-dimensional cloud-resolving model. J. Atmos. Sci. 74, 2717–2736 (2017).

48.

Shupe, M. D. & Intrieri, J. M. Cloud radiative forcing of the Arctic surface: the influence of cloud properties, surface albedo, and solar zenith angle. J. Climate 17, 616–628 (2004).

49.

Ovchinnikov, M. et al. Intercomparison of large-eddy simulations of Arctic mixed-phase clouds: importance of ice size distribution assumptions. J. Adv. Model. Earth Syst. 6, 223–248 (2014).

50.

Sedlar, J., Shupe, M. D. & Tjernström, M. On the relationship between thermodynamic structure and cloud top, and its climate significance in the Arctic. J. Climate 25, 2374–2393 (2012).

51.

Igel, A. L. et al. The free troposphere as a potential source of Arctic boundary layer aerosol particles. Geophys. Res. Lett. 44, 7053–7060 (2017).

52.

Fletcher, J., Mason, S. & Jakob, C. The climatology, meteorology, and boundary layer structure of marine cold air outbreaks in both hemispheres. J. Climate 29, 1999–2014 (2016).

53.

Chechin, D. G. & Lüpkes, C. Bound-layer development and low-level baroclinicity during high-latitude cold-air outbreaks: a simple model. Bound.-Layer Meteor. 162, 91–116 (2017).

54.

Papritz, L. & Spengler, T. A lagrangian climatology of wintertime cold air outbreaks in the Irminger and Nordic seas and their role in shaping air–sea heat fluxes. J. Climate 30, 2717–2737 (2017).

55.

Gryschka, M., Fricke, J. & Raasch, S. On the impact of forced roll convection on vertical turbulent transport in cold air outbreaks. J. Geophys. Res. Atmos. 119, 12513–12532 (2014).

56.

Field, P. et al. Improving a convection-permitting model simulation of a cold air outbreak. Q. J. Roy. Meteor. Soc. 140, 124–138 (2014).

57.

Brümmer, B. Roll and cell convection in wintertime Arctic cold-air outbreaks. J. Atmos. Sci. 56, 2613–2636 (1999).

58.

Abel, S. J. et al. The role of precipitation in controlling the transition from stratocumulus to cumulus clouds in a northern hemisphere cold-air outbreak. J. Atmos. Sci. 74, 2293–2314 (2017).

59.

Kristovich, D. et al. The ontario winter lake-effect systems field campaign: Scientific and educational adventures to further our knowledge and prediction of lake-effect storms. Bull. Am. Meteor. Soc. 98, 315–332 (2017).

60.

Wang, Y., Geerts, B. & Chen, Y. Vertical structure of boundary layer convection during cold-air outbreaks at Barrow, Alaska. J. Geophys. Res. Atmos 121, 399–412 (2016).

61.

Marshall, J. & Schott, F. Open-ocean convection: observations, theory, and models. Rev. Geophys. 37, 1–64 (1999).

62.

Smedsrud, L. H. et al. The role of the Barents sea in the Arctic climate system. Rev. Geophys. 51, 415–449 (2013).

63.

Guest, P. S., Davidson, K. L., Overland, J. E. & Frederickson, P. A. in Arctic Oceanography: Marginal Ice Zones and Continental Shelves (eds Smith, W. O. Jr. & Grebmeir, J. M.) 51–95 (AGU, Washington DC, 1995).

64.

Moore, G., Bromwich, D. H., Wilson, A. B., Renfrew, I. & Bai, L. Arctic system reanalysis improvements in topographically forced winds near Greenland. Q. J. Roy. Meteor. Soc 142, 2033–2045 (2016).

65.

Chechin, D., Lüpkes, C., Repina, I. & Gryanik, V. Idealized dry quasi 2-d mesoscale simulations of cold-air outbreaks over the marginal sea ice zone with fine and coarse resolution. J. Geophys. Res. Atmos. 118, 8787–8813 (2013).

66.

McInnes, H., Kristjánsson, J. E., Rahm, S., Røsting, B. & Schyberg, H. An observational study of an Arctic front during the IPY-Thorpex 2008 campaign. Q. J. Roy. Meteor. Soc. 139, 2134–2147 (2013).

67.

Kolstad, E. W. Extreme small-scale wind episodes over the Barents sea: when, where and why? Clim. Dyn. 45, 2137–2150 (2015).

68.

Sergeev, D. E., Renfrew, I. A., Spengler, T. & Dorling, S. R. Structure of a shear-line polar low. Q. J. Roy. Meteor. Soc 143, 12–26 (2017).

69.

DuVivier, A. et al. Winter atmospheric buoyancy forcing and oceanic response during strong wind events around southeastern Greenland in the regional Arctic system model (RASM) for 1990–2010. J. Climate 29, 975–994 (2016).

70.

Condron, A. & Renfrew, I. The impact of polar mesoscale storms on northeast Atlantic ocean circulation. Nat. Geosci. 6, 34–37 (2013).

71.

Solomon, A., Morrison, H., Persson, P. O. G., Shupe, M. D. & Bao, J.-W. Investigation of microphysical parameterizations of snow and ice in Arctic clouds during M-PACE through model-observation comparisons. Mon. Weather Rev. 137, 3110–3128 (2009).

72.

Bodas-Salcedo, A. et al. Large contribution of supercooled liquid clouds to the solar radiation budget of the Southern ocean. J. Climate 29, 4213–4228 (2016).

73.

Konrad, C. E. & Colucci, S. J. An examination of extreme cold air outbreaks over eastern North America. Mon. Weather Rev. 117, 2687–2700 (1989).

74.

Ellis, A. W. & Leathers, D. J. A quantitative approach to evaluating the effects of snow cover on cold airmass temperatures across the US great plains. Weather Forecast. 13, 688–701 (1998).

75.

Yihui, D. Build-up, air mass transformation and propagation of siberian high and its relations to cold surge in east Asia. Meteor. Atmos. Phys. 44, 281–292 (1990).

76.

Iwasaki, T. et al. Isentropic analysis of polar cold airmass streams in the Northern Hemispheric winter. J. Atmos. Sci. 71, 2230–2243 (2014).

77.

Held, I. M. & Soden, B. J. Robust responses of the hydrological cycle to global warming. J. Climate 19, 5686–5699 (2006).

78.

Cronin, T. W. & Tziperman, E. Low clouds suppress Arctic air formation and amplify high-latitude continental winter warming. Proc. Natl Acad. Sci. USA 112, 11490–11495 (2015).

79.

Screen, J. A. Arctic amplification decreases temperature variance in northern mid-to high-latitudes. Nat. Clim. Change 4, 577 (2014).

80.

Gao, Y., Leung, L. R., Lu, J. & Masato, G. Persistent cold air outbreaks over North America in a warming climate. Environ. Res. Lett. 10, 044001 (2015).

81.

Kolstad, E. W. & Bracegirdle, T. J. Marine cold-air outbreaks in the future: an assessment of IPCC AR4 model results for the Northern hemisphere. Clim. Dyn. 30, 871–885 (2008).

82.

Polyakov, I. V. et al. Greater role for Atlantic inflows on sea-ice loss in the Eurasian basin of the Arctic ocean. Science 356, 285–291 (2017).

83.

Tetzlaff, A. et al. Brief communication: trends in sea ice extent north of Svalbard and its impact on cold air outbreaks as observed in spring 2013. Cryosphere 8, 1757–1762 (2014).

84.

Zahn, M. & von Storch, H. Decreased frequency of North Atlantic polar lows associated with future climate warming. Nature 467, 309–312 (2010).

85.

Bony, S. et al. Clouds, circulation and climate sensitivity. Nat. Geosci. 8, 261–268 (2015).

86.

Curry, J. Interactions among turbulence, radiation and microphysics in Arctic stratus clouds. J. Atmos. Sci. 43, 90–106 (1986).

87.

Intrieri, J., Shupe, M., Uttal, T. & McCarty, B. An annual cycle of arctic cloud characteristics observed by radar and lidar at SHEBA. J. Geophys. Res. Oceans https://doi.org/10.1029/2000JC000423 (2002).

88.

Cavallo, S. M. & Hakim, G. J. Composite structure of tropopause polar cyclones. Mon. Weather Rev. 138, 3840–3857 (2010).

89.

Bony, S. et al. Eurec4a: a field campaign to elucidate the couplings between clouds, convection and circulation. Surv. Geophys. 38, 1529–1568 (2017).

90.

Kolstad, E. W., Breiteig, T. & Scaife, A. A. The association between stratospheric weak polar vortex events and cold air outbreaks in the Northern Hemisphere. Q. J. Roy. Meteor. Soc. 136, 886–893 (2010).

91.

Baggett, C. & Lee, S. Arctic warming induced by tropically forced tapping of available potential energy and the role of the planetary-scale waves. J. Atmos. Sci. 72, 1562–1568 (2015).

92.

Park, H.-S., Lee, S., Son, S.-W., Feldstein, S. B. & Kosaka, Y. The impact of poleward moisture and sensible heat flux on Arctic winter sea ice variability. J. Climate 28, 5030–5040 (2015).

93.

Albrecht, B. A., Bretherton, C. S., Johnson, D., Scubert, W. H. & Frisch, A. S. The Atlantic stratocumulus transition experiment—ASTEX. Bull. Am. Meteor. Soc. 76, 889–904 (1995).

94.

Neggers, R. et al. Single-column model simulations of subtropical marine boundary-layer cloud transitions under weakening inversions. J. Adv. Model. Earth Sys. 9, 2385–2412 (2017).

95.

Goessling, H. F. et al. Paving the way for the year of polar prediction. Bull. Am. Meteor. Soc. 97, ES85–ES88 (2016).

96.

Hartung, K., Svensson, G., Struthers, H., Deppenmeier, A.-L. & Hazeleger, W. An EC-Earth coupled atmosphere-ocean single-column model (AOSCM) for studying coupled marine and polar processes. Geosci. Model Dev. Discuss. https://doi.org/10.5194/gmd-2018-66 (2018).

97.

Binder, H. et al. Exceptional air mass transport and dynamical drivers of an extreme wintertime Arctic warm event. Geophys. Res. Lett. 44, 28–36 (2017).

98.

Dee, D. et al. The ERA-Interim reanalysis: configuration and performance of the data assimilation system. Q. J. Roy. Meteor. Soc. 137, 553–597 (2011).

99.

Wacker, U., Potty, K. J., Lüpkes, C., Hartmann, J. & Raschendorfer, M. A case study on a polar cold air outbreak over Fram strait using a mesoscale weather prediction model. Bound.-Layer Meteor. 117, 301–336 (2005).

100.

Uttal, T. et al. Surface heat budget of the Arctic ocean. Bull. Am. Meteor. Soc. 83, 255–275 (2002).

101.

Tjernström, M. et al. The Arctic summer cloud ocean study (ASCOS): overview and experimental design. Atmos. Chem. Phys. 14, 2823–2869 (2014).

102.

Physical Feedback of Arctic PBL, Sea Ice, Cloud and Aerosol (PASCAL); http://www.ac3-tr.de/news/pascal-campaign

103.

Curry, J. et al. Fire Arctic clouds experiment. Bull. Am. Meteor. Soc. 81, 5–29 (2000).

104.

Arctic Mechanisms of Interaction Between the Sea and Atmosphere (AMISA, 2008); https://www.nasa.gov/centers/dryden/home/AMISA_mission_science_report.html

105.

Arctic Cloud Observations Using Airborne Measurements During Polar Day; http://www.ac3-tr.de/overview/observations/acloud

106.

Multidisciplinary Drifting Observatory for the Study of Arctic Climate; http://www.mosaicobservatory.org

107.

Comble (Cold-Air Outbreaks in the Marine Boundary Layer Experiment); https://www.arm.gov/research/campaigns/amf2017comble

108.

Wendisch, M. et al. ACRIDICON–CHUVA campaign: studying tropical deep convective clouds and precipitation over Amazonia using the new German research aircraft HALO. Bull. Am. Meteor. Soc. 97, 1885–1908 (2016).

109.

Laursen, K. K., Jorgensen, D. P., Brasseur, G. P., Ustin, S. L. & Huning, J. R. Hiaper: The next generation NSF/NCAR research aircraft. Bull. Am. Meteor. Soc. 87, 896–909 (2006).

110.

Illingworth, A. J. et al. The earthcare satellite: the next step forward in global measurements of clouds, aerosols, precipitation, and radiation. Bull. Am. Meteor. Soc. 96, 1311–1332 (2015).
Acknowledgements
We would like to thank all participants of the 2017 workshop on Arctic air-mass transformations in Stockholm for their contributions, and the International Meteorological Institute at Stockholm University and the Helmholtz Association for sponsoring the workshop. Parts of Fig. 2 have been adapted from https://www.mpimet.mpg.de/en/science/the-land-in-the-earth-system/modelling-of-boundary-layer-processes/les-of-cold-air-outbreaks/. We acknowledge support from the Helmholtz Society through the grant 'Understanding the role of atmosphere-surface coupling for large-scale dynamics' (F.P.), the German Research Foundation (DFG, Deutsche Forschungsgemeinschaft) within the Transregional Collaborative Research Center (TR 172) 'ArctiC Amplification: Climate Relevant Atmospheric and SurfaCe Processes, and Feedback Mechanisms (AC)3' (D.C.,R.N. and M.W.) and from the U.S. Department of Energy (DE-SC0011918) and National Science Foundation (PLR-1303879, OPP-1724551) (M.D.S.).
Rights and permissions
To obtain permission to re-use content from this article visit RightsLink.
About this article
Publication history
Received
Accepted
Published
Issue Date
DOI