West African farmers adjust tree cover to realize the co-benefits of agroforestry, according to analyses of remote sensing data.
This is a preview of subscription content
Access options
Subscribe to Journal
Get full journal access for 1 year
$99.00
only $8.25 per issue
All prices are NET prices.
VAT will be added later in the checkout.
Tax calculation will be finalised during checkout.
Rent or Buy article
Get time limited or full article access on ReadCube.
from$8.99
All prices are NET prices.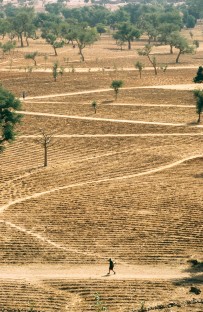 References
1.

Brandt, M. et al. Nat. Geosci. https://doi.org/10.1038/s41561-018-0092-x (2018).

2.

Leach, M. & Mearns, R. The Lie of the Land: Challenging Received Wisdom on the African Environment (James Currey Press, Oxford, 1996).

3.

Garrity, D. P. et al. Food Sec. 2, 197–214 (2010).

4.

Mbow, C. et al. Curr. Opin. Environ. Sustain. 6, 61–67 (2014).

5.

Sankaran, M. et al. Nature 438, 846–849 (2005).

6.

Bayala, J., Sanou, J., Teklehaimanot, Z., Kalinganire, A. & Ouedraogo, S. J. Curr. Opin. Environ. Sustain 6, 28–34 (2014).

7.

Dohn, J. et al. J. Ecol. 101, 202–209 (2013).

8.

Waldron, A. et al. Trop. Conserv. Sci. http://doi.org/gbxdpc (2017).

9.

DeFries, R. S., Asner, G. P. & Houghton, R. (eds) in Ecosystems and Land Use Change 1–9 (American Geophysical Union, Washington, DC, 2004).

10.

Klapwijk, C. J. et al. Curr. Opin. Environ. Sustain. 6, 110–115 (2014).
About this article
Cite this article
Hanan, N.P. Agroforestry in the Sahel. Nature Geosci 11, 296–297 (2018). https://doi.org/10.1038/s41561-018-0112-x
Further reading
C. Wade Ross
Niall P. Hanan
Qiuyan Yu

Nature Climate Change (2021)