The first of two stepwise increases in atmospheric oxygen occurred at the end of the Archaean eon. Analyses of sulfur and iron isotopes in pyrite reveal a near-shore environment that hosted locally oxygenated conditions in the Mesoarchaean era.
Access options
Subscribe to Journal
Get full journal access for 1 year
$99.00
only $8.25 per issue
All prices are NET prices.
VAT will be added later in the checkout.
Tax calculation will be finalised during checkout.
Rent or Buy article
Get time limited or full article access on ReadCube.
from$8.99
All prices are NET prices.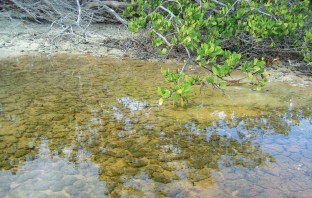 References
1.

Farquhar, J. et al. Science 289, 756–758 (2000).

2.

Bekker, A. et al. Nature 427, 117–120 (2004).

3.

Eickmann, B. et al. Nat. Geosci., https://doi.org/10.1038/s41561-017-0036-x (2018).

4.

Farquhar, J. et al. Nature 449, 706–709 (2007).

5.

Marin-Carbonne, J. et al. Earth Planet. Sci. Lett. 392, 67–79 (2014).

6.

Berner, R. A. Geochim. Cosmochim. Acta 48, 605–615 (1984).

7.

Schirrmeister, B. E., Gugger, M. & Donoghue, P. C. Palaeontology 58, 769–785 (2015).

8.

Laakso, T. A. & Schrag, D. P. Geobiology 15, 366–384 (2017).
About this article
Cite this article
Gomes, M.L. An Archaean oxygen oasis. Nature Geosci 11, 84–85 (2018). https://doi.org/10.1038/s41561-018-0058-z