Formic acid is a promising hydrogen carrier, but more effective and economical catalysis of both its synthesis from H2 and CO2 and its dehydrogenation is needed. To this end, a Mn-based complex, in the presence of an α-amino acid, is now shown to promote efficient catalysis of both reactions and enable retention and reuse of CO2.
This is a preview of subscription content
Access options
Subscribe to Journal
Get full journal access for 1 year
$99.00
only $8.25 per issue
All prices are NET prices.
VAT will be added later in the checkout.
Tax calculation will be finalised during checkout.
Buy article
Get time limited or full article access on ReadCube.
$32.00
All prices are NET prices.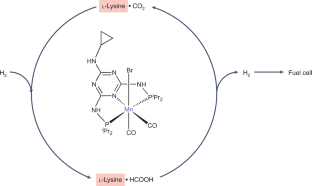 References
Dutta, I. et al. Adv. Energy Mater. https://doi.org/10.1002/aenm.202103799 (2022).

Wei, D., Sang, R., Sponholz, P., Junge, H. & Beller, M. Nat. Energy https://doi.org/10.1038/s41560-022-01019-4 (2022).

Onishi, N., Laurenczy, G., Beller, M. & Himeda, Y. Coord. Chem. Rev. 373, 317–332 (2018).

Filonenko, G. A., van Putten, R., Schulpen, E. N., Hensen, E. J. M. & Pidko, E. A. ChemCatChem 6, 1526–1530 (2014).

Hsu, S.-F. et al. Angew. Chem. Int. Ed. 53, 7074–7078 (2014).

Iglesias, M. & Fernández-Alvarez, F. J. Catalysis 11, 1288–1308 (2021).

Enthaler, S. et al. ChemCatChem 7, 65–69 (2015).

Hydrogen and Fuel Cell Technologies Office Multi-Year Research, Development, and Demonstration Plan 3.3 (US Department of Energy, 2014); https://www.energy.gov/eere/fuelcells/articles/hydrogen-and-fuel-cell-technologies-office-multi-year-research-development
Ethics declarations
Competing interests
The author declares no competing interests.
About this article
Cite this article
Lense, S. An amino acid is essential. Nat Energy 7, 396–397 (2022). https://doi.org/10.1038/s41560-022-01030-9
Published:

Issue Date:

DOI: https://doi.org/10.1038/s41560-022-01030-9