Abstract
All-electric vehicles remain far from reaching the market share required to meaningfully reduce transportation-related CO2 emissions. While financial and technological adoption barriers are increasingly being removed, psychological barriers remain insufficiently addressed. Here we show that car owners systematically underestimate the compatibility of available battery ranges with their annual mobility needs and that this underestimation is associated with increased demand for long battery ranges and reduced willingness to adopt electric vehicles. We tested a simple intervention to counteract this bias: providing tailored compatibility information reduced range concern and increased willingness to pay for electric vehicles with battery ranges between 60 and 240 miles, relative to a 50-mile-range baseline model. Compatibility information more strongly increased willingness to pay than did information about easy access to charging infrastructure, and it selectively increased willingness to pay for car owners who would derive greater financial benefits from adopting an electric vehicle. This scalable intervention may complement classical policy approaches to promote the electrification of mobility.
Your institute does not have access to this article
Access options
Subscribe to Journal
Get full journal access for 1 year
$99.00
only $8.25 per issue
All prices are NET prices.
VAT will be added later in the checkout.
Tax calculation will be finalised during checkout.
Buy article
Get time limited or full article access on ReadCube.
$32.00
All prices are NET prices.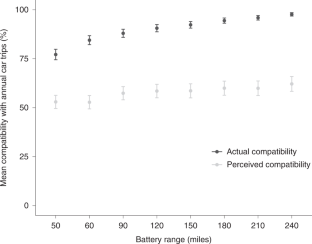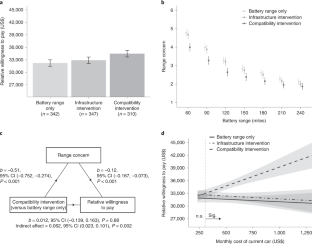 References
IPCC Climate Change 2014: Mitigation of Climate Change (eds Edenhofer, O. et al.) (Cambridge Univ. Press, 2014).

Tracking Transport 2020 (IEA, 2020).

Rietmann, N. & Lieven, T. How policy measures succeeded to promote electric mobility—worldwide review and outlook. J. Clean. Prod. 206, 66–75 (2019).

Sierzchula, W., Bakker, S., Maat, K. & van Wee, B. The influence of financial incentives and other socio-economic factors on electric vehicle adoption. Energy Policy 68, 183–194 (2014).

Global EV Outlook 2021 (IEA, 2021).

Needell, Z. A., McNerney, J., Chang, M. T. & Trancik, J. E. Potential for widespread electrification of personal vehicle travel in the United States. Nat. Energy 1, 16112 (2016).

Soto, J. J., Cantillo, V. & Arellana, J. Incentivizing alternative fuel vehicles: the influence of transport policies, attitudes and perceptions. Transportation 45, 1721–1753 (2018).

Li, W., Long, R., Chen, H. & Geng, J. A review of factors influencing consumer intentions to adopt battery electric vehicles. Renew. Sust. Energy Rev. 78, 318–328 (2017).

Wang, S., Wang, J., Li, J., Wang, J. & Liang, L. Policy implications for promoting the adoption of electric vehicles: do consumer's knowledge, perceived risk and financial incentive policy matter? Transp. Res. A 117, 58–69 (2018).

McCollum, D. L. Interaction of consumer preferences and climate policies in the global transition to low-carbon vehicles. Nat. Energy 3, 664–673 (2018).

Bakker, S. & Jacob Trip, J. Policy options to support the adoption of electric vehicles in the urban environment. Transp. Res. D 25, 18–23 (2013).

Gnann, T., Plötz, P. & Haag, M. What is the Future of Public Charging Infrastructure for Electric Vehicles?—A Techno-Economic Assessment of Public Charging Points for Germany (Fraunhofer Institute for Systems and Innovation Research ISI, 2013).

Wolbertus, R., Kroesen, M., van den Hoed, R. & Chorus, C. Fully charged: an empirical study into the factors that influence connection times at EV-charging stations. Energy Policy 123, 1–7 (2018).

Xu, C. et al. Future material demand for automotive lithium-based batteries. Commun. Mater. 1, 99 (2020).

Sovacool, B. K., Sidortsov, R. V. & Jones, B. R. Energy Security, Equality and Justice (Routledge, 2013).

Baars, J., Domenech, T., Bleischwitz, R., Melin, H. E. & Heidrich, O. Circular economy strategies for electric vehicle batteries reduce reliance on raw materials. Nat. Sustain. 4, 71–79 (2021).

Singh, V., Singh, V. & Vaibhav, S. A review and simple meta-analysis of factors influencing adoption of electric vehicles. Transp. Res. D 86, 102436 (2020).

Melliger, M. A., van Vliet, O. P. R. & Liimatainen, H. Anxiety vs reality—sufficiency of battery electric vehicle range in Switzerland and Finland. Transp. Res. D 65, 101–115 (2018).

Dimitropoulos, A., Rietveld, P. & van Ommeren, J. N. Consumer valuation of changes in driving range: a meta-analysis. Transp. Res. A 55, 27–45 (2013).

Franke, T., Günther, M., Trantow, M., Rauh, N. & Krems, J. F. Range comfort zone of electric vehicle users—concept and assessment. IET Intell. Transp. Syst. 9, 740–745 (2015).

Franke, T. & Krems, J. F. Interacting with limited mobility resources: psychological range levels in electric vehicle use. Transp. Res. A 48, 109–122 (2013).

Peters, A. & Dütschke, E. How do consumers perceive electric vehicles ? A comparison of German consumer groups. J. Environ. Policy Plan. 16, 359–377 (2014).

Hahnel, U. J. J., Gölz, S. & Spada, H. How does green suit me? Consumers mentally match perceived product attributes with their domain-specific motives when making green purchase decisions. J. Consum. Behav. 13, 317–327 (2014).

Haustein, S., Jensen, A. F. & Cherchi, E. Battery electric vehicle adoption in Denmark and Sweden: recent changes, related factors and policy implications. Energy Policy 149, 112096 (2021).

Franke, T. & Krems, J. F. What drives range preferences in electric vehicle users? Transp. Policy 30, 56–62 (2013).

Meinrenken, C. J., Shou, Z. & Di, X. Using GPS-data to determine optimum electric vehicle ranges: a Michigan case study. Transp. Res. D 78, 102203 (2020).

Shi, X., Pan, J., Wang, H. & Cai, H. Battery electric vehicles: what is the minimum range required? Energy 166, 352–358 (2019).

Greaves, S., Backman, H. & Ellison, A. B. An empirical assessment of the feasibility of battery electric vehicles for day-to-day driving. Transp. Res. A 66, 226–237 (2014).

Rafique, S. & Town, G. E. Potential for electric vehicle adoption in Australia. Int. J. Sustain. Transp. 13, 245–254 (2019).

Schmalfu, F., Mühl, K. & Krems, J. F. Direct experience with battery electric vehicles (BEVs) matters when evaluating vehicle attributes, attitude and purchase intention. Transp. Res. F 46, 47–69 (2017).

Roberson, L. A. & Helveston, J. P. Electric vehicle adoption: can short experiences lead to big change? Environ. Res. Lett. 15, 0940c3 (2020).

Rauh, N., Günther, M. & Krems, J. F. Positive influence of practical electric vehicle driving experience and range related knowledge on drivers' experienced range stress. Transp. Res. F 71, 182–197 (2020).

Franke, T., Günther, M., Trantow, M. & Krems, J. F. Does this range suit me? Range satisfaction of battery electric vehicle users. Appl. Ergon. 65, 191–199 (2017).

Bühler, F., Cocron, P., Neumann, I., Franke, T. & Krems, J. F. Is EV experience related to EV acceptance? Results from a German field study. Transp. Res. F 25, 34–49 (2014).

Jensen, A. F., Cherchi, E. & Mabit, S. L. On the stability of preferences and attitudes before and after experiencing an electric vehicle. Transp. Res. D 25, 24–32 (2013).

She, Z.-Y., Sun, Q., Ma, J.-J. & Xie, B.-C. What are the barriers to widespread adoption of battery electric vehicles? A survey of public perception in Tianjin, China. Transp. Policy 56, 29–40 (2017).

Kahneman, D., Slovic, P. & Tversky A. Judgment Under Uncertainty: Heuristics and Biases (Cambridge Univ. Press, 1982).

Simonson, I. Mission (largely) accomplished: what's next for consumer BDT-JDM researchers ? J. Mark. Behav. 1, 9–35 (2015).

Hsee, C. K. The evaluability hypothesis: an explanation for preference reversals between joint and separate evaluations of alternatives. Organ. Behav. Hum. Decis. Process. 67, 247–257 (1996).

Sunstein, C. R. On preferring A to B, while also preferring B to A. Ration. Soc. 30, 305–331 (2018).

Strack, F. & Mussweiler, T. Explaining the enigmatic anchoring effect: mechanisms of selective accessibility. J. Pers. Soc. Psychol. 73, 437–446 (1997).

Furnham, A. & Boo, H. C. A literature review of the anchoring effect. J. Socio Econ. 40, 35–42 (2011).

Mabit, S. L. & Fosgerau, M. Demand for alternative-fuel vehicles when registration taxes are high. Transp. Res. D 16, 225–231 (2011).

Mabit, S. L., Cherchi, E., Jensen, A. F. & Jordal-Jørgensen, J. The effect of attitudes on reference-dependent preferences: estimation and validation for the case of alternative-fuel vehicles. Transp. Res. A 82, 17–28 (2015).

Bhattacharyya, A., Jin, W., LeFloch, C., Chatman, D. G. & Walker, J. L. Nudging people towards more sustainable residential choice decisions: an intervention based on focalism and visualization. Transportation 46, 373–393 (2019).

Abrahamse, W., Steg, L., Vlek, C. & Rothengatter, T. The effect of tailored information, goal setting, and tailored feedback on household energy use, energy-related behaviors, and behavioral antecedents. J. Environ. Psychol. 27, 265–276 (2007).

Wenig, J., Sodenkamp, M. & Staake, T. Battery versus infrastructure: tradeoffs between battery capacity and charging infrastructure for plug-in hybrid electric vehicles. Appl. Energy 255, 113787 (2019).

Thaler, R. H & Sunstein, C. R. Nudge: Improving Decisions about Health, Wealth, and Happiness (Penguin Books, 2008).

Nudges for nudgers. Nat. Energy 3, 701 (2018).

Gigerenzer, G. The bias bias in behavioral economics. Rev. Behav. Econ. 5, 303–336 (2018).

Andor, M. A., Gerster, A., Gillingham, K. T. & Horvath, M. Running a car costs much more than people think—stalling the uptake of green travel. Nature 580, 453–455 (2020).

Newman, P. W. G. & Kenworthy, J. R. Gasoline consumption and cities. J. Am. Plan. Assoc. 55, 24–37 (1989).

Jensen, A. F., Cherchi, E. & de Dios Ortúzar, J. A long panel survey to elicit variation in preferences and attitudes in the choice of electric vehicles. Transportation 41, 973–993 (2014).

Neubauer, J. & Wood, E. The impact of range anxiety and home, workplace, and public charging infrastructure on simulated battery electric vehicle lifetime utility. J. Power Sources 257, 12–20 (2014).

Weber, E. U. Breaking cognitive barriers to a sustainable future. Nat. Hum.Behav. 1, 1–2 (2017).

Plötz, P., Schneider, U., Globisch, J. & Dütschke, E. Who will buy electric vehicles? Identifying early adopters in Germany. Transp. Res. A 67, 96–109 (2014).

Haustein, S. & Jensen, A. F. Factors of electric vehicle adoption: a comparison of conventional and electric car users based on an extended theory of planned behavior. Int. J. Sustain. Transp. 12, 484–496 (2018).

Ratchford, B. T., Lee, M. S. & Talukdar, D. Consumer Use of the Internet in Search for Automobiles Vol. 2 (Routledge, 2017).

Singh, S. & Jang, S. Search, purchase, and satisfaction in a multiple-channel environment: how have mobile devices changed consumer behaviors? J. Retail. Consum. Serv. 65, 102200 (2020).

Camilleri, A. R., Larrick, R. P., Hossain, S. & Patino-Echeverri, D. Consumers underestimate the emissions associated with food but are aided by labels. Nat. Clim. Change 9, 53–58 (2019).

Oppenheimer, D. M., Meyvis, T. & Davidenko, N. Instructional manipulation checks: detecting satisficing to increase statistical power. J. Exp. Soc. Psychol. 45, 867–872 (2009).

Kraftfahrt-Bundesamt. Fahrzeugzulassungen. Bestand an Kraftfahrzeugen und Kraftfahrzeuganhängern nach Fahrzeugalter 1 (German Federal Ministry of Transport and Digital Infrastructure, 2021).

Nobis, C. & Kuhnimhof, T. Mobilität in Deutschland—MiD: Ergebnisbericht (German Federal Ministry of Transport and Digital Infrastructure, 2018).

2017 National Household Travel Survey (US Department of Transportation, Federal Highway Administration, 2017).

Nilsson, M. Electric vehicles: The Phenomenon of Range Anxiety. Report for the ELVIRE Project FP7 PROJECT ID : ICT-2009.6. 1 (ELVIRE Consortium, 2011).

Tingley, D., Yamamoto, T., Hirose, K., Keele, L. & Imai, K. Mediation: R package for causal mediation analysis. J. Stat. Softw. 59, 1–38 (2014).
Acknowledgements
This research was supported by Swiss Federal Office of Energy grant SI/501597-01 (U.J.J.H. and T.B.) and is part of the activities of SCCER CREST (Swiss Competence Center for Energy Research), supported by the Swiss Innovation Agency (Innosuisse). The funding source had no involvement in the preparation of the article, in the study design, the collection, analysis and interpretation of data, nor in the writing of the manuscript. We thank B. Meuleman and F. Braccioli for statistical advice and L. McCaughey, T. Vogel and the members of the Consumer Decision and Sustainable Behavior Lab for fruitful discussions.
Ethics declarations
Competing interests
The authors declare no competing interests.
Peer review
Peer review information
Nature Energy thanks Sonja Haustein, Josef Krems and the other, anonymous, reviewer(s) for their contribution to the peer review of this work.
Additional information
Publisher's note Springer Nature remains neutral with regard to jurisdictional claims in published maps and institutional affiliations.
Supplementary information
Supplementary Notes 1–9, Figs. 1–3, Tables 1–8, Methods and References.
About this article
Cite this article
Herberz, M., Hahnel, U.J.J. & Brosch, T. Counteracting electric vehicle range concern with a scalable behavioural intervention. Nat Energy 7, 503–510 (2022). https://doi.org/10.1038/s41560-022-01028-3
Received:

Accepted:

Published:

Issue Date:

DOI: https://doi.org/10.1038/s41560-022-01028-3