Abstract
Energy as a service, smart home opportunities and electrification of heat and transport can lead to new ways of switching supplier or choosing new energy contracts. Here, we used business model collaboration workshops to create archetypes of new utility business models, which were then tested with a representative sample of British energy consumers to explore their attractiveness to different segments of society. We show that some of these segments have a substantial appetite for new business models. However, the segments that choose these models are more likely to be affluent, educated homeowners. Without intervention, innovation in utility business models risks exacerbating existing social inequalities, as lower incomes, lower home ownership and low education result in lower preferences for, or no ability to engage with, new utility business models. We also find that institutional trust beyond the energy sector is a key driver of consumer segmentation.
Your institute does not have access to this article
Access options
Subscribe to Journal
Get full journal access for 1 year
$99.00
only $8.25 per issue
All prices are NET prices.
VAT will be added later in the checkout.
Tax calculation will be finalised during checkout.
Buy article
Get time limited or full article access on ReadCube.
$32.00
All prices are NET prices.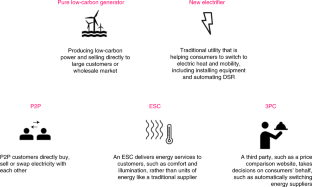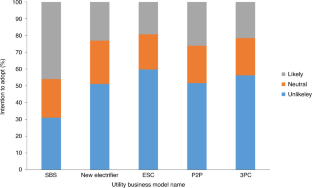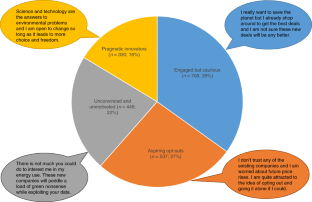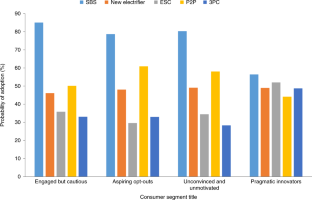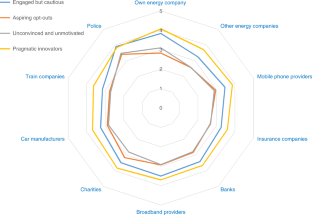 Data availability
The relevant survey data, including all raw data, generated or analysed during this study are included in the Supplementary Data file. Data generated in the construction of business model archetypes are summarized in the Supplementary Information. The data that support the plots within this paper and other findings of this study are available from the corresponding author upon reasonable request.
References
Schot, J., Kanger, L. & Verbong, G. The roles of users in shaping transitions to new energy systems. Nat. Energy 1, 16054 (2016).

Future Energy Scenarios (National Grid ESO, 2020); https://www.nationalgrideso.com/document/173821/download

Retail Markets Monitoring Report CEER Report C17-MMR-83-02 (Council of European Energy Regulators, 2017): https://www.ceer.eu/documents/104400/-/-/56216063-66c8-0469-7aa0-9f321b196f9f

Hortaçsu, A., Madanizadeh, S. A. & Puller, S. L. Power to choose? An analysis of consumer inertia in the residential electricity market. Am. Econ. J. Econ. Policy 9, 192–226 (2017).

Sen, A., Nepal, R. & Jamasb, T. Reforming Electricity Reforms? Empirical Evidence from Asian Economies (Oxford Institute for Energy Studies, 2016); https://www.oxfordenergy.org/wpcms/wp-content/uploads/2016/02/Reforming-Electricity-Reforms-Empirical-Evidence-from-Asian-Economies-EL-18.pdf

Van Beek, M, Holst, A & Keeble, J. Low Carbon, High Stakes—Do You Have the Power to Transform? (Accenture Strategy, 2015).

Energy Market Investigation Final Report (Competition and Markets Authority, 2016).

The Road Ahead: Gaining Momentum from Energy Transformation (PwC, 2014); https://www.pwc.com/gx/en/utilities/publications/assets/pwc-the-road-ahead.pdf

Bryant, S. T., Straker, K. & Wrigley, C. The typologies of power: energy utility business models in an increasingly renewable sector. J. Clean. Prod. 195, 1032–1046 (2018).

Hawker, G., Bell, K. & Gill, S. Electricity security in the European Union—the conflict between national capacity mechanisms and the single market. Energy Res. Soc. Sci. 24, 51–58 (2017).

Parag, Y. & Sovacool, B. K. Electricity market design for the prosumer era. Nat. Energy 1, 16032 (2016).

Britton, J., Hardy, J., Mitchell, C. & Hoggett, R. Changing Actor Dynamics and Emerging Value Propositions in the UK Electricity Retail Market IGov Working Paper (2019); http://projects.exeter.ac.uk/igov/report-analysis-of-uk-electricity-system-actors/

Burger, S., Chaves-Ávila, J. P., Batlle, C. & Pérez-Arriaga, I. J. A review of the value of aggregators in electricity systems. Renew. Sustain. Energy Rev. 77, 395–405 (2017).

Ward, A., Thomas, N. & Chazan, G. European utilities primed for consolidation in shift to renewables. Financial Times (27 June 2017).

World Energy Investment (International Energy Agency, 2017).

Hall, S. & Roelich, K. Business model innovation in electricity supply markets: the role of complex value in the United Kingdom. Energy Policy 92, 286–298 (2016).

Roelich, K. et al. Towards resource-efficient and service-oriented integrated infrastructure operation. Technol. Forecast. Soc. Change 92, 40–52 (2015).

Helms, T. Asset transformation and the challenges to servitize a utility business model. Energy Policy 91, 98–112 (2016).

Helms, T., Loock, M. & Bohnsack, R. Timing-based business models for flexibility creation in the electric power sector. Energy Policy 92, 348–358 (2016).

White, L. V. & Sintov, N. D.Inaccurate consumer perceptions of monetary savings in a demand-side response programme predict programme acceptance. Nat. Energy 3, 1101–1108 (2018).

Eid, C., Codani, P., Perez, Y., Reneses, J. & Hakvoort, R. Managing electric flexibility from distributed energy resources: a review of incentives for market design. Renew. Sustain. Energy Rev. 64, 237–247 (2016).

Frei, F., Sinsel, S. R., Hanafy, A. & Hoppmann, J. Leaders or laggards? The evolution of electric utilities' business portfolios during the energy transition. Energy Policy 120, 655–665 (2018).

Williams, B. & Waring, G. Consumer Engagement In The Energy Market 2018: Report on a Survey of Energy Consumers (GfK, 2018); https://www.ofgem.gov.uk/system/files/docs/2018/10/consumer_engagement_survey_2018_report_0.pdf

Flores, M. & Waddams Price, C. The role of attitudes and marketing in consumer behaviours in the British retail electricity market. Energy J. 39, 153–179 (2018).

Hortaçsu, A., Madanizadeh, S. A. & Puller, S. L. Power to choose? An analysis of consumer inertia in the residential electricity market. Am. Econ. J. Econ. Policy 9, 192–226 (2017).

Defeuilley, C. Retail competition in electricity markets. Energy Policy 37, 377–386 (2009).

Waddams Price, C. Back to the future? Regulating residential energy markets. Int. J. Econ. Bus. 25, 147–155 (2018).

Loewenstein, G. Experimental economics from the vantage‐point of behavioural economics. Econ. J. 109, 25–34 (1999).

Frederiks, E. R., Stenner, K. & Hobman, E. V. Household energy use: applying behavioural economics to understand consumer decision-making and behaviour. Renew. Sustain. Energy Rev. 41, 1385–1394 (2015).

Simon, H. A. A behavioral model of rational choice. Q. J. Econ. 69, 99–118 (1955).

Pichert, D. & Katsikopoulos, K. V. Green defaults: information presentation and pro-environmental behaviour. J. Environ. Psychol. 28, 63–73 (2008).

Deller, D. et al. Fairness in Retail Energy Markets? Evidence from the UK (Centre for Competition Policy, 2018).

Shafir, E., Simonson, I. & Tversky, A. Reason-based choice. Cognition 49, 11–36 (1993).

Hobman, E. V., Frederiks, E. R., Stenner, K. & Meikle, S. Uptake and usage of cost-reflective electricity pricing: insights from psychology and behavioural economics. Renew. Sustain. Energy Rev. 57, 455–467 (2016).

Eppler, M. J., Hoffmann, F. & Bresciani, S. New business models through collaborative idea generation. Int. J. Innov. Manag. 15, 1323–1341 (2011).

Rohrbeck, R., Konnertz, L. & Knab, S. Collaborative business modelling for systemic and sustainability innovations. Int. J. Technol. Manag. 63, 4–23 (2013).

Pieroni, M. P., McAloone, T. & Pigosso, D. A. Business model innovation for circular economy and sustainability: a review of approaches. J. Clean. Prod. 215, 198–216 (2019).

Burnet, F. Take Charge: An Analysis of the Domestic Electric Vehicle Tariff Market (Citizens Advice, 2019); https://www.citizensadvice.org.uk/Global/CitizensAdvice/Energy/Take%20Charge%20-%20EV%20tariff%20report.pdf

Hahnel, U. J., Herberz, M., Pena-Bello, A., Parra, D. & Brosch, T. Becoming prosumer: revealing trading preferences and decision-making strategies in peer-to-peer energy communities. Energy Policy 137, 111098 (2020).

Retail Research into Customer Switching and Supply Disintermediation: Final Report: Disintermediation (ESP Consulting, 2018); https://www.ofgem.gov.uk/system/files/docs/2018/07/retail_research_-_report_on_supply_disintermediation.pdf

Brown, D. Business models for residential retrofit in the UK: a critical assessment of five key archetypes. Energy Effic. 11, 1497–1517 (2018).

Davis, F. D. Perceived usefulness, perceived ease of use, and user acceptance of information technology. MIS Q. 13, 319–340 (1989).

Curtius, H. C., Künzel, K. & Loock, M.Generic customer segments and business models for smart grids. der markt 51, 63–74 (2012).

Fell, M. J., Shipworth, D., Huebner, G. M. & Elwell, C. A. Public acceptability of domestic demand-side response in Great Britain: the role of automation and direct load control. Energy Res. Soc. Sci. 9, 72–84 (2015).

Venkatesh, V. & Davis, F. D. A theoretical extension of the technology acceptance model: four longitudinal field studies. Manag. Sci. 46, 186–204 (2000).

Rogers, E. M. Diffusion of Innovations 4th edn (The Free Press, 1995).

Ajzen, I.The theory of planned behavior. Organ. Behav. Hum. Decis. Process. 50, 179–211 (1991).

Pavlou, P. A. Consumer acceptance of electronic commerce: integrating trust and risk with the technology acceptance model. Int. J. Electron. Commer. 7, 101–134 (2003).

Agarwal, R. & Prasad, J. A conceptual and operational definition of personal innovativeness in the domain of information technology. Inf. Syst. Res. 9, 204–215 (1998).

Agnew, S. & Dargusch, P. Consumer preferences for household-level battery energy storage. Renew. Sustain. Energy Rev. 75, 609–617 (2017).

Xu, X., Chen, C. F., Zhu, X. & Hu, Q. Promoting acceptance of direct load control programs in the United States: financial incentive versus control option. Energy 147, 1278–1287 (2018).

Sütterlin, B. & Brunner, T. A. & Siegrist, M.Who puts the most energy into energy conservation? A segmentation of energy consumers based on energy-related characteristics. Energy Policy 39, 8137–8152 (2011).

Albert, A. & Rajagopal, R. Smart meter driven segmentation: what your consumption says about you. IEEE Trans. Power Syst. 28, 4019–4030 (2013).

Moon, N. & McHugh, S. Energy Market Investigation. Technical Report on a Survey Conducted for the Competition and Markets Authority by GfK NOP (GfK, 2015).

Littlechild, S. Promoting competition and protecting customers? Regulation of the GB retail energy market 2008–2016. J. Regul. Econ. 55, 107–139 (2019).

Mazur, C., Hall, S., Hardy, J. & Workman, M. Technology is not a barrier: a survey of energy system technologies required for innovative electricity business models driving the low carbon energy revolution. Energies 12, 428 (2019).

Barton, C. Home Ownership and Renting: Demographics Briefing Paper Number CBP 7706 (House of Commons Library, 2017).

Stenner, K., Frederiks, E. R., Hobman, E. V. & Cook, S. Willingness to participate in direct load control: the role of consumer distrust. Appl. Energy 189, 76–88 (2017).

Perlaviciute, G. & Steg, L. Contextual and psychological factors shaping evaluations and acceptability of energy alternatives: integrated review and research agenda. Renew. Sustain. Energy Rev. 35, 361–381 (2014).

DECC Public Attitudes Tracker - Wave 1 Summary of Key Issues (Department of Energy and Climate Change, 2012).

Demski, C., Butler, C., Parkhill, K. A., Spence, A. & Pidgeon, N. F. Public values for energy system change. Glob. Environ. Change 34, 59–69 (2015).

Sehic, S., Ashworth, P. & Harris, J. Understanding the Socio-Economic Challenges for Energy Storage Uptake (The University of Queensland, 2017).

DECC Public Attitudes Tracking Survey—Wave 2 Questionnaire (Department of Energy and Climate Change, 2012).

Consumer Engagement in the Energy Market Since the Retail Market Review. 2016 Survey Findings (Ofgem, 2016).

Waring, B., Silk, A. & Waring, G. Consumer Engagement in the Energy Market 2017 (Ofgem, 2017).

Henry, G. T. Practical Sampling (Sage, 1990).

Households Below Average Income: An Analysis of the UK Income Distribution: 1994/95 to 2015/16 (Department for Work and Pensions, 2017).

Scotland's Census 2011 (National Records of Scotland, 2018); http://www.scotlandscensus.gov.uk/

Census 2011 (Office of National Statistics, 2017); https://www.nomisweb.co.uk

De Vellis, R. F. Scale Development: Theory and Applications (Applied Social Research Methods) Vol. 26 (Sage, 1991).

Costello, A. B. & Osborne, J. W.Best practices in exploratory factor analysis: four recommendations for getting the most from your analysis. Pract. Assess. Res. Eval. 10, 1–9 (2005).

Gorsuch, R. L. Factor Analysis 2nd edn (Lawrence Erlbaum Associates, 1983).

Hair, J., Anderson, R., Tatham, R. & Black, W. Multivariate Data Analysis (Prentice Hall, 1998).

Sarstedt, M. & Mooi, E. A Concise Guide to Market Research (Springer, 2014).

Anable, J. Complacent car addicts or aspiring environmentalists? Identifying travel behaviour segments using attitude theory. Transp. Policy 12, 65–78 (2005).

Milligan, G. W. & Cooper, M. C. An examination of procedures for determining the number of clusters in a data set. Psychometrika 50, 159–179 (1985).

Hall, S., Mazur, C., Hardy, J., Workman, M. & Powell, M. Prioritising business model innovation: what needs to change in the United Kingdom energy system to grow low carbon entrepreneurship? Energy Res. Soc. Sci. 60, 101317 (2020).
Acknowledgements
This research was partly funded by the Engineering and Physical Sciences Research Council (grant EP/N029488/1), Economic and Social Research Council (grant ES/M500562/1) and UK Research Councils (grants EPSRC EP/L024756/1 and NERC NE/G007748/1) as part of the UK Energy Research Centre (UKERC).
Ethics declarations
Competing interests
The authors declare no competing interests.
Additional information
Peer review information Nature Energy thanks Rachel Bray, Laura Olkkonen and the other, anonymous, reviewer(s) for their contribution to the peer review of this work.
Publisher's note Springer Nature remains neutral with regard to jurisdictional claims in published maps and institutional affiliations.
Supplementary information
Supplementary Tables 1–8, Figs. 1–17, Note 1, Methods and references.
Source data for Figs. 2–5, cluster analysis, trust data, adoption data, raw survey data, data map and data supporting the supplementary figures.
About this article
Cite this article
Hall, S., Anable, J., Hardy, J. et al. Matching consumer segments to innovative utility business models. Nat Energy 6, 349–361 (2021). https://doi.org/10.1038/s41560-021-00781-1
Received:

Accepted:

Published:

Issue Date:

DOI: https://doi.org/10.1038/s41560-021-00781-1
Further reading
Jeffrey Hardy
Laura Sandys

Nature Energy (2022)