Mandatory building energy audits in New York City lead to a modest reduction of energy use of 2.5% and 4.9% for multifamily and office buildings, respectively. This suggests that other approaches besides mandatory audit policies, such as building energy grading and carbon intensity targets, may be needed to achieve sustainability goals.
Messages for policy
Cities should consider a comprehensive strategy to support energy efficiency in the building sector that starts with a foundation of data transparency and evidence-based decision-making.

Energy disclosure mandates are an important first step: once data are available, buildings can be evaluated on their energy performance and compared to their peers.

Audit requirements should be used to target 'deep' retrofits, while automated or virtual audits could replace the existing need for traditional audit mandates.

Since audit policies generate substantial data on building systems and operating characteristics, mandatory audit requirements could be replaced by incentives for voluntarily reporting of audit data.
Access options
Subscribe to Journal
Get full journal access for 1 year
$119.00
only $9.92 per issue
All prices are NET prices.
VAT will be added later in the checkout.
Tax calculation will be finalised during checkout.
Buy article
Get time limited or full article access on ReadCube.
$32.00
All prices are NET prices.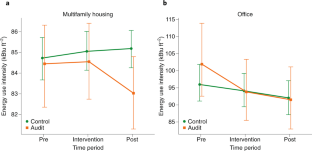 References
Further Reading
Anderson, S. T. & Newell, R. G. Information programs for technology adoption: The case of energy-efficiency audits. Resour. Energy Econ. 26, 27–50 (2004). Presents empirical research on the likelihood of adopting energy-efficiency projects in the manufacturing sector.

Glaeser, E. L. & Kahn, M. E. The greenness of cities: Carbon dioxide emissions and urban development. J. Urban Econ. 67, 404–418 (2010). Studies the effects of density and land use regulations on carbon emissions across the US.

Jaffe, A. B. & Stavins, R. N. The energy-efficiency gap: What does it mean? Energy policy 22, 804–810 (1994). Develops the conceptual framework for understanding the optimal level of energy efficiency.

Kontokosta, C. E., Reina, V. J. & Bonczak, B. Energy cost burdens for low-income and minority households: Evidence from energy benchmarking and audit data in five US cities. J. Am. Plann. Assoc. 86, 98–105 (2019). Estimates energy cost burden distributions for low-income and minority households and introduces energy justice concepts in building energy efficiency policy.

Palmer, K. & Walls, M. Using information to close the energy efficiency gap: A review of benchmarking and disclosure ordinances. Energy Effic. 10, 673–691 (2017). Provides a comprehensive discussion of energy disclosure ordinances and informational regulations in the building sector.
Acknowledgements
This research was supported by National Science Foundation grant no. 1653773 and by the Sloan Foundation.
Ethics declarations
Competing interests
The authors declare no competing interests.
About this article
Cite this article
Kontokosta, C.E., Spiegel-Feld, D. & Papadopoulos, S. Mandatory building energy audits alone are insufficient to meet climate goals. Nat Energy 5, 282–283 (2020). https://doi.org/10.1038/s41560-020-0603-z
Published:

Issue Date:

DOI: https://doi.org/10.1038/s41560-020-0603-z