Ultrathin III–V solar cells are sought after for their relatively low cost and potential novel applications such as hot-carrier solar cells, but currently suffer from low power-conversion efficiency. Now, light-trapping nanostructures have been demonstrated to enable efficiency of 19.9% in a 205-nm-thick GaAs solar cell.
This is a preview of subscription content
Access options
Subscribe to Journal
Get full journal access for 1 year
$99.00
only $8.25 per issue
All prices are NET prices.
VAT will be added later in the checkout.
Tax calculation will be finalised during checkout.
Rent or Buy article
Get time limited or full article access on ReadCube.
from$8.99
All prices are NET prices.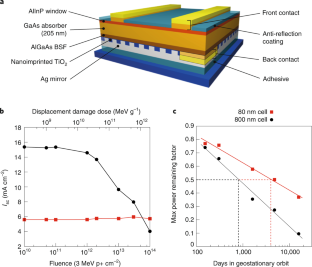 References
1.

Best Research-Cell Efficiency Chart National Renewable Energy Laboratory https://www.nrel.gov/pv/cell-efficiency.html (2019).

2.

Chen, H. L. et al. Nat. Energy https://doi.org/10.1038/s41560-019-0434-y (2019).

3.

Miller, O. D., Yablonovitch, E. & Kurtz, S. R. IEEE J. Photovolt. 2, 303–311 (2012).

4.

Ross, R. T. & Nozik, A. J. J. Appl. Phys. 53, 3813–3818 (1982).

5.

Nguyen, D.-T. et al. Nat. Energy 3, 236–242 (2018).

6.

Hirst, L. C. et al. Appl. Phys. Lett. 109, 033908 (2016).

7.

Messenger, S. R., Summers, G. P., Burke, E. A., Walters, R. J. & Xapsos, M. A. Prog. Photovolt. 9, 103–121 (2001).

8.

Messenger, S. R., Jackson, E. M., Warner, J. H. & Walters, R. J. In Proc. IEEE 35th Photovoltaic Specialists Conference 001106–001111 (IEEE, 2010).
About this article
Cite this article
Hirst, L. Ever thinner high-efficiency cells. Nat Energy 4, 726–727 (2019). https://doi.org/10.1038/s41560-019-0444-9