Stationary storage in buildings can help make better use of intermittent renewable power, but safer and cheaper alternatives to lithium-ion batteries are needed to accelerate deployment. Now, demonstration of an aqueous potassium-ion full cell offers a way forward.
Access options
Subscribe to Journal
Get full journal access for 1 year
$62.00
only $5.17 per issue
All prices are NET prices.
VAT will be added later in the checkout.
Rent or Buy article
Get time limited or full article access on ReadCube.
from$8.99
All prices are NET prices.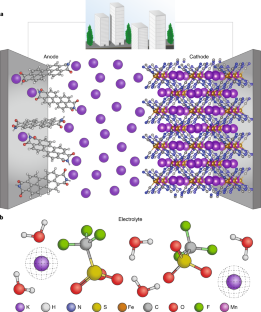 References
1.

Towards a Zero-emission, Efficient, and Resilient Buildings and Construction Sector: Global Status Report 2017 (UN Environment and International Energy Agency, 2017); https://www.worldgbc.org/sites/default/files/UNEP%20188_GABC_en%20%28web%29.pdf

2.

Chediak, M. Big battery boom hits another roadblock: fire-fearing cities. Bloomberg https://www.bloomberg.com/news/articles/2018-05-18/the-big-battery-boom-hits-another-roadblock-fire-fearing-cities (2018).

3.

Kim, H. et al. Adv. Energy Mater. 8, 1702384 (2018).

4.

Jiang, L. et al. Nat. Energy https://doi.org/10.1038/s41560-019-0388-0 (2019).

5.

Suo, L. et al. Science 350, 938–943 (2015).

6.

Yang, C. et al. Joule 1, 122–132 (2017).

7.

Mähler, J. & Persson, I. Inorg. Chem. 51, 425–438 (2012).

8.

Okoshi, M., Yamada, Y., Komaba, S., Yamada, A. & Nakai, H. J. Electrochem. Soc. 164, A54–A60 (2017).
About this article
Cite this article
Marbella, L.E. A salty solution for storage. Nat Energy 4, 438–439 (2019). https://doi.org/10.1038/s41560-019-0391-5