The development of solid-state lithium batteries is largely hindered by the undesired lithium dendrite propagation during battery operations. High electronic conductivity of solid electrolytes is now revealed to be the main culprit.
Access options
Subscribe to Journal
Get full journal access for 1 year
$99.00
only $8.25 per issue
All prices are NET prices.
VAT will be added later in the checkout.
Tax calculation will be finalised during checkout.
Rent or Buy article
Get time limited or full article access on ReadCube.
from$8.99
All prices are NET prices.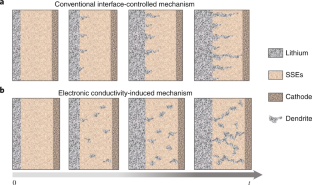 References
1.

Janek, J. & Zeier, W. G. Nat. Energy 1, 16141 (2016).

2.

Porz, L. et al. Adv. Energy Mater. 7, 1701003 (2017).

3.

Sharafi, A., Haslam, C. G., Kerns, R. D., Wolfenstine, J. & Sakamoto, J. J. Mater. Chem. A 5, 21491–21504 (2017).

4.

Bates, J. B., Dudney, N. J., Neudecker, B., Ueda, A. & Evans, C. D. Solid State Ion. 135, 33–45 (2000).

5.

Han, F. et al. Nat. Energy https://doi.org/10.1038/s41560-018-0312-z (2019).
About this article
Cite this article
Yue, J., Guo, YG. The devil is in the electrons. Nat Energy 4, 174–175 (2019). https://doi.org/10.1038/s41560-019-0335-0