Two-terminal all-perovskite tandem structures are promising as low-cost yet highly efficient solar cells, but their development is limited by the poor quality of the low bandgap absorber layer. Now, a processing method has been shown to enable the production of uniform, thick tin–lead perovskite layers, which translate into improved photovoltaic parameters.
Access options
Subscribe to Journal
Get full journal access for 1 year
$119.00
only $9.92 per issue
All prices are NET prices.
VAT will be added later in the checkout.
Tax calculation will be finalised during checkout.
Buy article
Get time limited or full article access on ReadCube.
$32.00
All prices are NET prices.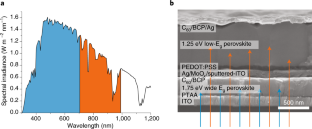 References
Miyasaka, T. Bull. Chem. Soc. Jpn 91, 1058–1068 (2018).

Shockley, W. & Queisser, H. J. J. Appl. Phys. 32, 510–519 (1961).

Li, Z. et al. Nat. Rev. Mater. 3, 18017 (2018).

Ávila, J., Momblona, C., Boix, P. P., Sessolo, M. & Bolink, H. J. Joule 1, 431–442 (2017).

Anaya, M., Lozano, G., Calvo, M. E. & Míguez, H. Joule 1, 769–793 (2017).

Stoumpos, C. C., Malliakas, C. D. & Kanatzidis, M. G. Inorg. Chem. 52, 9019–9038 (2013).

Zhao, A. et al. Nat. Energy. https://doi.org/10.1038/s4156-180-0278-x (2018).

Hoke, E. T. et al. Chem. Sci. 6, 613–617 (2015).

Unger, E. L. et al. J. Mater. Chem. A 5, 11401–11409 (2017).
About this article
Cite this article
Bolink, H.J. Tandems in the thick of it. Nat Energy 3, 1027–1028 (2018). https://doi.org/10.1038/s41560-018-0297-7
Published:

Issue Date:

DOI: https://doi.org/10.1038/s41560-018-0297-7