A modelling study suggests that the proposed energetic barrier between prokaryotes and eukaryotes may not be relevant to the complexity gap between the two domains. The energetic advantage of early mitochondria was probably small, and eukaryotes likely emerged without the help of an endosymbiont.
Access options
Subscribe to Nature+
Get immediate online access to Nature and 55 other Nature journal
Subscribe to Journal
Get full journal access for 1 year
$119.00
only $9.92 per issue
All prices are NET prices.
VAT will be added later in the checkout.
Tax calculation will be finalised during checkout.
Buy article
Get time limited or full article access on ReadCube.
$32.00
All prices are NET prices.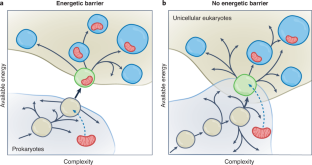 References
Stanier, R. Y. & Van Niel, C. B. Arch. Mikrobiol. 42, 17–35 (1962).

Schavemaker, P. E. & Muñoz-Gómez, S. A. Nat. Ecol. Evol. https://doi.org/10.1038/s41559-022-01833-9 (2022).

Lane, N. & Martin, W. F. Nature 467, 929–934 (2010).

Lynch, M. & Marinov, G. K. PNAS 112, 15690–15695 (2015).

Cavalier-Smith, T. & Chao, E. E. Protoplasma 257, 621–753 (2020).

Zachar, I. & Szathmáry, E. Biol. Direct 12, 19 (2017).

Cavalier-Smith, T. Cold Spring Harb. Perspect. Biol. 6, 1–31 (2014).

de Duve, C. Nat. Rev. Genet. 8, 395–403 (2007).

Shiratori, T., Suzuki, S., Kakizawa, Y. & Ishida, K. Nat. Commun. 10, 5529 (2019).

Martin, W. F., Tielens, A. G. M., Mentel, M., Garg, S. G. & Gould, S. B. Microbiol. Mol. Biol. Rev. 81, 8–17 (2017).

Jékely, G. Biol. Direct 2, 3 (2007).

Stanier, R. Y. Some aspects of the biology of cells and their possible evolutionary significance. Organization and Control in Prokaryotic and Eukaryotic Cells. In Proc. 20th Symposium of the Society for General Microbiology (eds Charles, H. P. & Knight, B. C. J. G) 20, 1–38 (Cambridge University Press, Cambridge, 1970).

Zachar, I., Szilágyi, A., Számadó, S. & Szathmáry, E. PNAS USA 115, E1504–E1510 (2018).

Burns, J. A., Pittis, A. A. & Kim, E. Nat. Ecol. Evol. 2, 697–704 (2018).

Bremer, N., Tria, F. D. K., Skejo, J., Garg, S. G. & Martin, W. F. Genome Biol. Evol. 14, evac079 (2022).

Imachi, H. et al. Nature 577, 519–525 (2020).

Zachar, I. & Boza, G. Cell. Mol. Life Sci. 77, 3503–3523 (2020).

Devos, D. P. Mol. Biol. Evol. 38, 3531–3542 (2021).
Ethics declarations
Competing interests
The author declares no competing interests.
About this article
Cite this article
Zachar, I. Closing the energetics gap. Nat Ecol Evol 6, 1254–1255 (2022). https://doi.org/10.1038/s41559-022-01839-3
Published:

Issue Date:

DOI: https://doi.org/10.1038/s41559-022-01839-3